10 Cozy Blankets Under $50 That Make Great Holiday Gifts (For Yourself)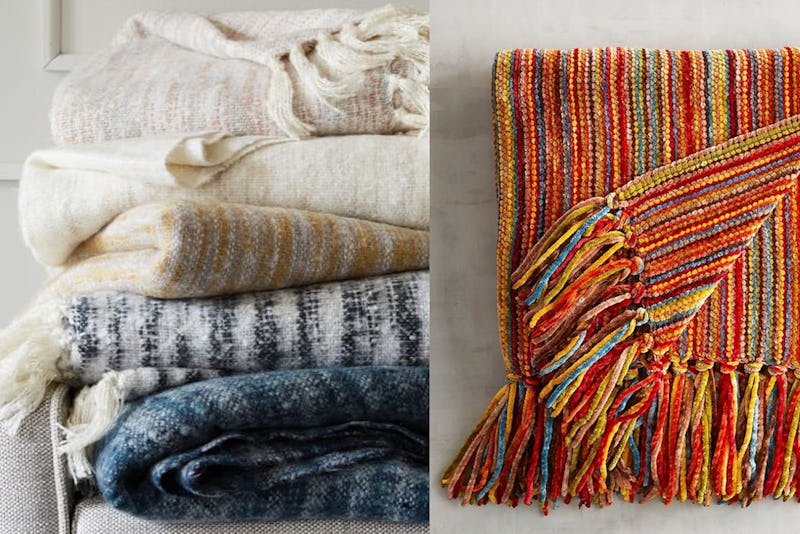 West Elm/Pier 1 Imports
IMO, one of the best parts of winter is transforming your home or apartment into a snug den where you can curl up with a cup of tea and a good book, enjoying the snow from a safe distance. With morning frost already settling on the ground in some places, it's time to break out not only your comfiest winter jackets and loungewear, but also your coziest blankets. If your couch situation is a little lackluster ATM, these 10 cozy blankets under $50 are great things to put on your holiday wishlist.
According to TIME, the NOAA's Climate Prediction Center has suggested that the 2018 winter season will be wet, warm, and mild across the U.S. However, USA Today reported in August that the Farmers' Almanac is predicting it will be "colder than normal," and that the coldest weather will arrive sometime in February. Even if the Farmers' Almanac's predictions prove to be inaccurate, it's probably a good idea to be over-prepared with plenty of household items that will keep you warm — especially following the "bomb cyclone" that majorly affected the East Coast last winter.
Winter weather predictions aside, who doesn't just like a soft blanket to snuggle up with as the days get chillier, and the nights become longer? Here are 10 cozy blankets that won't break the bank.