10 Movies Based On True Stories Out This Fall That Already Sound So, So Exciting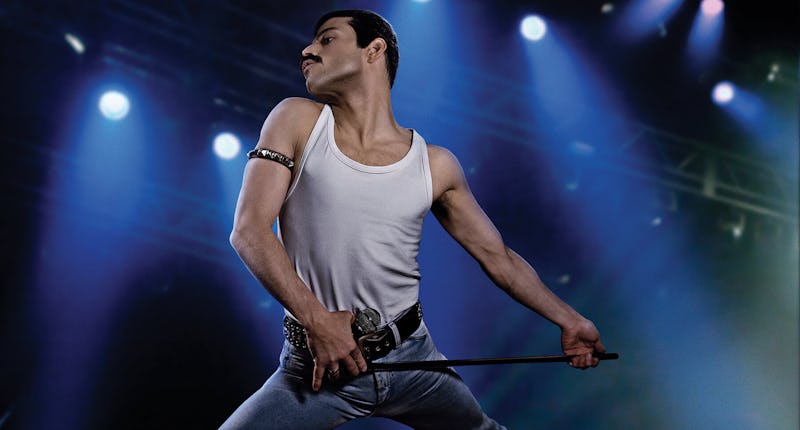 20th Century Fox
The fall movie season is in bloom, and as we all know, the last few months of the year pre-awards season are when some of the best movies come out. From actors delivering powerhouse performances to filmmakers putting out sweeping stories, everyone's gunning for those trophies. And one of the best ways to nab those golden statues (or hey, even just a nomination) is to tell a true story or play a real person. Naturally, there are several fall 2018 movies based on true stories coming out, and you're gonna want to see them all.
Last year alone, three of the nine Best Picture nominees (Darkest Hour, Dunkirk, and The Post) were based on true stories. And biopics are practically a guaranteed ticket to the Oscars, with tons of actors earning noms for playing real people. So it's understandable there are a lot of movies tackling true stories coming this fall. And while you may have heard many of these stories before, some of the characters and their tales are little-known. From movies about Nazi showdowns to tales of teenage FBI agents to looks at legendary rockers, here are the films based on true stories that are going to hit theaters this fall.
1. Operation Finale (Aug. 29)
Coming in right at the end of summer but no doubt angling for some of that fall awards season buzz is Operation Finale, which chronicles a covert mission to Argentina to track down Adolf Eichmann, the Nazi officer who masterminded the Holocaust. Oscar Isaac stars as Peter Malkin, with Ben Kingsley playing the notorious Eichmann.
2. Lizzie (Sept. 14)
Have you heard the rhyme? "Lizzie Borden took an axe and gave her mother 40 whacks. When she saw what she had done, she gave her father 41." The chilling tale of murderer Lizzie Borden premiered back at the Sundance Film Festival in January, and it stars Chloë Sevigny and Kristen Stewart.
3. White Boy Rick (Sept. 14)
In 1980s Detroit, a 14-year-old managed to become a hustler, a drug kingpin, and an FBI informant. Newcomer Richie Merritt stars as Richard Wershe Jr., who became the youngest FBI informant ever, with Matthew McConaughey playing his struggling dad.
4. First Man (Oct. 12)
Ryan Gosling stars as Neil Armstrong, the first man to ever step foot on the moon. The Crown's Claire Foy co-stars as his wife Janet, with Corey Stoll as Buzz Aldrin. Considering the importance and success of Hidden Figures, hopfully First Man will include some of the women and people of color behind the scenes at NASA for this historic mission, too.
5. Beautiful Boy (Oct. 12)
This film is based on two separate memoirs: Beautiful Boy: A Father's Journey Through His Son's Addiction by David Sheff and Tweak: Growing Up on Methamphetamines by his son Nic Sheff. The trailer shows that this will be a major dramatic acting display both for Steve Carrell, who plays David, and for Timothée Chalamet, who plays Nic.
6. Can You Ever Forgive Me? (Oct. 19)
Melissa McCarthy stars in Marielle Heller's dramedy about Lee Israel, a writer-turned-forger who sold fake letters she claimed were written by famous people. McCarthy is more serious than usual in this one, so perhaps she'll see her name on that Oscar nominees list once again.
7. Bohemian Rhapsody (Nov. 2)
Rami Malek stars as Freddie Mercury, frontman of the band Queen, in this rocking biopic. The trailer suggests that the film dives into the backstory of the band, Mercury's hidden sexual orientation, and how he lived with AIDS.
8. Boy Erased (Nov. 2)
Lucas Hedges stars in this adaptation of Garrard Conley's memoir of the same name. Conley was forced to attend a gay conversion therapy camp by his conservative family, led by his Baptist preacher father (Russell Crowe). and mom (Nicole Kidman).
9. The Favourite (Nov. 23)
Before the third season of The Crown hits Netflix, Olivia Coleman will don a different crown as the 19th Century Queen Anne in The Favourite. Directed by Yorgos Lanthimos, who brought us The Lobster, The Favourite looks positively wacky and features performances from Rachel Weisz, Emma Stone, and Nicholas Hoult.
10. Outlaw King (Nov. 23 On Netflix)
If you've seen Braveheart, you may remember the character of Robert the Bruce. Chris Pine stars as the famed Scottish revolutionary who fought to free Scotland from English rule.
Looking forward to the winter, there are even more noteworthy biopics and true story films coming up, including Saoirse Ronan and Margot Robbie's highly-anticipated Mary Queen of Scots. Movie lovers, get ready.