10 Meditations To Help You Get Through This Month's Full Moon In One Piece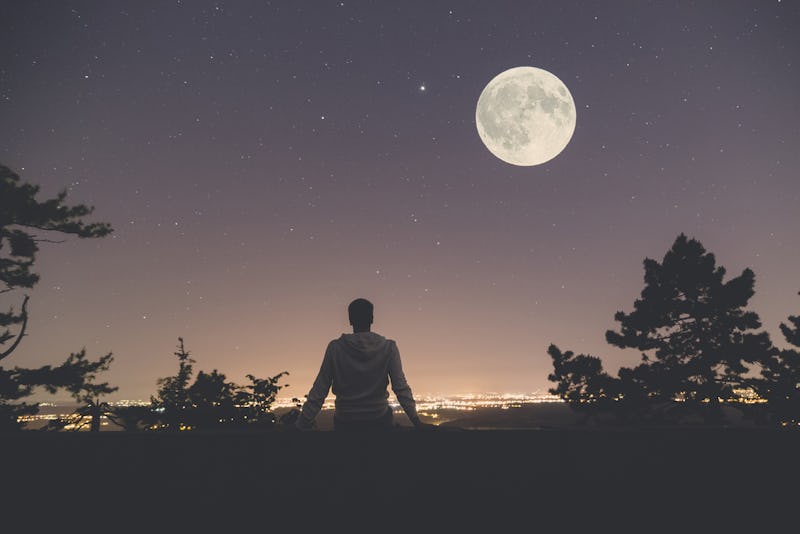 Shutter Stock
Get ready for things to feel a little shaken up, because we're nearing the October full moon, which will appear in the sky on Oct. 24 around 12 p.m. It's no secret that things tend to get kind of haywire during a full moon, and this one is no exception — the Oct. full moon, which falls in Taurus, is expected to bring about a lot of change and uncertainty, especially when it comes to your relationships. That doesn't exactly sound very relaxing, so you're probably going to need to make some time for self-care, and meditating is a great option to calm you down and keep you centered. There are a few meditations for the October full moon in particular you'll want to try out.
The energy that comes with a full moon includes heightened emotions, feelings, mental processes, and dreams. Because the moon is directly opposite the Sun, there is tension and uncomfortable friction. But it's not all bad! Astrologer Simone Matthews says, "This is a powerful time of gratitude, gracefully acknowledging the beauty of life itself and all you have brought into beingness." You might feel more creative, or maybe you'll feel ready to let go of things that no longer serve you. This is also the time to complete those goals you thought of during the new moon.
Matthews adds, "The full moon is a great time to "moon bathe" — simply sit under the light of the moon and meditate. As you breathe in, allow the moon to warm your heart and expand the beauty of the present moment, and as you breathe out, let the light of the moon transmute that which you wish to release."
Keep that in mind while looking through the below meditations, and start to feel inspired: