10 Mixed Signals You May Get In A New Relationship — And How To Interpret Them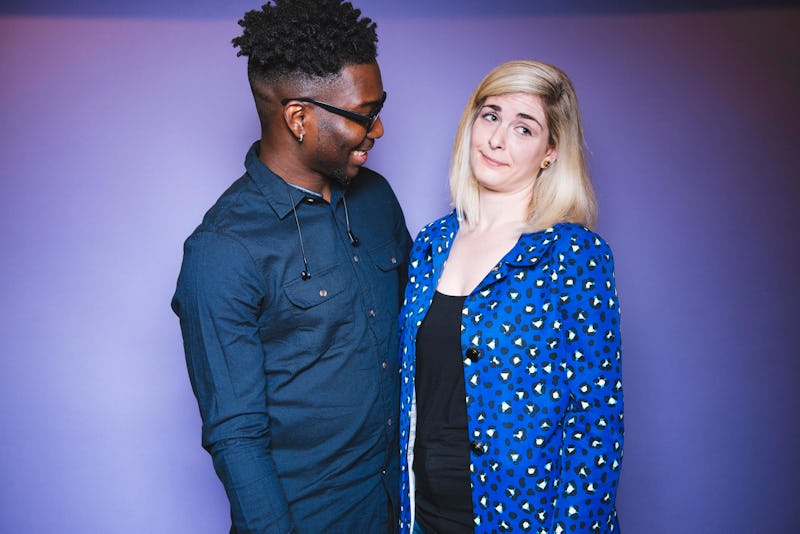 BDG Media, Inc.
The beginning of a new relationship is usually a fun, exciting, romantic time — but it can also be confusing AF if you and your new partner aren't yet on the same page about your blossoming relationship. Unfortunately, getting mixed signals in a relationship happens to the best of us, and it's especially prevalent in new relationships, when partners are likely still learning how to effectively communicate with each other. The tricky part? Mixed signals can come in many forms, and they're not always easy to pinpoint in your own relationship.
"If you receive two or more conflicting pieces of information from someone, they're sending you mixed signals," Adam Maynard, a relationship coach who specializes in helping people navigate relationship challenges, tells Bustle. "Maybe they tell you something one day and something else the next, or say one thing and do another. Sometimes mixed signals are more subtle than this — you tune in to an inconsistency but can't quite tell what it is or where it's coming from. You just have a... sense the other person isn't telling you the whole story."
So aside from being hard to recognize in the first place, mixed signals can also be tough to decipher, because they're typically the result of some deeper, underlying communication issue in your relationship.
"A new partner who's sending mixed signals is experiencing an inner conflict that they're unwilling or unable to communicate about in a clearer way — maybe because they aren't aware of or in tune with it themselves, they're feeling overwhelmed by it, they don't know themselves that well, or they're just uncomfortable communicating so transparently (and vulnerably)," Maynard says. "In the worst case, they're trying to hide something from you they know you won't like."
The good news? Mixed signals don't necessarily have to be the catalyst for a premature end to a great new relationship. Here are 10 examples of mixed signals you might get in a new relationship, and expert advice on how to interpret and handle them.