7 Unexpected Signs Your Partner's Second-Guessing Your Relationship, Even Though They Love You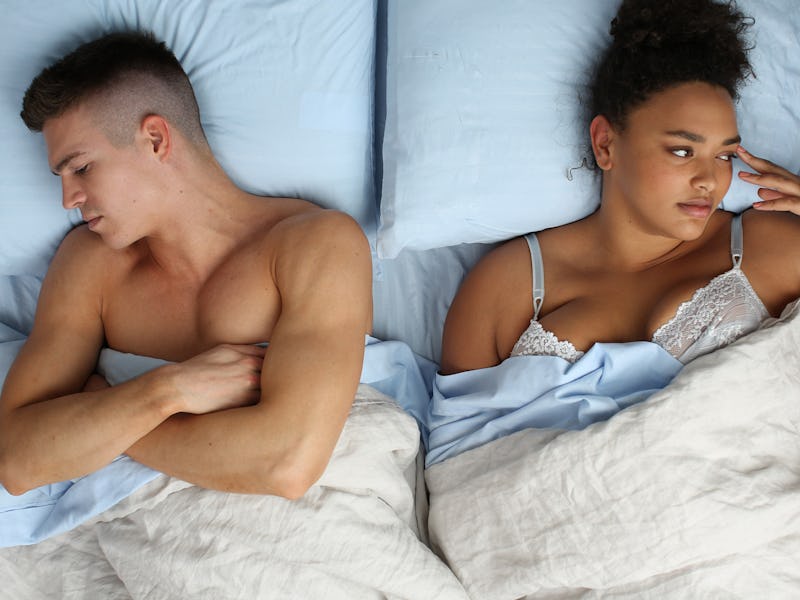 Ashley Batz/Bustle
Relationships come with many degrees of completely normal complications, but if your partner isn't giving you the validation you need to feel secure in your partnership, you may wonder if they're second-guessing your relationship. Even though you know your partner loves you, small things they do or say here and there can leave you with some doubts. For instance, you excitedly bring up wanting to go on a romantic vacation together next year for your anniversary, only to receive a shrug and a noncommittal "maybe" in return. Or sometimes, they may be acting affectionate one week, only to be a bit distant the next. So what does it all mean? Are they having second thoughts? According to experts, there are some signs to look out for that can help you figure it out.
"Some signs that your partner may be second-guessing your relationship include nitpicking about small things, expressing annoyance, upset, or anger ... behavior that runs hot and cold with no apparent explanation or reason, and/or sending mixed signals where they say they love you and are all-in, but something just feels off," psychotherapist and relationship coach, Toni Coleman, tells Bustle.
If you've experienced any of that, it's understandable why you'd be having doubts. But keep in mind your partner's behavior may not be completely indicative of the end — they may be experiencing issues outside of the relationship that are affecting their actions. But to better parse out the cause of their behavior, it's best to be upfront about your doubts and talk them through. Here are a few signs that experts say may indicate your partner is having second thoughts, and that's it's time to have a talk.