Billie Eilish Fangirling Over Sporty Spice Was The BRITs' Purest Moment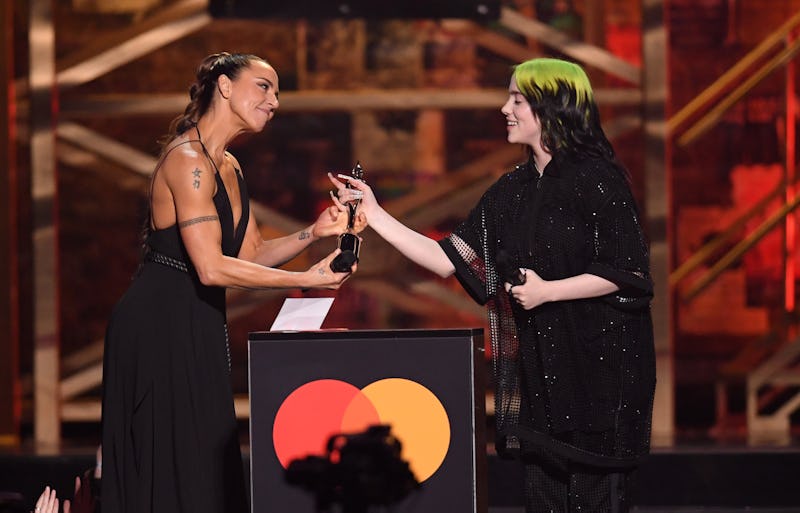 David Fisher/Shutterstock
The BRITs kicked off their 40th anniversary show in a big way last night (Feb. 18) with Lewis Capaldi, Stormzy, and Mabel all walking away winners and Jack Whitehall providing his usual wit and charm as host. But what moments stood out the most? Here are my ten most memorable moments from the BRITs 2020.
Although this year's BRIT awards was full of fun, it was, of course, overshadowed by the tragic passing of Caroline Flack, who took her own life just a few days before. Many guests in attendance paid tribute to Flack through their clothing and social media posts. In his opening speech, host Jack Whitehall said Flack was a "member of the BRITs family" and described her as a "kind and vibrant person with an infectious sense of fun."
The evening also featured a couple of important political moments. In his performance of "Black" (a track off his BRIT-award-winning album Psychodrama), Dave rapped "the truth is our Prime Minister is a real racist" and paid tribute to the victims of the London Bridge terror attack. Tyler, The Creator, on the other hand, gave a S/O (of sorts) to Theresa May in his acceptance speech for International Male Solo Artist. Referencing the fact that May had previously stopped him entering the country, Tyler said, "Thank you, Theresa May. I know she's at home p***ed off."
However, despite having very serious undertones, there were also lots of light hearted moments that you may have missed, and here are my top ten.