10 New Books To Read To Better Understand #MeToo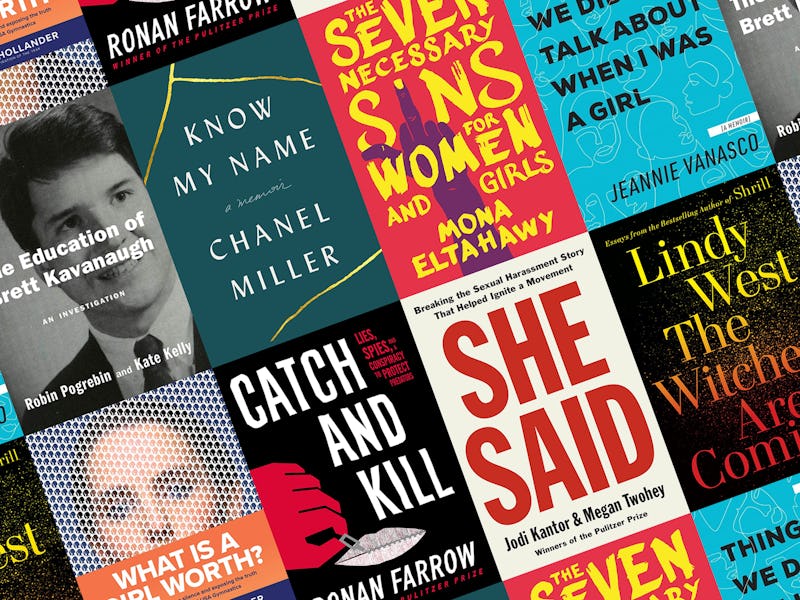 In fall 2019, a new crop of nonfiction releases — focusing on the #MeToo movement, rape culture, and sexual assault — are hitting bookstores.
A few of these books focus on the major stories of the #MeToo movement: The allegations of assault made against Harvey Weinstein by dozens of women, the hearing of Supreme Court Justice Brett Kavanaugh after Dr. Christine Blasey Ford and two other women accused him of sexual misconduct, and the conviction of Brock Turner in the sexual assault of Chanel Miller (formerly known as Emily Doe) that resulted in him serving just three months in prison. Other books focus on the personal costs of sexual assault — how it can haunt and burden a person years after the experience. And others focus on rape culture in society at large and how it insidiously it seeps into pop culture, politics, business, and more.
She Said by Jodi Kantor and Megan Twohey, as well as Catch and Kill by Ronan Farrow are nonfiction accounts of the reporting that opened the floodgates to allegations against Harvey Weinstein; Know My Name by Chanel Miller and Things We Didn't Talk About When I Was a Girl by Jeannie Vanasco are memoirs about the aftershocks of rape; and The Witches are Coming by Lindy West is an exploration of rape culture and toxic masculinity in media.
Here are 10 new books about #MeToo to read in fall 2019: