10 Punny Halloween Costumes You Can Put Together With 4 Items Or Less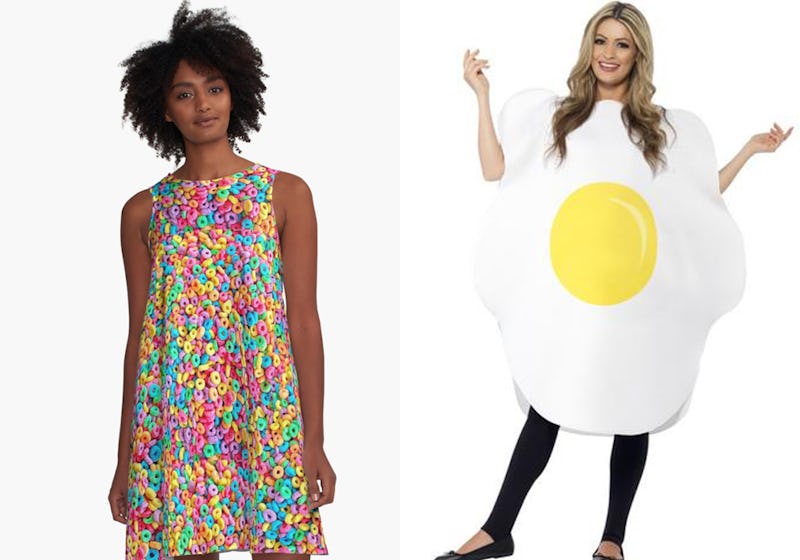 Redbubble; The Halloween Spot
Punsters, gather round. I know that for some people, Halloween is just a fun excuse to wear a risqué outfit, splurge on a wild wig to test-drive a new hair color, or finally show off the make-up skills they've acquired via many solitary hours of YouTube tutorials (no shade, we all do it). But for you, my dear Halloween pun-kins (see what I did there?), a few ideas for punny Halloween 2018 costumes are a chance for your wit to shine and to show how clever you really are. Punny Halloween costumes can be risky because people might have to work a little harder to get to the punchline of what you're wearing — but don't let that put you off. In fact, that's totally OK — because once they do get to the punchline, they'll surely appreciate it. And you'll get cred for having put more thought into your Halloween costume apart from "I guess I'll wear all black with a pair of cat ears again" (again, no shade, we all do it). Win win!
That in mind, check out these punny Halloween costume ideas that are easy to throw together with just a few items — and, even better, that won't break the bank. Happy Halloween!
Baseball Bat
Halloween Bat Wings Plus Size Tunic Dress, $25.60, RoseGal; Retractable Vampire Fangs For Adults, $7.90, Wholesale Halloween Costumes; Floral Embroidered Velvet Baseball Cap, $14.90, Forever 21; Champro Pitcher Training Baseball, $4.99, Amazon.
No need to be a sports fan to appreciate the fun (and pun) of this baseball bat costume. Throw on some fangs and a bat outfit, then adorn yourself with a baseball cap, ball, and whatever other baseball accessories you can dig up. Consider this one a home run. *wink*
Cereal Killer
Froot Loops A-Line Dress, $45.99, Redbubble; Fake Blood, $1.99, Party City; Nightmare Bleeding Knife, $5.99, Party City.
If you've got every serial-killer-themed true crime doc and podcast queued up on repeat like I do (please help me), you can stay on-brand but lighten the mood by being a cereal killer instead. Go next level by carrying your belongings around in a fake-blood-spattered cereal box, too.
Deviled Egg
Smiffy's Egg Costume, $23.99, The Halloween Spot; Sequin Devil Headband, $7.99, Spirit; Halloween Sequin Pitchfork, $7.99 Bed Bath & Beyond.
Hors d'oeuvres with a side of evil. What more can you ask for? Deviled eggs are kinda gross, TBH, but a devilish egg like this one is super cute — and people will be quick to catch onto the joke.
Dust Bunny
Easter Bunny Set, $4.99, Party City; Full Circle Dust Whisperer Microfiber Duster, $9.99, Amazon; Creativity Street Pom Poms, $10, Amazon.
Dirty costume alert! Just kidding, not that dirty, just a little dusty is all. Bunny ears combined with your household duster makes you the cutest lil' dust bunny to ever roll out from under a bed. Buy some grey pom poms and safety pin them in groups to your outfit for an extra "dusty" look.
Fifty Shades of Grey
Camo Print Zip-Front Jumpsuit, $45, Forever 21;Quilled Creations Quilling Paper - Grey Shades, $14.56, Amazon; Fifty Shades of Grey by E L James, $10.93, Amazon.
This costume's def not as racy as the book and movie it's inspired by, but it's certainly a lot punnier, that's for sure. Tape or pin squares of paper in many shades of grey all over your grey camo jumpsuit (or any grey look of choice), and carry around the novel as a wink to your costume's inspiration. Helpful hint: Save some cash by stopping by a hardware store and picking up a bunch of grey-hued paint swatches instead of buying paper.
Formal Apology
Sequin Chiffon Gown, $55, Forever 21; Bargain World Satin Sashes With Sticky Notes, $24.46, Amazon; White Ruched Gloves, $5.25, Claire's.
Sorry not sorry, this costume is super-simple and lots of fun. Grab a fun and inexpensive formal gown like the one above and some fancy white gloves, then make a DIY-sash that says "SORRY" loud and clear — ta-da, you're a formal apology! Grab your old prom dress or a dig up a thrift store gown to make things extra-cheap.
Freudian Slip
ASOS CURVE Mini Cami Slip Dress, $24, ASOS, A General Introduction to Psychoanalysis by Sigmund Freud, $6.80, Wordery; Post-It Extreme Notes, $4.99, Amazon.
Always down for an excuse to wear a slip in public, especially if it's the Freudian kind. Arm yourself with your best psychoanalytic skills and cover your slip with sticky notes that are labeled with classic Freudian terms. Now let everyone's unconscious mind take over and solve this pun.
Pig In A Blanket
Sonoro Kate Fleece Blanket, $24.90, Amazon, Halloween Pig Nose Costume, $7.99, Tenacious Peacock, Pig Ears, $4.88, Fantasy Costumes.
Ditch the skimpy Halloween costume vibe in favor of a super-cozy, couch-ready look as a "pig in a blanket" — the literal kind! Throw on some fuzzy pink ears and a pig nose, then wrap yourself up in a comfy pink throw blanket, and you've fully transformed. Coziest Halloween ever.
Party Animal
Koala Costume Onesie, $29.99, Forever Lazy; Rainbow Birthday Party Cone Hats, $7.99, Amazon; Creative Balloons 12" Latex Balloons, $14.99, Amazon.
If you're gonna be a party animal, Halloween is definitely the time. Grab a cute n' cozy animal onesie, then deck yourself out in classic party store gear like birthday hats and some colorful helium balloons. Now go wild!
Social Butterfly
Gothic Jewel Butterfly Wings, $19.99, Party City; Adult Antennae Headband, $4.99, Party City; Social Media Icons Stickers, $2.47, Redbubble.
Do you flutter from app to app more often than you flutter from party to party? Same, so social (media) butterfly it is! Wings and antennae plus some easy-to-identify social media icons plastered over your outfit will seal the deal. You'll be fluttering through follow requests in no time.