10 Skin Mistakes You're Making During The Holidays Without Even Realizing It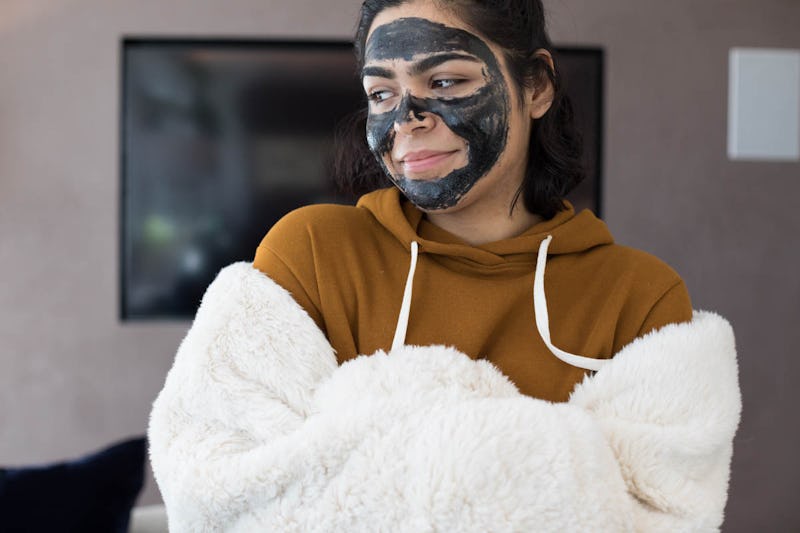 Bustle
With all of the busy merriment that happens during the holiday season, it's easy to let your usual routines fall by the wayside — and that includes your skin care habits. Unfortunately, the holidays are also one of the most important times to be paying attention to your complexion, because there are plenty of skin mistakes to be made during all of the festivities.
For one, the air is already cold and dry, so you've got the weather going against your skin. Add on heavy holiday makeup, lax cleansing routines, winter fabrics, and a few cocktails and cookies (OK, maybe more than a few), and you've got the perfect storm to start making some sneaky skin mistakes. Chances are, you won't even realize you've been making them until you notice your skin has a little less radiance than usual.
Not all hope is lost till January, though. By knowing what to watch for, you can troubleshoot holiday skin mistakes before they happen, and know how to do damage control when you slip up (because no one's perfect, especially during the busiest time of the year).
To start the New Year with fresh, glowing skin, here are 10 pitfalls to avoid falling into (and more importantly, how to deal with them), according to dermatologists.
1. You Only Pay Attention To Facial Skin
Dove Advanced Care Deodorant, $5, Jet
When you think about your winter skin care routine, your mind probably jumps to your complexion on your face, but it's important not to forget about the areas that are all bundled up underneath your favorite turtleneck.
"During warmer weather, we tend to pay more attention to the skin we're showing, like our arms, elbows, and chest. However, in the winter, when this skin is covered up, it's easy to forget about certain areas," says Dove dermatologist Dr. Alicia Barba. But since winter air is dry, it's more important than ever to give all your skin some TLC.
"Make sure that your skin care routine is inclusive and that you give some love to your entire body," says Dr. Barba. This includes your underarms, believe it or it — she likes Dove Advanced Care Antiperspirant to care for them.
2. You Bundle Up In Irritating Fabrics
Everlane The Soft Cotton Square Crew, $78, Everlane
As seasonal as wool sweaters are, for the sake of your skin, don't let them entirely rule your winter uniform. "During the winter we wear a lot of textures and fabrics that can be irritating to your skin," says Dr. Barba. "You should consider swapping fabrics like wool with ones that are gentler on your skin, like cotton."
3. Your Exfoliation Is Too Harsh
Boscia Konjac Cleansing Sponge, $15, Sephora
While exfoliation is an important part of a skin care routine, you can have too much of a good thing. "When it's cold out I take my patients off harsh exfoliants, such as alpha hydroxy and glycolics. Over-exfoliating can strip the skin of its essential oils," says Dr. Barba, leaving it even more prone to dryness and irritation when the weather isn't on your side.
"That can cause redness as well as a feeling of 'tightness,' sensitivity, and soreness," adds dermatologist Dr. David Lortscher, CEO and founder of custom skin care company Curology. "A gentle way to physically exfoliate your skin is with a konjac sponge, made from fibers of the root of the Asian konjac plant." The key: Don't scrub.
4. You Skip SPF
EltaMD UV Clear Broad-Spectrum SPF 46, $32, Dermstore
One of the golden rules of skin care: Always wear SPF. "It's important to always wear sunscreen, even if it's gray and cold out," says Dr. Barba. "Harmful UV rays don't take a break for cold weather. Consider switching to a moisturizing sunscreen, a bit richer than your summer product." Dr. Lortscher reccomends using a minimum of SPF 30 with both UVA and UVB protection.
5. You Layer On Makeup For Long Hours (And Don't Take It All Off)
Oxygenetix Oxygenating Foundation, $66, Dermstore
Bold, festive holiday beauty looks are all well and good — until your skin starts to protest with breakouts. "With awareness of photos, selfies, etc., it's likely you'll apply more makeup than usual. This may lead to clogged pores," says Dr. Francesca Fusco, a dermatologist at Wexler Dermatology.
"And after a few proseccos and a festive night, it's easy to forget properly cleansing the skin to remove these thicker foundations," adds Dr. Jennifer Herrmann, dermatologist at MFC Dermatology in Beverly Hills. In addition to pore-clogging potential, "makeup holds pollutants and oxidants from the day, and failing to wash these away can lead to both acne and skin damage from oxidative stress," she says.
To remedy this, make sure you're taking all of your makeup off before you hit the sheets (a double-cleansing method can be helpful for this).
It's also important to make sure that your makeup isn't working against you if you're wearing it for long hours. "If your makeup is pore-clogging, wearing it for a long period of time can be problematic," says Dr. Lortscher. Look for products with labels like "noncomedogenic," "non-acnegenic," "does not clog pores," or "won't cause breakouts," he says — although these terms aren't regulated, so they're not guarantees, he also notes.
If you want to go a step further, "checking all your skincare products on cosDNA.com can be helpful to avoiding pore-clogging ingredients," adds Dr. Lortscher. "I recommend stopping use of products with acne scores of 3, 4, and 5."
6. You Take Long, Hot Showers
You Are Amazing Coconut Water Body Wash, $4, Target
A steaming-hot shower may seem like the perfect way to wind down and warm up when the weather outside is frightful, but you won't be doing your skin any favors. "Hot water will strip your skin of natural protective oils, and scrubbing or using harsh soap will further compromise the barrier that your skin naturally produces to protect your body from the outside world," says Dr. Lortscher. (Yes, some barriers to the outside world are good things.)
As much as it might pain you, don't crank your water all the way to the "hot" side. You can also change up your products. "Use a soap for sensitive skin, or a mild, fragrance-free, non-soap cleanser or moisturizing shower gel or oil," says Dr. Lortscher. "A cleanser without sodium lauryl sulfate or sodium laureth sulfate will not lather as you might expect, but will be less irritating."
When you hop out of the shower, gently towel off, then immediately slap on a body cream to seal in hydration (it's got more power than a regular lotion) — moisturizer is most effective when your skin is damp, says Dr. Lortscher.
7. Your Usual Facial Moisturizer Doesn't Cut It
First Aid Beauty Ultra Repair Face Moisturizer, $24, Sephora
If you use the same moisturizer all year long, you might find that it just doesn't work as well starting this time of year. "Cold winter weather with low humidity levels can lead to dry, cracked and irritated skin, calling for a richer moisturizer," says Dr. Lortscher. Central heating doesn't help matters, either.
He suggests trying a cream containing hyaluronic acid or glycerin, because they'll draw in water. "If your skin is sensitive, look for products with ceramides, which are naturally-occurring lipids (fats) in the skin. Ceramides support barrier function, protecting sensitive skin from outside insults," says Dr. Lortscher.
8. You Over-Do It On The Sugar And Alcohol
Jurlique Herbal Recovery Advanced Serum, $69, Sephora
Lifestyle factors also play a role in how healthy your skin is, and it's easy to let them slide during the holidays. "People tend to indulge in more sugar-laden treats and cocktails, which can lead to glycation," explains aesthetician Sara LaBree Baldwin, Jurlique education manager for North America. "Glycation, along with stress, poor diet, and lack of sleep, can cause a dull complexion to become more apparent as glycotoxins accumulate in the skin and deregulate the natural systems of the skin," she says.
While a gingerbread man or egg nog here and there won't leave you waking up looking haggard, science tells us that sugar doesn't exactly brighten skin. Obviously, your best defense is to be conscious of how much sugar you're noshing on, but sometimes, you just want to live a little. To improve skin's vitality from the outside in, Baldwin likes Jurlique's Herbal Recovery Advanced Serum because it combats signs of fatigue with Persian silk tree extract.
9. You Don't Drink Enough Water
Clearly Besties - Hum Nutrition Daily Cleanse x bkr Hydration Duo, $39, Sephora
Water is basically the elixir of life: It's vital to all of your body's processes, including keeping your skin looking bright and healthy. "Alcohol, salty appetizers, etc. can all dehydrate skin, so it's important to drink a lot of water for skin to appear dewy and fresh," says Dr. Fusco. Throughout the day, keep a bottle of water (like this adorable one from bkr, which comes with Hum Nutrition's Daily Cleanse supplements) or cup of green tea to sip on.
10. You're Not Getting Enough Sleep
While those late nights sipping egg nog seem harmless enough, not getting enough sleep can do a number on your complexion. "The circadian rhythm (your 24-hour internal clock that cycles between and sleepiness and alertness) affects many parts of the body, including the skin," explains Dr. Ronald Moy, dermatologist at MFC Dermatology in Beverly Hills.
"A recent article in Science proved that the DNA repair of the skin occurs best while sleeping... so when we do not get enough sleep, our skin does not repair the DNA damage that occurred during the day," says Dr. Moy. "This is the reason that the skin's appearance looks worse after not sleeping." (You know the look.)
The obvious solution here is to make sure you're carving out enough time for Zzz's (most people need at least seven hours). Dr. Moy also created a supplement, NOX Blend, to promote sleep and DNA repair with a form of vitamin B3, melatonin, and more.