10 Tattoos That Can Be Most Troublesome In Professional Settings, According To Tattoo Artists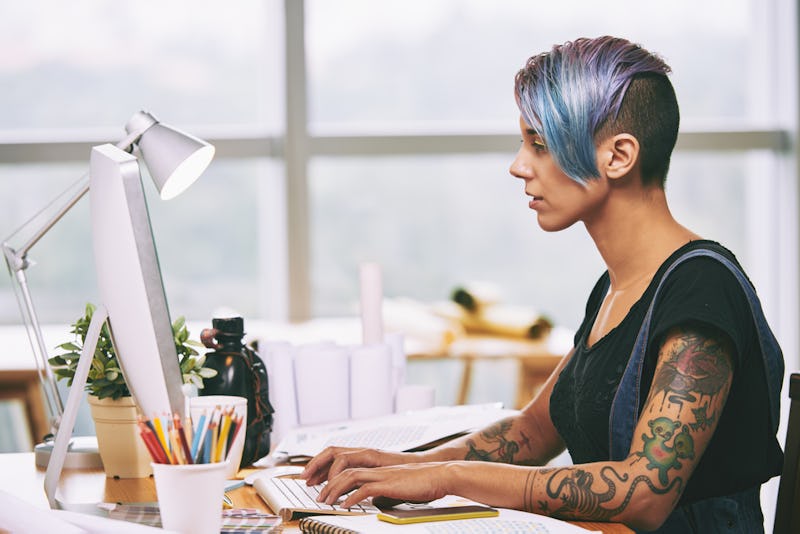 Dragon Images/Shutterstock
What kind of tattoo you get is up to you, but ignoring the variables in your life that will affect how this tattoo is perceived probably isn't the safest option. Over the years, tattoo artists have seen public opinion on tattoos change, but there are still certain designs and placements that prove tricky to pass off. So if you're wondering if tattoos affect job opportunities, you may want to take the advice of the artists who've witnessed the changes happen.
Despite how open the people around you may be, there are still people and professions that are quite trepidatious when it comes to tattoos. "Ultimately you should get tattoos that make you happy," tattoo artist Jordanne Le Fae, tells Bustle. "But, unfortunately, the rest of the world [may] judge you everyday based on it's content, so be attentive to content and placement." Even if the data is inconclusive about whether having a tattoo actually affects your chances of employment, it's still possible that you'll encounter more difficulty with some specific kinds of tattoos.
Because tattoo opinions change so often, listening to artists can help you keep your finger on the pulse of what is, and isn't, working out for professionals these days. "With anything, there are fads — even in tattooing," tattoo artist Tiara Nikole Gordon tells Bustle. "[...] In my first few years of learning, I was advised not to tattoo hands, throats or basically anything that would be visible [...] However, as time went on — [...] [there became more] open minds in the professional world." So although it varies case by case, it's still helpful to pay attention.
Here are 10 tattoos that can be the most troublesome in professional settings, according to tattoo artists.