11 Books That Are Too Hot To Read In Public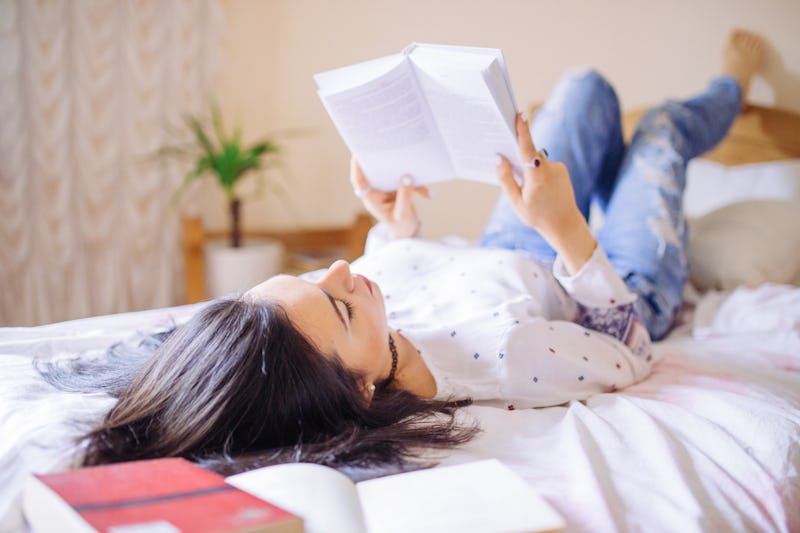 petrrunjela/Fotolia
How many times have you opened a book on the subway or bus, only to catch the person next to you looking over your shoulder and reading along? The worst (or perhaps funniest) is when you're reading books with sex scenes and the person's eyes get all wide. As an avid bookworm, I'm constantly having strangers take a peek at what I'm reading and I have to resist the urge to say, Oh, hi there. I didn't know reading was a group activity.
There are a lot of steamy books that are just too good to put down, in which the language manages to be both elegant and dirty at the same time. The most recent novel I read (see #6) is a European contemporary classic with several awesome sex scenes in each chapter. Really, I can't blame strangers for being nosy. After turning a page, I can almost sense their internal screams of, No, I wasn't done yet!
These books are often best enjoyed when you're alone (or with a partner, because reading erotica together can make for some great foreplay). Admittedly, it can be hard to find actually good reads with a solid plot, colorful characters and sexcerpts guaranteed to turn you on — but I've got you covered. Here are 11 books too hot for the public eye but perfect for you to enjoy on your own:
1. 'Unravel Me' By Tahereh Mafi
Unravel Me is a dystopian masterpiece that reads like erotic slam poetry. The main character, Juliette, has a fatal touch that could kill anyone who comes close to her. Warner is handsome and cold, and he becomes obsessed with Juliette. A perfect recipe for dangerous love.
His right hand slides up my spine and tugs on the zipper holding my suit together until it's halfway down my back and I don't care. I have 17 years to make up for and I want to feel everything.
2. 'The Gravity Between Us' By Kristen Zimmer
Payton is in love with her childhood best friend, Kendall, who's swiftly becoming Hollywood's next big celebrity. As far as lesbian romance novels go, this one's a gem.
She cups my breasts in her palms. Her tongue slides down my stomach. Then lower and lower still. She halts again, looks up at me from between my spread legs. "Are you sure?"
3. 'The Lover' By Marguerite Duras
The Lover is a short autofiction novel that takes more time to digest than to read. It's raw, emotionally violent and written in present tense, so it feels like you're right there while the two main characters, a Chinese man and a French teen girl in colonial Vietnam, make forbidden love.
"He's torn off the dress, he throws it down. He's torn off her little white cotton panties and carries her over like that, naked, to the bed. And there he turns away and weeps. And she, slow, patient, draws him to her and starts to undress him. With her eyes shut. Slowly."
4. 'Reflected In You' By Sylvia Day
If you haven't already bought into the hype of Sylvia Day's Crossfire series and gotten swept into the intense relationship between Eva and Gideon, you will now. Do yourself a favor and read this book at night during a hot bath with candles lit and rose petals strewn across the floor. Definitely NSFTP (not safe for the public).
I loved him wild, and I loved him tender. I'd take him any way I could get him, but it'd been so long…I feared what would happen if he came at me full force when I was so starved for his body. We might tear each other apart.
5. 'Who Do You Love' By Jennifer Weiner
This book is like the love child of When Harry Met Sally and The Fault In Our Stars. Two kids meet for the first time in a hospital and then reunite over and over again over the course of three decades. The reunion sex scenes merge lust with intimate passion so perfectly that it might as well be called love porn.
She unfastened his pants, eased his briefs over his hips, and brushed the length of his cock with her palm before taking him in her mouth. He sighed, eyes shut, thinking about how unbelievably good it felt, when Rachel gave a throaty moan, then rolled her mouth from base to tip and whispered, "Look at me."
6. 'The Unbearable Lightness Of Being' By Milan Kundera
I recently finished reading The Unbearable Lightness Of Being and, let me tell you, it is not easy reading this on the NYC subway. It is, however, easy to get sucked into the lives of the four lovers in this philosophical book. Milan Kundera often approaches the topic of desire, beauty and longing in a matter-of-fact way, but that doesn't make his characters' affairs any less...exciting.
Sabina took the camera from her, and Tereza took off her clothes. There she stood before Sabina, naked and disarmed. Literally disarmed: deprived of the apparatus she had been using to cover her face and aim at Sabina like a weapon. She was completely at the mercy of Tomas's mistress. This beautiful submission intoxicated Tereza. She wished that the moments she stood naked opposite Sabina would never end.
7. 'The Days Of Abandonment' By Elena Ferrante
The Days of Abandonment is hard to put down from the very first page. A woman named Olga struggles to redefine herself after her 15-year marriage ends, and she often experiences moments of self-awareness while making love.
Carrano had just raised my skirt and now was caressing the crotch of my underpants with the palm of his hand, and then he raised his fingers over the material pressing, pushing it deep into the fold of my sex.
I moaned again, I wanted to help him take off the underpants, he stopped me.
"No," he said. "Wait."
8. 'Chéri' By Colette
This 1920s book by French writer Colette chronicles the complex love affair between an older woman named Lea and the boy she's meant to look after, Chéri. The book is teeming with sensuality that's never too much but still guaranteed to make you blush.
"Put your hand back on my breast and your nails where they have left their mark; my strength abandons me as soon as your flesh is parted from mine."
9. 'The Wind-Up Bird Chronicle' By Haruki Murakami
Haruki Murakami's books are notorious for experimental themes and graphic sex scenes. This novel takes place in Tokyo and follows a man who, while searching for a lost cat, meets several intriguing characters, from a melancholy teen to a clairvoyant sex worker.
I thought about her lying in a bed somewhere with him, their arms wrapped around each other. I saw his hands caressing her naked body. I saw the porcelain of her back as I had seen it in the morning, the smooth skin beneath the rising zipper.
10. 'Beautiful Bastard' By Christina Lauren
A corporate executive named Bennett and his assistant Chloe are in the front seat of this wild ride. Forewarning: There's a lot of hot hate sex. In basically every chapter.
With one hand splayed on my chest, she began loosening my tie and groaned into my mouth when she felt my dick grow hard against her. Her nimble fingers had my tie yanked from my collar and on the floor at my feet before I remembered we had a flight to catch.
11. 'Lucy: A Novel' By Jamaica Kincaid
Lucy arrives from the West Indies to work as an assistant for a rich American family of six. Throughout the book, she explores a new culture, the meaning of family and her own sexuality.
His name was Paul. I said, "How are you?" in a small, proper voice, the voice of the girl my mother had hoped I would be: clean, virginal, beyond reproach. But I felt the opposite of that, for when he held my hand and kissed me on the cheek, I felt instantly deliciously strange; I wanted to be naked in a bed with him. And I wanted to see what he really looked like, not his reflection in a pool whose surface had just been disturbed.