11 Books That Explain How Puerto Rico's History Made This Tragedy So Much Worse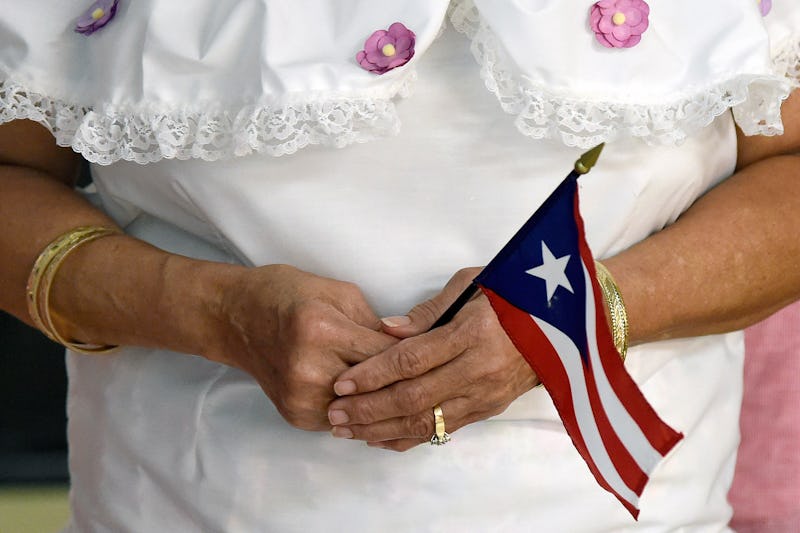 RHONA WISE/AFP/Getty Images
When Hurricane Maria ravaged Puerto Rico on September 20, it ensnared the country, forcing people everywhere, even if just temporarily, to focus on the oldest paradise colony in the Caribbean. As the storm's 155-mph winds dropped palm trees and collapsed homes, it gave sight to an arresting archipelago that had been battered by floods and mudslides as well as U.S. imperialism and exploitation. It's visible humanitarian, debt, and climate crises grasped hearts, and its treatment by the federal government, despite the people's U.S. citizenship — albeit second-class — confused and angered many. Over three million island-residing Puerto Ricans are still without electricity, communication, and potable water, and it is our duty to not just be outraged but also informed.
Puerto Rico has been a colony of the United States for 119 years. In 1898, the U.S. invaded and seized the island as part of the Spanish-American War. After nearly 20 years in political limbo, in 1917, the U.S. Congress passed the Jones-Shafroth act, imposing an unequal citizenship on the Puerto Rican people, one where they were able to join the military, with 20,000 immediately deployed to fight in World War I, but not allowed to vote for the president or elect voting senators or representatives in the U.S. Congress. Since then, the strikes have piled up: The U.S. Navy used the island of Vieques for military training, leaving parts of the land unlivable even today; Puerto Rican women were sterilized without their informed consent and used as guinea pigs in birth control tests; and, among many other violent blows, independence movements were thwarted, with leaders imprisoned, tortured and killed.
The federal government's substandard response to Puerto Rico, with President Donald Trump tweeting that the people "want everything to be done for them" and threatening to abandon recovery efforts, is an extension of this decades-long mistreatment. Millions of people are hungry, aid is not being distributed, more than 900 have died, a waterborne disease outbreak is on the rise, tens of thousands of people have already fled the island and outsiders are coming in to buy up abandoned land and property.
To help, education is essential, and these books, on invasion, imperialism, colonialism, exploitation, disaster capitalism, resistance and hope — most directly related to Puerto Rico — can help arm people with the information needed to better understand and support the black and brown Puerto Ricans located 1,014 miles away from our southern coast.