Group Halloween Costume Ideas That Won't Ruin Friendships Or Break The Bank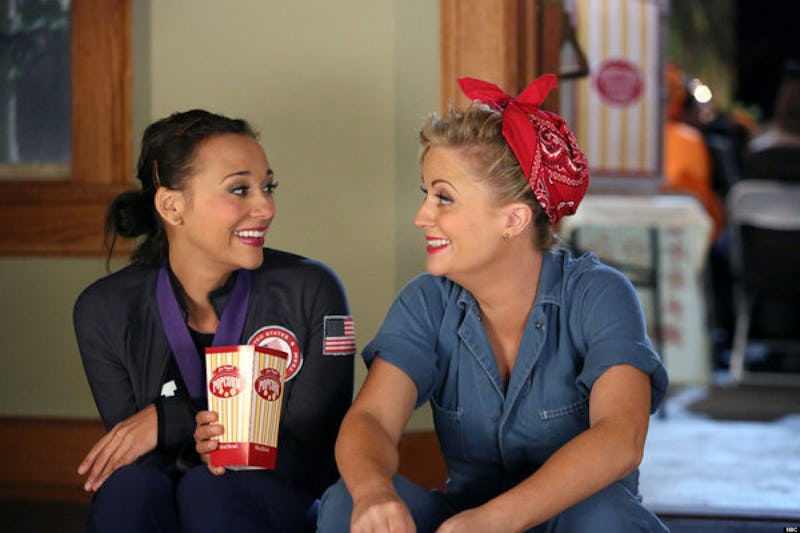 NBCUniversal Television Distribution
If there's anything worse than finding a dinner destination that a large group can agree on and then correctly splitting the bill for said dinner among said large group, it's deciding on a cheap but still creative group Halloween costume idea. I know you've been there: an incessantly-buzzing group chat full of Pinterest screenshots, one timid friend jumping in periodically with concerns about the price tag on some of the more elaborate costume ideas (an entire squad of fully decked Marie Antoinettes just isn't practical, people)... you name it. Three days before Halloween, budget concerns are still being overlooked, your phone is still pinging with suggestions, no one is willing to simply make the call, and you're about ready to go to the costume store to buy a pair of animal ears so you can call it a day. Who needs friends, anyway?
You and I both know this is not a productive way to approach a group costume, not to mention the fact that it has the potential to break the bank and/or add tension to relationships that are far, far more important than Halloween. I'm here to save your friendships (because, yes, we all do need friends), keep your budget intact, and ensure that you still show up to whatever parties or events you have lined up for this October in costumes that still manage to be clever and creative. Read on for all the details on an assortment of inexpensive group costumes.
Check out the entire 'What's Up, Boo?' series and other videos on Facebook and the Bustle app across Apple TV, Roku, and Amazon Fire TV.
Where's Waldo
Where's Waldo Costume, $22, Amazon
Luckily for all of the Waldo fans out there, Amazon sells Waldo-inspired sweatshirts, glasses, and hats packaged together for less than $25 a set, so you and your group can really confuse your fellow Halloween revelers with a sea of red and white stripes. Where is Waldo, they ask? Waldo is everywhere.
Reading Rainbow
Colorful T-Shirt, $5, Amazon | Glasses, $15, Amazon
You and your pals can create an inexpensive Reading Rainbow (can't you just hear the '90s theme song in your head?) of your own with simple tees in as many colors as you have people. Everyone should wear a reading hat and glasses, and carry a book that coordinates with their shirt.
Up
Brown Cardigan, $9, Amazon | Back Bow Tie, $4, Amazon | Black Glasses, $9, Amazon | Latex Balloons, $13, Amazon
Up's Carl Fredricksen is lifted away by a few hundred balloons in the 2009 Pixar movie that you're probably still crying about (I know I am), but splitting up the balloons among your friends and dressing as matching Carls can make for a great group costume. To embody the salty Mr. Fredricksen, you should each wear a brown cardigan, black bow tie, and square black glasses. Split the cost of a bulk order of balloons for your must-have props.
Dogwalker + Dogs
I Heart Dogs Tee, $17, Amazon | Woof Hat, $13, Amazon | Orange Leash, $6, Amazon | Dog Hat, $15, Amazon | Face Crayons, $6, Amazon
This one's so simple. The doh walker of the group can strut around proudly in "I Heart Dogs" shirt and "Woof" hat — and no true professional should leave the house without a leash and some plastic baggies (for comic effect). Posing as pups, everyone else can wear a dog hat and — with the help of some face crayons — a dog nose.
Tennis Pros
White Tennis Skirt, $24, Amazon | Tennis Dress, $20, Amazon | Sweatbands, $2, Amazon | Tennis Racquet, $22, Amazon
Thanks to Battle of the Sexes, tennis is going to be the talk of the town this fall. Stay culturally (or, at least, cinematically) relevant by dressing in tennis skirts, dresses, and sweatbands. Remember your tennis racquets too!
Rabbit + Magician
Tuxedo Shirt, $11, Amazon | Black Top Hat, $8, Amazon | White T-Shirt, $15, Amazon | Rabbit Ears, $7, Amazon | Face Crayons, $6, Amazon
A magician's best sidekick is a rabbit to pull out of her hat, and you can easily recreate this partnership at a low, low price this Halloween. If you're playing the magician, you'll need a tuxedo shirt, top hat, and magic wand. The bunny's uniform is just as simple: a white top, rabbit ears, and face crayons to draw on a nose and whiskers.
Streaming Giants
Netflix T-Shirt, $9, Amazon | Hulu Logo T-Shirt, $20, T-Shirts and Skins | Amazon Logo T-Shirt, $23, eBay | 3-D Glasses, $6, Amazon
Represent the giants of the streaming world with logo tees for Netflix, Hulu, and Amazon. 3-D glasses will make the perfect hilarious accessory to finish off all three outfits.
Fantasy Football
Generic Football Shirt, $17, Amazon | Wizard Hat, $7, Amazon | Witch Hat, $3, Amazon | Fairy Wings, $9, Amazon
For a punny take on the fantasy football obsession, equip your Halloween team with matching generic football shirts, then distribute one fantastical prop to each person. If you're working with a foursome, may I suggest a wizard hat, unicorn horn, witch hat, and fairy wings combo?
Ice Cream Scoopers
Ice Cream, $13, Amazon | White T-Shirt, $15, Amazon | Ice Cream Scoops, $6, Amazon
This totally inexpensive group costume is the stuff that ice cream dreams are made of. All it takes is matching ice cream hats and old timey aprons, plus basic white shirts and — duh — ice cream scoops.
Rock Paper Scissors
White T-Shirt, $12, Amazon | Fabric Marker, $5, Amazon | Scissors, $3, Amazon | Construction Paper, $6, Amazon | Cotton Twine, $4, Amazon
Once you and your friends have split the requisite six-pack (more to love!) of white tees, there are several ways to pull off the other details of this simple group costume. You can use a fabric markert o write the words "Rock," "Paper," and "Scissors" on each shirt, or instead use scissors to cut the silhouette of each item in construction paper and wear them on twine around your necks.
Nerd Alert
Thick Glasses, $5, Amazon | Plaid Bow Tie, $9, Amazon | Black Suspenders, $9, Amazon | Mini Red Beacon Police Light, $4, Amazon
Put a fun twist on the arguably overdone nerd costume by dressing your group in traditionally geeky fashion — thick glasses, plaid bowtie, and suspenders — then giving everyone a prop red siren to hold.