11 Crucial Moments In The History Of The Reproductive Rights Movement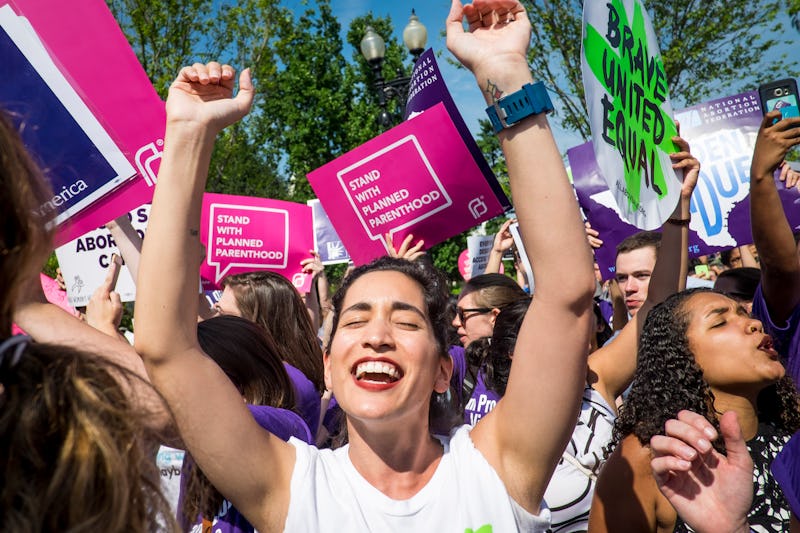 Pete Marovich/Getty Images News/Getty Images
I'm one of those women who basically always thinks she's pregnant. Seriously — at least once every month, some part of my brain convinces me that I must be pregnant, despite the fact that I'm really careful about birth control. In fact, making it to 30 without a pregnancy is somewhat of a miracle in the history of womanhood and that's because I'm of a generation that has had the most access to birth control ever. Since I became sexually active at age 15, I've used a wide range of contraceptives, from the Pill to condoms to a diaphragm. But as we stare down potential moves by the Trump administration to limit easy and cheap access to contraception, it's a good time to remember that the history of the reproductive rights movement is fairly recent — and the fight to get us here has been anything but easy.
"Over the past half century, birth control has provided enormous benefits to women and their families, and has been nothing short of revolutionary for women and society," Dawn Laguens, Executive Vice President, Planned Parenthood Federation of America, says in a statement. "But under the Trump administration, we are now facing an immediate future where a woman's ability to make a most basic and personal decision — when and if to have a child — could be limited by her boss."
So as a reminder of what we have to lose, let's take a look at some crucial moments in the history of the reproductive rights movement.