These Dyson Airwrap Reviews Might Just Convince You To Buy The $500 Hair Tool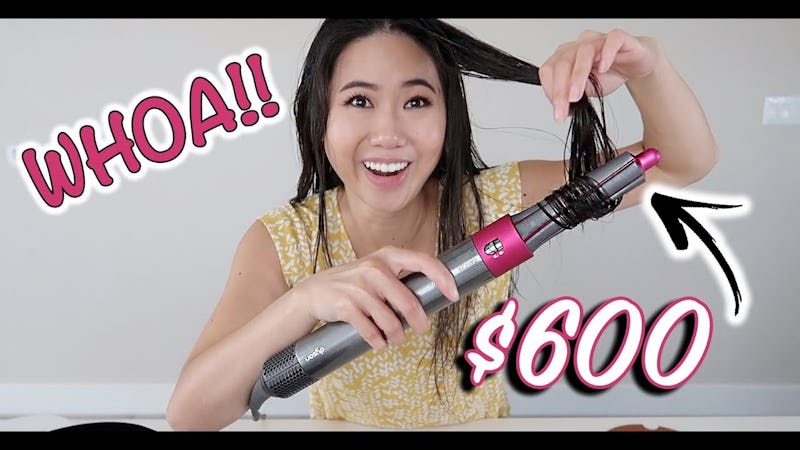 Quynh Pham/ YouTube
If you love curling your hair but don't love the damage that a heating tool does to your locks, then you're in luck. The new Dyson Airwrap is here to reinvent the curling iron, using jets of air to give you tousled curls, nix frizz, and add volume. But is it worth the steep price tag? The Dyson Airwrap reviews and tutorials seem to think that the $499 starting point is worth the investment.
While a steep price, you don't get just a curling iron with this purchase. The $499 starting point gets you a dryer and three other tools that will help you achieve the hairstyle you're after. Or, if you pay $550, you get a complete set of all six tools. Considering how quality hair tools usually clock in around a hundred dollars a pop, the price seems to make a little more sense. But when you're about to drop half a grand on a beauty innovation, you want to make sure that it will deliver the results it promises — especially if you're not exactly a beauty aficionado that knows how to wield a blow dryer or curler expertly. Luckily for us, YouTube vloggers have tested the product and shared their thoughts. See what people think below.
Quynh Pham Recommends It, Regardless Of The Price
Quynh Pham's video wasn't sponsored, so she spent $550 of her own money to test drive the product. She mentioned that she doesn't spend that kind of money on beauty items often, so the purchase was a big investment for her. The verdict? The product does what it says it will, and the hair styling time is cut in half. Plus she loves that they come with a series of attachments, meaning you get just about every hair styling tool you will ever need in one set.
Ariba Pervaiz Thinks Dyson Is The Apple Of The Beauty Industry
Ariba Pervaiz test drove all the different attachments and kits, giving tips on which kits you should buy depending on your hair texture, from afro hair to fine baby wisps. Not only does she show how to wield each of the attachments for maximum results, but she also answers the most frequently asked questions about the new tool. She finds that her styling process is much faster, and that her curls are bouncier thanks to the fact that she's using air rather than clamping her strands between two metal plates. However she doesn't think it will completely replace her blow dryer because there are some techniques she can't do with this tool that she can do with her dryer.
AndreasChoice Is Impressed With The Heat Sensors
AndreasChoice used the hair tool on her curly hair, giving us a glimpse of how the tool would work on non-straight hair. She found that at first it took some time to get the hang of using the tool, but once she did she was able to move very quickly. Seeing how she veers towards heatless hairstyles — and that this tool takes way less time to achieve those looks — she recommends it.
Evelina Is A True Believer
Evelina's video was sponsored by Dyson, but her opinions are her own. She created a soft, Hollywood glam look in her video without using any hair products to add volume or keep the shape. Her final verdict is that she's obsessed with it and won't use any other curling iron again.
Ellevate Found It Easy & Therapeutic To Straighten Her Hair
In Elle's video, she used the brush attachment for a blow out and was impressed with how easily it smoothed her hair. She usually curses out her straightener when smoothing down her hair and finds it a frustrating process, but with this she found it easy and therapeutic. In her description under the video, she updated her experience as she tried the other attachments and she found the brush attachment an amazing tool for nixing frizz after sleeping with her hair out. However, she wasn't as impressed with the curling barrels, but acknowledged there is a learning curve to them.
Li Fan Did A Six Hour Wear Test
Li Fan not only tested out the hair wrap barrels, but also did a six hour wear test. She found that the tool was easy to get used to as a first time user, but was curious to see what her hair (with no hair products) would look like after a few hours. Her defined curls were gone but her hair was still wavy, which impressed her.
She liked the results, but didn't think a person who knows how to use a curling iron well needs to splurge on it. She feels like it's best for people who don't know how to wield a barrel, or like the convenience of having their styling time cut by a percentage.
Quynh Pham Does A 20 Hour Wear Test
Pham did a 20 hour wear test to see how well the curls stay in place without product. She wore the curls for an evening, went to sleep with her curled hair, and then ran outside in the rain to move her car and collect her trash bins, and found that while the curls weren't as tight as the day before, they still had a soft twist to them.
Lucy Jessica Carter Likes It On Her Short Hair
Lucy Jessica Carter tried it out on her short lob, and loved that she didn't have to blow dry her hair and then curl it. Instead she got to do it all in one go, cutting her time in half and not blasting her locks with double heat.
Asian Features Proves It Works On Fine Hair
People with fine hair oftentimes have a hard time styling their locks, but Asian Features proves the Dyson Airwrap will create lush, long lasting curls even if you have wispy locks. She even used it on her fringe!
Milabu Created Perfect Beach Waves With Her Wand
Milabu had her video sponsored by Dyson, but gave her honest opinion. She found that the barrel created voluminous and shiny beach waves, and loved that the same barrel cound create different looks. She found that she could create Old Hollywood, bouncy waves, or piecy beach waves depending on how she held the tool.
Stacy Semiklit Used The Smoothing Tool
Stacy Semiklit wanted to see how slick the tool could make her bob, and found it made her locks sleek and shiny in a natural way. She did her wet hair in five minutes, as opposed to her 10 to 15 minutes routine. She gave it a thumbs up.
In the end, vloggers agree that the Dyson Airwrap tool does what it promises. Now you just have to decide if your budget allows for it!