11 Funny Pride Sign Ideas That Everyone Will Want To Instagram Immediately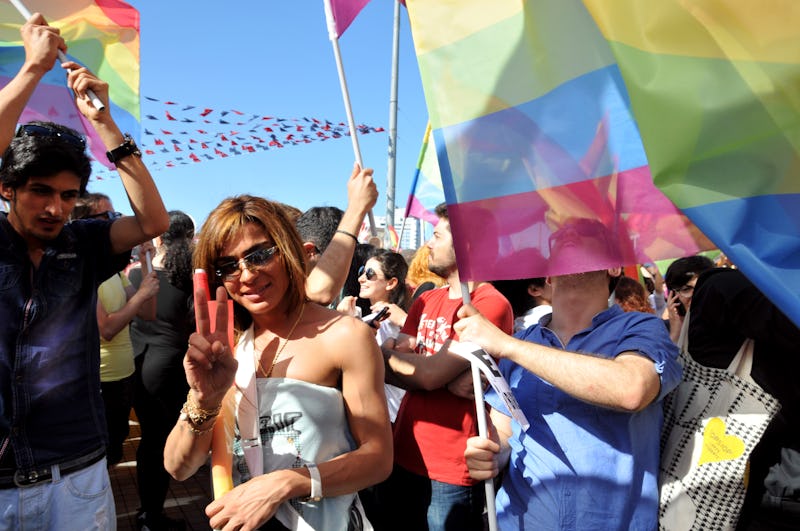 Burak Kara/Getty Images News/Getty Images
The entire month of June is Pride Month, a full 30 days celebrating and recognizing the LGBTQ community, and to promote their civil equality in a society that has long denied it to them. June was chosen as Pride Month to commemorate the Stonewall Riots, when, early in the morning on June 28th, 1969, policing raided the West Village gay bar the Stonewall Inn, prompting a riot and an ensuing civil rights movement focusing on LGBTQ equality. In June 1970, New York City held the first ever Gay Pride Parade, and over the last five decades, similar parades have been held all over the world in celebration of LGBTQ pride.
If you came here specifically looking for funny Pride sign ideas for 2018 that also make an impact, you're in the right place; the first best thing about Pride Parades are the floats, the dancers, and the outfits, because duh. But the second best thing about Pride Parades are the signs, which often feature political messages calling for LGBTQ equality. Often, these signs are both hysterical and pointed, so you're both wildly entertained and gearing up to physically fight the next person who tries to stick a Prop. 8 on a ballot, as one should.
Here is a round up of a few of the funniest past Pride signs — at parades, at the Equality marches that have started sprouting up across the country post-Trump, and wherever else a Pride moment may spring out of the air — should you require inspiration for your own at a local Pride march this month. Note that bright colors, elaborate drawings, and glitter pens are always acceptable, though not technically mandatory.