11 Hacks To Help You Diffuse Tense Situations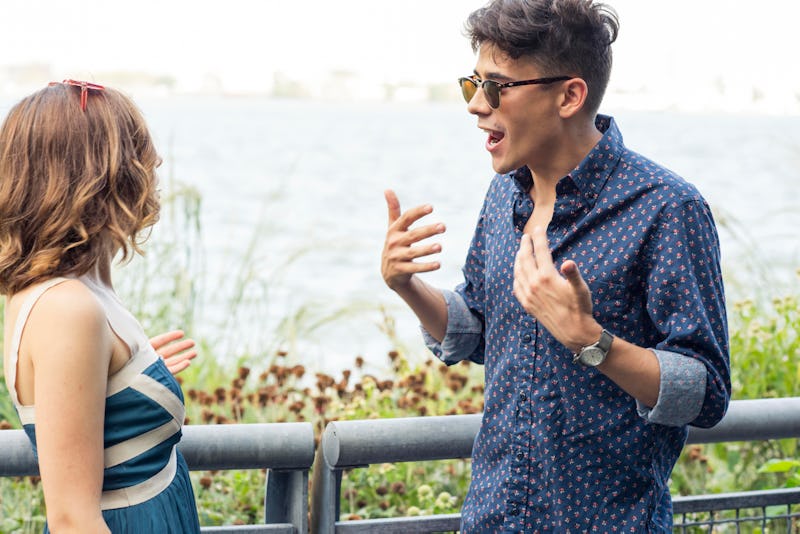 BDG Media, Inc.
The reality is, people are going to get angry with you regardless of whether you give them a legitimate reason to or not. You can't really control how someone feels or reacts. But if you are looking for ways to diffuse a conflict situation, there are a few little tricks you can do to keep the peace.
There are certain types of people that you just can't seem to stay angry with, and the big secret here is, these are people that don't get easily angry themselves, author and life coach Jaya Jaya Myra tells Bustle. "Their general demeanor is always cool and flowing like water, not hot and fiery," Myra says.
According to her, there's a "universal law" you may be familiar with that talks about action and reaction. When one person is angry, it will often trigger anger in the person they're interacting with. People who easily diffuse conflicts are careful to not respond to anger with anger.
"These are the sorts of people you just can't get angry with, because your anger slips away and vanishes when they don't react or respond to it," she says. "People who have the ability to do this generally go with the flow, are not judgmental and generally stay in a good mood, regardless of what other people do."
But as many of us know, it's quite a challenge to stay cool when someone's going off on you. So here are some small things you can try to diffuse conflict when someone is angry at you, according to experts.