11 Adorable Halloween Costumes For Big Dogs To Rock This Year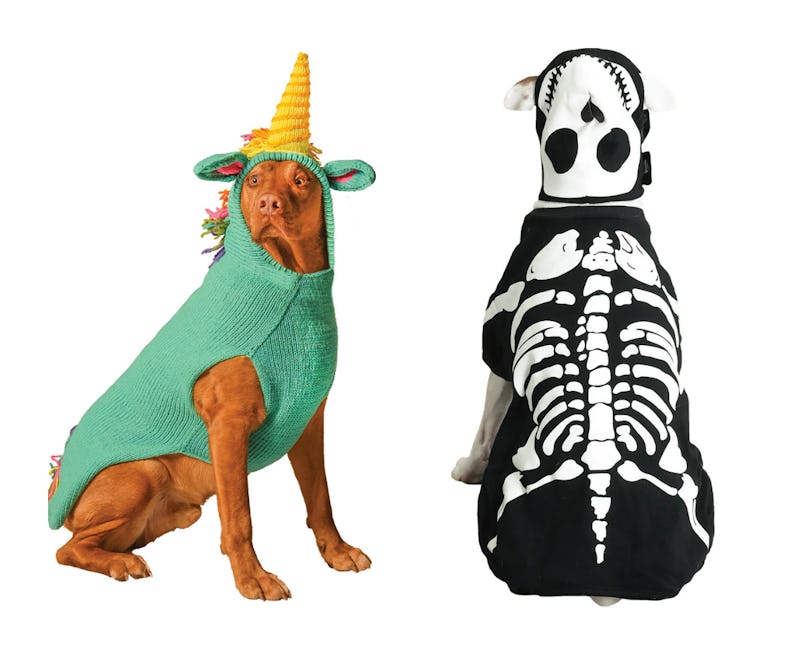 Big & Small Dog Boutique; Entirely Pets
Halloween is literally next month, meaning it's time to sound the spooky festivity alarms, stock up on pumpkin spice everything, and plan your most epic Halloween costume ever. And of course, there's someone else you can't forget — someone big and furry and the center of your whole world. Your dog, of course! As you wander the aisles that are jam-packed with Halloween goods, you might be fooled into thinking that all the cute dog costumes are made for tiny dogs only. Thankfully, that's not the case! There are plenty of fun and affordable Halloween costumes for big dogs available that will guarantee your large-sized doggos can join in on the festive fun this season, too.
Dogs in costume are literally the cutest, but friendly reminder from dog-lover to dog-lover: Be a compassionate pup parent and don't force your dog to wear a costume if he or she doesn't like it! We all love dogs for being their wild n' free selves, so if you can tell they're hating having to wear a body or head piece, ditch the costume and opt for a festive Halloween dog bandana instead. They'll love you even more for it.
So, is your pup the spooky-lovin' type? Or maybe more into a whimsical, fantasy look? There's a Halloween costume for every big dog's taste, and I've put together the best and brightest. Check out these affordable and cute costumes that prove small dogs don't get to have all the fun on Halloween.
'80s Aerobics Instructor
Grab your neon leotard, legwarmers, and your favorite upbeat new wave track, cause this pup is ready to lead a step class like it's 1985. This aerobics costume is also stretchy and comfortable (as exercise gear should be) so your dog is less likely to be bothered by it.
Glow-In-The-Dark Skeleton
Give your dog a bone — or rather, give 'em a whole skeleton! Your dog can rock this classic Halloween look in a casual, cozy costume that's only slightly spooky. Bonus? The skeleton design glows in the dark.
Dino Dog
Let dinosaurs roam once again by dressing up your pup in this super-cute dino outfit. This hooded costume is made of fleece, so it's super-cozy and doubles as a warm sweater. If you live in a cold climate during this time of year, this is a great choice.
Pizza Puppy
Nothing better than a giant slice of pizza — nothing except for your beloved doggo dressed as a slice of pizza, that is. This epic dog cape may be simple, but it's an instant classic. And who cares what the toppings are when you've got the world's best pup underneath it all?
Rainbow In The Sky
If your dog is your lucky charm, this may be the Halloween choice for you. Your pup will light up the room with this simple and colorful rainbow costume, complete with fluffy white clouds and a perfect blue sky.
Boombox Beats
Can you feel the beat? Bring the party with you on the go (in canine form) with this boombox costume that is nothing short of amazing. We know your dog rocks — so let it show.
Magical Unicorn Dog
This gorgeous unicorn hoodie sweater is handmade, and we're obsessed with the detail — all the way down to the swirly unicorn horn and rainbow yarn mane and tail. If you're looking for more unique-looking costume, this mystical getup is everything.
Witchy Dog
The most classic of Halloween looks? A witch, of course. For us humans, a simple witch costume might represent a slightly last minute attempt at a Halloween costume ("let me just throw a witch hat on over this black dress as I run out the door..."), but for your doggo, it'll be fresh as ever. Let your dog in on the craft with this adorably spooky spider-web-adorned cape and mini witch hat.
Super Dog
Maybe not all heroes wear capes, but this Halloween they do, cause your pup is going to save the day and rescue you with cuteness in this Superman — er, Superdog — cape and bodysuit. Whatever, supercute, that's all I know.
Breakfast Waffle
So cute, you'll want to eat it all up. As if you couldn't love a big ol' waffle more, here comes this adorable costume to turn your #1 pooch into a giant version of your favorite brunch staple. Your heart will melt like butter, no doubt.
Crazy Daisy Dog
Your pup will look as fresh as a daisy in this fun and floral costume. And it definitely warrants a whimsical Halloween photo shoot in a field full of daisies, don't you think?