This New Website Aims To Bring Designer Fashion To Plus Size Shoppers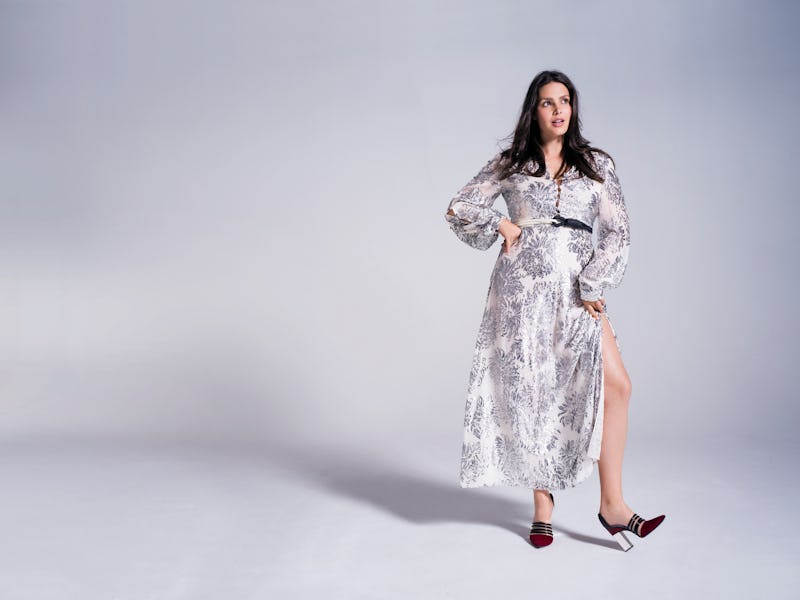 11 Honoré
When it comes to size inclusive clothing, there's one thing everyone can agree on: There's not enough of it. Thankfully, more and more brands and retailers are picking up on the necessity for more options, like 11 Honoré. Launching today, 11 Honoré is an online shopping experience that brings luxury designs to shoppers who are sizes 10 through 20.
Search for size inclusive clothing and the results can sometimes be discouraging. Sure, a handful of brands offer more size options, but the designs aren't always the most exciting.
And this is what Patrick Herning and Kathryn Retzer, 11 Honoré's two founders, wanted to combat. These two aim to "change the fashion conversation to be more inclusive, elevated and thoughtful about each aspect of online shopping," according to the press release.
As a result, they've created an online shopping destination that includes designers like Brandon Maxwell, Michael Kors, Prabal Gurung, and more. Now those are some iconic designers.
What makes 11 Honoré more than an online space to shop, though, is that it's a "community platform" where women can engage with one another, including profiles on designers and influencers, according to the press release. Their aim is to create the best curation of product.
This dress, high slit, and shoes are a killer combination. And just one of the many pieces you can find on 11 Honoré.
"Size inclusive luxury fashion is a white space in the market and for the first time we are providing runway options for this customer," Herning says. And if these preview photos show anything, it's that high fashion, chic designs, and luxury materials are in the horizon for those looking for size inclusive options.
Candace Huffine stars in the campaign shoots, looking gorgeous as always.
"11 Honoré aims to create a space that honors our customer and celebrates her through inclusive sizing, high-end designer fashion, and an impeccable shopping experience" Retzer, co-founder and creative director says, according to the press release.
One of each of these looks, please.
A quick look through the platform, and you'll find super chic work and cocktail dresses, the coolest pants known to man, and jackets that'll have you all set all fall long.
Baja East Silk Trench Coat, $1,995, 11 Honore
Stunning.
Badgley Mischka Crepe Shift Dress, $495, 11 Honore
These sleeves are everything.
Baja East Techno Crepe Wrap Pant, $995, 11 Honore
Who has seen pants that are cooler than these?
And yes, the items are pricey, but they are luxury items. Purchasing some staple pieces, if you've got the means, will add so much flare to your wardrobe.
11 Honoré's arrival to the online marketplace is a step in the right direction towards more size inclusive options. Let's hope other retailers and brands take note.