These 11 Statistics On Human Trafficking Reveal The Scope Of The Problem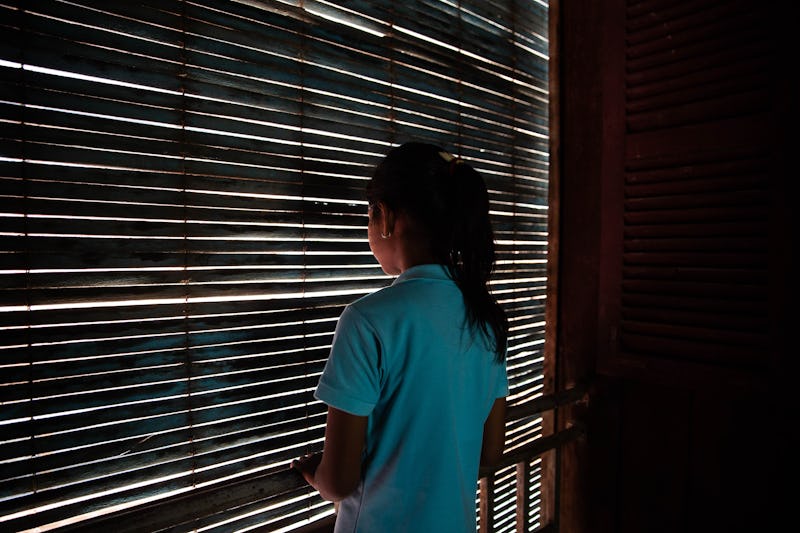 Lauren DeCicca/Getty Images News/Getty Images
Recently, President Donald Trump has leaned on human trafficking as one of the main reasons that a wall on the United States' southern border is necessary — but the claims Trump uses in order to further his push for a wall are not exactly true. It is a dire global problem, however, and the statistics on human trafficking will show you the actual scope of the issue.
In an interview on CBS's Face the Nation in early February, Trump said that "this really is an invasion of our country by human traffickers." Days later in his State of the Union address, he said that traffickers "take advantage of the wide-open areas between our ports of entry" to smuggle women and girls into the United States to sell them into prostitution and slavery.
But the claim that there's an influx of human trafficking at the border is false, The Washington Post's Fact Checker declared. And as the criminal justice publication The Appeal laid out, Trump's statements about trafficking misrepresent what's really happening at the border so that he can gather more support for anti-immigration policies.
Human trafficking is a worldwide problem, with millions of people affected and billions of dollars made off of their bodies, forced labor, and sometimes even organs. But as The Appeal reported, Trump often conflates smuggling, when migrants willingly ask or pay someone to help them cross the border, with actual human trafficking.
The truth about human trafficking is that it's a very serious worldwide problem. These statistics show exactly what it looks like.