11 Iconic 'RHONY' Berkshires Fights Because The "Fish Room" Isn't Even That Bad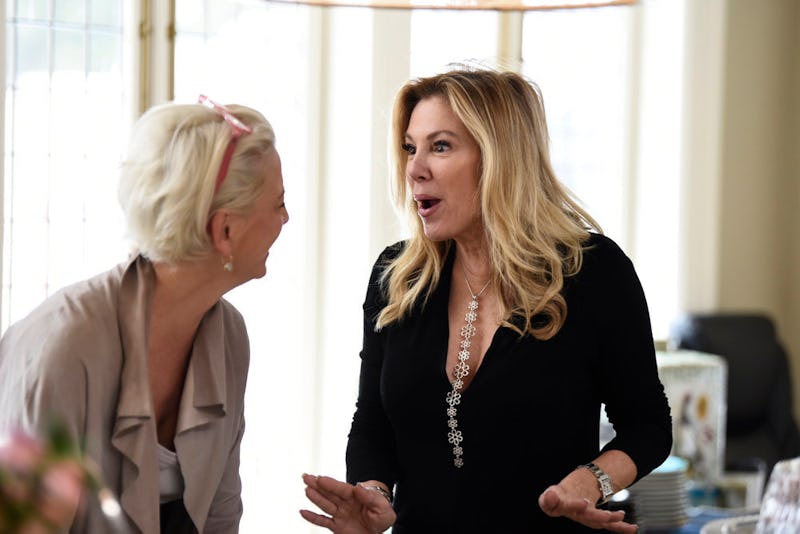 Dave Kotinsky/Bravo
It's great to see the Real Housewives of New York cast living it up in the Big Apple, but there's just something special about the annual Berkshires trip. The Berkshires brings out the worst in the women, which results in the best and most memorable episodes for the viewers. There have been almost too many iconic Berkshires fights on Real Housewives of New York to count, which is why, you know, we should take a look back and see how bad they really were. Going on a forced long weekend with friends is always stressful, even in the best of times, which is why the Berkshires trips tend to be so epic — no one wants to be there, but, there they are.
Most recently, the ladies were up in arms about who got "stuck" sleeping in the fish room at Dorinda Medley's home. Really? How bad can it be to sleep in your own room at a mansion in the Berkshires? Does it really matter what's on the walls? Apparently, it does.
Before Bethenny Frankel even got to Blue Stone Manor, she called Dorinda ahead of time to make sure she got to sleep in her Dorinda's daughter Hannah Lynch's room. Ramona Singer, Sonja Morgan, and Tinsley Mortimer, were very vocal about their disdain for the decor. They made sure to nab other rooms before Luann de Lesseps showed up.
Luann upped the "countess schtick" when she arrived in the Berkshires with some luxurious expectations. She requested yoga sessions and a massage therapist as if Blue Stone Manor is a resort and not Dorinda's home. Then, she walked away from the table after Tinsley graciously offered to switch rooms. Seriously, Luann?
Money can't buy you class, but it can buy you a hotel room in the Berkshires, which was Luann's plan until Tinsley finally convinced her to accept the room switch offer. Nevertheless, Lu's was just way over the top, especially considering the recent beef between Luann and Dorinda. She was really pushing it with her diva demands.
However, this wasn't the first dramatic moment in the Berkshires and it certainly won't be the last. And to think, Season 6 Ramona declared, "No one vacations in the Berkshires! No one I know!" And now it's an annual tradition.
Let's take a stroll down memory lane at all the Berkshires moments that got us to this point. Spoiler alert: there is an excessive amount of fur vests, expletives, and Ramona.