Hilarious K-2SO Quotes From 'Rogue One'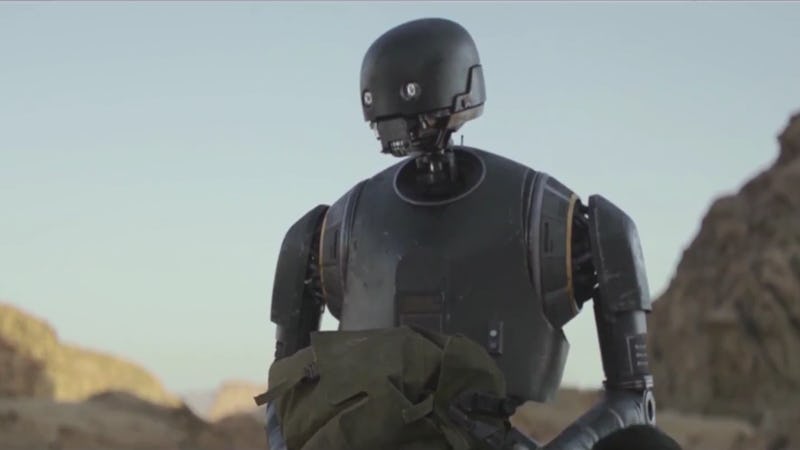 Walt Disney Pictures/Lucasfilm
After months of preparation for the Star Wars standalone film, Rogue One: A Star Wars Story finally hit theaters. Featuring fresh faces, new stories, and a bevy of highly quotable moments, Rogue One has everything. Even an unforgettable droid sidekick, and K-2SO's quotes in Rogue One are part of why he's already so iconic. In the Star Wars universe, there's no shortage of human-like robots. While BB-8 stole the show in Star Wars: The Force Awakens (because BB-8 was an adorable and trustworthy companion), Alan Tudyk's K-2SO — also known as K2 — is both complex and droll, loyal and self-actualized. Once you meet K2, and listen to all of K-2SO's best quotes, you'll realize he's the droid we've all been looking for.
During a behind the scenes Rogue One featurette, Tudyk said of K2, "I've heard him be described as the anti C3PO." While C3PO was known for some unforgettable Star Wars quotes, and even more so when it was C3PO and R2D2 together, K-2SO has a different kind of humor.
This could be because he's a droid with a torturous past. K-2SO was originally an Imperial Droid who served the Imperial forces, but, once he was captured by the Rebels, he was reprogrammed. Because of this, K2 possesses an artificial intelligence. Though this makes K2's punch lines land that much harder, the droid wasn't just comic relief.; he was vital in the Rebel Alliance's success. He just happened to also deliver witty lines and anecdotes, too. Here are some of K2SO's best quotes.
1. "Did You Know That Wasn't Me?"
After Jyn shoots a droid that appears to be identical to K2, he asks her this.
2. "I'll Be There For You. The Captain Said I Had To."
Jyn's reply? "Charming."
3. "I've Got A Bad Feeling Abo—"
This one's a wink to Star Wars fans, as the line "I've got a bad feeling about this" has been said multiple times throughout the franchise. Unfortunately for K2, he doesn't get to finish it.
4. "The Captain Says You're A Friend. I Will Not Kill You."
Bedside (droidside?) manner.
5. "There Is A 97.6 Percent Chance Of Failure."
K2, always the one to deliver the truth. Even when it's probably not the most helpful.
6. "There Were A Lot Of Explosions For Two People Blending In."
A droid with a dry, sarcastic sense of humor. Swoon.
7. "Congratulations. You're Being Rescued."
This is actually droid K2's first speaking line. It gives you a taste for his deadpan delivery.
8. "Why Does She [Jyn] Get A Blaster And I Don't?"
His question seems justified, but maybe a touch insensitive.
9. "I Find That Answer Vague And Unconvincing."
After Jyn replies to the above question, he gives her this line. (Note: this one's a highly repeatable gem that you can use in real life scenarios. See? Star Wars is so educational.)
10. "Quiet! And There's A Fresh One If You Mouth Off Again."
K2 hits Cassian in the face while he tells him this. Ouch. Note to all Star Wars characters: Don't mess with K2.
11. "I'm Not Very Optimistic About Our Odds."
One thing you can count on with K2: he doesn't sugarcoat things.
Though Jyn and Cassian ultimately brought down the Death Star, they couldn't have done it with K-2SO's help. Fortunately for the audience, that meant a slew of sardonic droid one liners. Win-win.