Questions 'The Handmaid's Tale' Season 2 Needs To Answer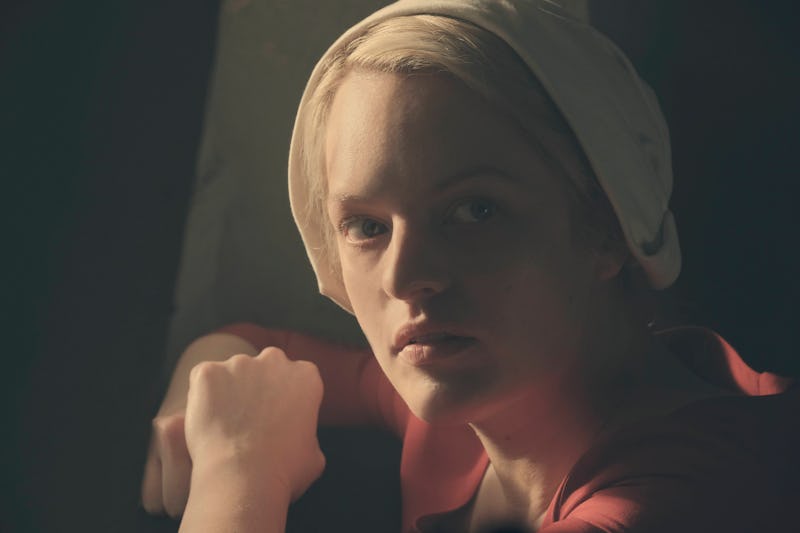 George Kraychyk/Hulu
Praise be, the first season of The Handmaid's Tale came to an end with a shocking finale that left fans wanting more. Luckily, we're going to get it, since it's already been announced that there's a Season 2 of The Handmaid's Tale coming, but not until 2018. While there's not an exact date as of yet, fans know that The Handmaid's Tale has caught up with its source material, which means Offred (real name June) isn't the only person embarking on new territory after this season finale. Knowing this means that there are still a whole lot of questions that need to be answered in Season 2.
Here's what else we know: The creators of the show have said the next season of The Handmaid's Tale will be even darker. In an interview with The Pool, the show's star Elisabeth Moss said, "It's going to get worse, girl. Season 2 is going to be bad too, really dark." It's also been reported that the book's author Margaret Atwood would like to stay closely involved with the show, just as she was during the first season. Atwood told Entertainment Weekly back in April that she thought it would be "more involving in the second season because we will be in uncharted territories so more invention will have to take place."
But, there are still so many things that are unclear at this point, which is why I've made a list of the questions I'd like to see answered when The Handmaid's Tale finally returns. Be warned, there are some spoilers ahead if you haven't read Atwood's book.