11 Organizations You Can Support On Trans Day Of Visibility (And Every Day)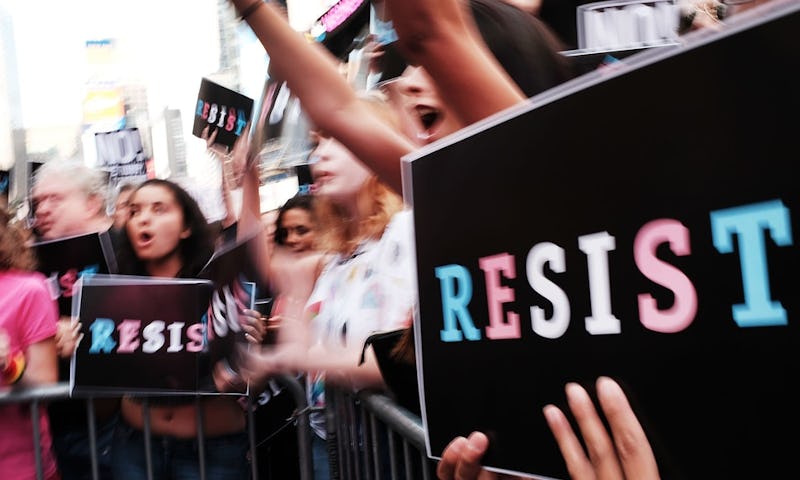 Spencer Platt/Getty Images News/Getty Images
As a transgender person, I look forward to Mar. 31 each year. Mar. 31 is the International Transgender Day of Visibility (TDOV), and that often means my trans friends spend the day being out and proud on social media, participating in TDOV events around the country, and, of course, pushing that good old #transagenda — aka, letting people know we're entitled to basic respect and decency. Whether you're trans or an ally, there's plenty you can do to show your solidarity with the trans community, and that includes supporting organizations that work on behalf of transgender people on Trans Day of Visibility — and, of course, the other 364 days of the year.
It's not an exaggeration to say trans people face countless daily challenges. From the constant struggle of just trying to pee in peace to obtaining quality trans-inclusive healthcare, enlisting in the military, and dealing with customer service representatives who put us through extra-rigorous verification procedures because they think our voices don't match our legal names. On Trans Day of Visibility, we celebrate trans activists and one another, but we also call attention to these daily struggles.
And one way to help alleviate these struggles is to be sure organizations dedicated to supporting trans people continue to run full speed ahead. This roundup features organizations with a broad range of programs for a large number of people, small organizations with niche specializations, and organizations somewhere in between, but this is guaranteed: They're all doing the grinding, everyday work of supporting trans people and helping us overcome the societal and legal barriers we face.