Hurricane Heels & Christmas Goth: 11 Photos Of Melania's First Year In The White House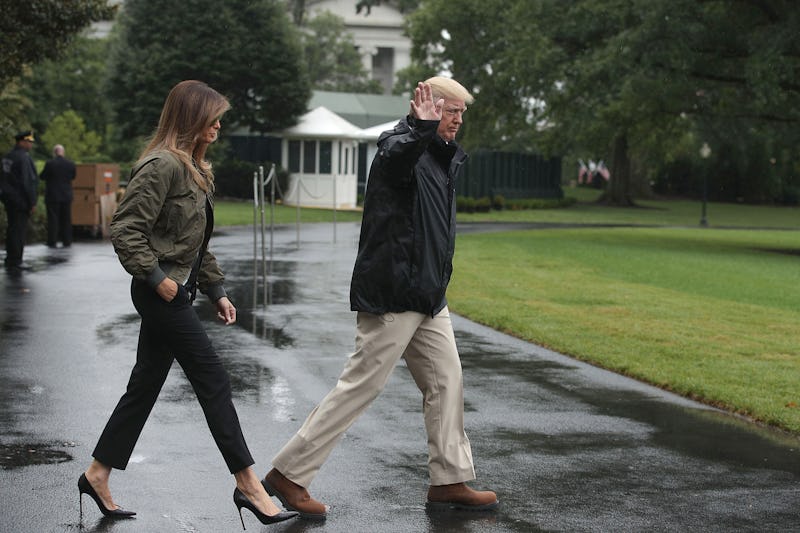 Alex Wong/Getty Images News/Getty Images
Jan. 20 marks one year since Donald Trump's inauguration as president, but it's also the anniversary of Melania Trump assuming the role of first lady. Melania's first year in office has been a controversial one, and for more reasons than just the fact that she's associated with her volatile husband's drama.
At the beginning of the year, Melania received some criticism for deciding to stay in New York with her son rather than move into the White House. But that living situation didn't last long: After 11-year-old Barron Trump finished the school year, she moved with him to D.C. in June. A more recent scandal involved the publication of Michael Wolff's explosive book Fire and Fury: Inside the Trump White House, which claimed that Melania "was in tears" on election night, "and not of joy." Stephanie Grisham, her communications director, has dismissed the book as "a work of fiction," adding, "It is a long-form tabloid that peddles false statements and total fabrications about Mrs. Trump."
Melania has made headlines throughout the year for her memorable fashion choices, many of which have been extremely expensive (in particular, she raised eyebrows with a $51,500 jacket she wore in Sicily). She's generally considered to be reclusive and hasn't been as politically active as many other first ladies, including Michelle Obama. But she has promised to conduct an anti-bullying campaign, which she's started off by giving several speeches on the topic.
Here are some of the most memorable moments from Melania's first year.
Goth Christmastime
When photos of the White House's holiday decor surfaced, Vice writer Eve Peyser described the dark, slightly creepy adornments as having a "goth" aesthetic, and the concept stuck. Melania fit right in with her austere, sharply-angled white gown.
Heels In A Hurricane
When Melania traveled to Houston after it had been ravaged by Hurricane Harvey, many poked fun at her decision to wear tall stilettos to the disaster zone.
Her Inauguration Outfit
For its First Ladies Collection, the Smithsonian chose to memorialize the white dress that Melania wore to the Inaugural Ball, but the iconic light blue outfit she wore to the ceremony is probably the one that the country will most remember from that day.
The Infamous Inauguration GIF
This GIF of Melania turning up a big smile for Trump — and then immediately dropping it as he looks away — went viral after the ceremony. The hashtag #FreeMelania started trending in response, but many also argued that Melania, after all, did marry Donald and doesn't denounce his bigotry.
Sleeves On Sleeves
Melania often wears outfits with memorable sleeves. This dress, which she wore in November alongside Kim Jung-Sook, the First Lady of South Korea, is just one of the many that prompted The Washington Post to say that 2017 was Melania's "year of the sleeve."
Ironic Outfitting
Melania gave an anti-bullying speech at the United Nations in September while wearing a $2,950 Delpozo dress. Many people noted the irony of her wearing such an extravagant item while reading words like, "No child should ever feel hungry."
Panda Photobombing
When Melania accompanied her husband on a trip to China in November, she stayed behind to visit the Beijing Zoo. She met the giant panda Gu Gu, who then proceeded to photobomb her photoshoot with a group of elementary school children.
Selective Head Covering
Melania wore black and covered her hair in a veil when meeting Pope Francis at the Vatican in May to conform to the dress code. But some people criticized her for doing so when she hadn't covered her head earlier in the year in accordance with different religions' protocols. She did not do so, for example, when visiting the Western Wall, an important historic place of worship for Palestinians and Israelis, or during her trip to Saudi Arabia.
The White House Portrait
Melania wore a Dolce & Gabbana blazer and showed off her large engagement ring for her official White House portrait. Dolce & Gabbana has been criticized for outfitting the first lady (some designers have said that they would not, including Sophie Theallet and Tom Ford). Some people also argued that Melania should have chosen to wear an American brand, as Michelle Obama did for each of her portraits.
Christmas Eve Games
Social media blew up after Melania posted this image of her and her husband on Christmas Eve. Many poked fun at the standoffish body language between the couple when they were playing a Santa phone game with a group of children.
Getting Inspiration From Michelle Obama, Possibly
Melania typically dresses in expensive clothing, which some have argued makes her appears less connected to the average American than Michelle Obama did. So when she decked herself out in J. Crew (as Obama frequently did) in August, Vanity Fair wrote that she "appears to be taking a page out of the Michelle Obama book of fashion."
In Melania's second year, we can probably expect more of the same: anti-bullying speeches; beautiful, expensive clothing; and her characteristic seclusion and political reticence.