The Best Photos From Yeezy Season 5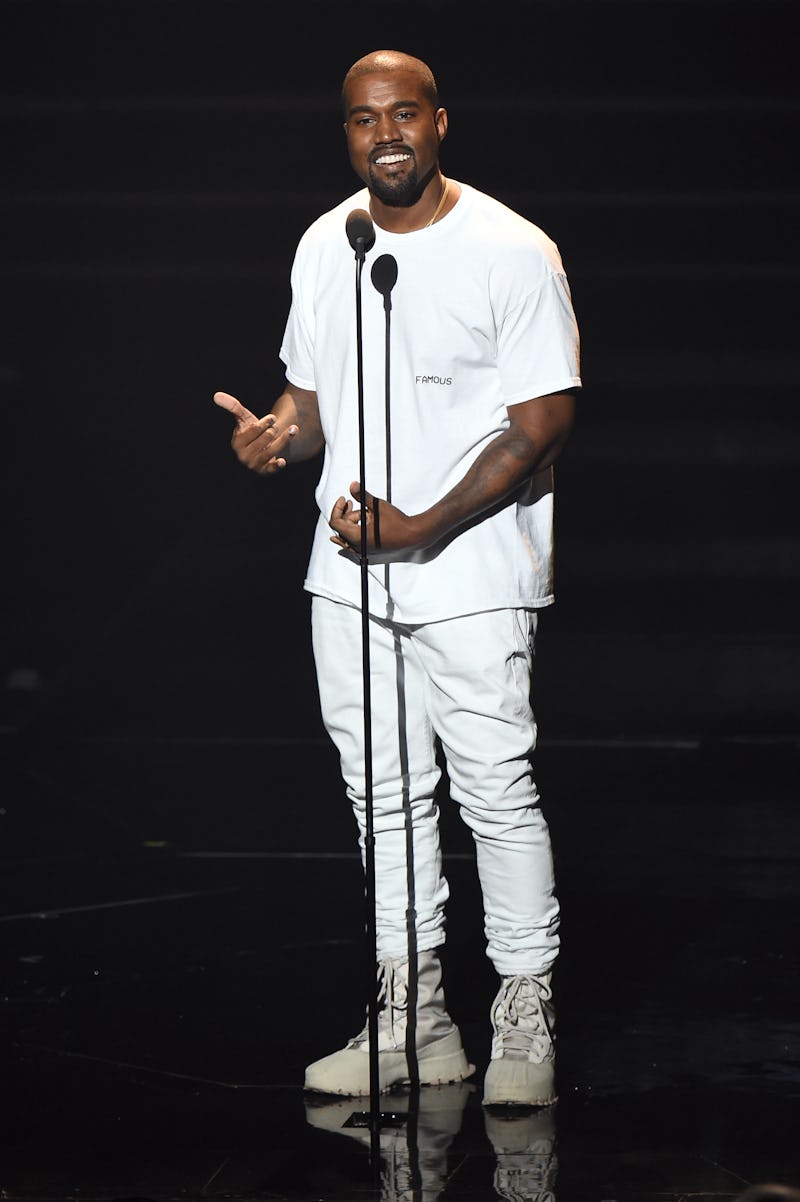 Michael Loccisano/Getty Images Entertainment/Getty Images
If there's one show guaranteed to get major hype at New York Fashion Week, it's Yeezy (and Alexander Wang, of course). So when Kanye West showed his Yeezy Season 5 collection at Pier 59 on Wednesday, the world was quick to pay attention, especially because of the rumor that Drake and West were collaborating for Yeezy Season 5.
Unfortunately, a Yeezy x Drake collab did not come to fruition, but the Yeezy Season 5 show was still worth talking about. Unlike last season's show, where models were forced to stand in the crazy New York heat and attendees were forced to wait over an hour for the show to start, Yeezy Season 5 debuted with very little drama at all.
Models walked the (indoor) runway in Calabasas-inspired pieces, from fur to denim, and of course, lots of sportswear while a remix to "Bed" by J. Holiday was sung by The-Dream played on repeat. Seems like a very Kanye thing to do.
West has been keeping a very low profile ever since his hospitalization in Nov. 2016, so much so that he didn't even appear at the end of the show, nor were his children North and Saint in attendance. Kim Kardashian did make an appearance at Yeezy Season 5, and arguably stole the show in a see through purple turtleneck and joggers.
Here are some of the best photos from Yeezy Season 5.
1. Kim K On Her Way To The Show
The queen Kim K arrives at Yeezy Season 5 wearing a purple turtleneck and sweatpants.
2. Halima Aden Backstage
Muslim model Halima Aden walked for Yeezy Season 5 while wearing a Hijab.
3. Lameka Fox In A Red Tracksuit
Red and maroon definitely seemed to be Kanye's color of choice this season.
4. One Of The Jackets With Calabasas Emblazoned On It
Calabasas was the theme of Yeezy Season 5, so naturally a majority of sweatshirts had Calabasas printed on it.
5. Kim Kardashian & Anna Wintour In The Front Row
Classic.
6. Kanye & Teyana Taylor Backstage
Taylor starred in the Yeezy Season 4 zine that came out on Tuesday.
7. Luka Sabbat On The Runway
Sabbat occasionally models if asked, according to his Instagram profile, so naturally he accepted Kanye's invitation to model in Yeezy Season 5.
8. Kim & Kanye Backstage
Kanye didn't step out on the runway, but he did take a snap with Kim K.
9. Models On The Runway
Okay, this technically isn't a photo but you still get to see models on the runway in Yeezy Season 5.
10. Amina Blue On A Rotating Platform
She was the model who took off her shoes mid-strut during the Yeezy Season 4 show.
11. Hailey Baldwin & Lala Anthony At Yeezy Season 5
The model was lucky enough to attend this show, rather than having to walk in it.