'Real Housewives' Fans Know These Quotes By Heart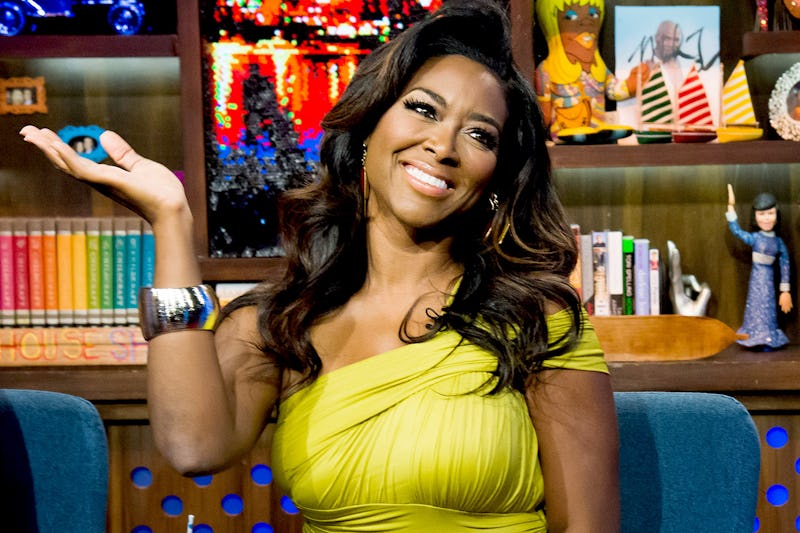 Bravo
There's no question that the cast of Real Housewives have some of the best one-liners to have ever graced television screens. However, over the years, there have been a distinct few zingers that will forever go down in history as the quotes that every Real Housewives fan will forever remember.
If you're an avid Housewives fan, like myself, you certainly know the volatile nature of the relationships that take place amongst the lovely ladies in their respective peer group. It certainly doesn't take much for things to go completely left if anyone should happen to butt heads with their arch-nemesis in the crew. This theory holds particularly true if Bravo cameras happen to be front and center for the drama. When a tumultuous situation inevitably arises, a cast member inevitably comes up with an unforgettable quote that sends viewers into an immediate frenzy. With the rise of technology, most of these sayings quickly find their 15 minutes of fame on social media in the form of a meme or gif.
However, if things happen to go completely viral, the quotes are sometimes trademarked and used as marketing material by their respective owners. Or, in some instances in the past, they've even been turned into a song — a la Kim Zolciak's "Tardy For The Party" tune.
So, in no particular order, here are some of the most iconic, rapid-fire quotes that will forever remain on the minds of Real Housewives fans everywhere:
1. "Who Gon' Check Me, Boo?"
I literally lost it when Sheree Whitfield put her event planner in check while Real Housewives of Atlanta cameras were rolling during Season 2. The moment it rolled off of her tongue, I think everyone pretty much knew that the catchphrase was going to live on forever.
2. "Get Off My Jock"
Sarcasm seems to be a second language for Real Housewives of New York star, Bethenny Frankel. She obviously became very fluent when she felt cornered by fellow cast members and decided to let them, and the entire world, know that she'd had just about enough.
3. "I'm Very Rich, B*tch"
One of Nene Leakes many memorable moments on RHOA. Nene always shuts things down when she's on the scene, forever making it known that she's definitely all about her coins. Hey, I'll snap to that.
4. "You Are Psychotic, Jesus Jugs!"
During the Season 7 reunion of Real Housewives of Orange County, Tamra Judge totally shaded Alexis Bellino's obnoxious, holier-than-thou behavior and granted her the hilarious nickname of "Jesus Jugs." I literally laughed until I cried while watching the episode.
5. "Be Cool. Don't Be All, Like, Uncool"
Luann de Lesseps totally tried to keep things under control after Heather Thomson learned that there was a naked man in the house during their girls' trip. The moment instantly made the former Countess seem so "cool" and viewers, like myself, absolutely loved seeing her be so down to earth.
6. "Bye, Wig!"
I'm sure every Real Housewives Of Atlanta aficionado remembers the time Nene completely dismissed on-time bestie, Kim Zolciak — and her wig.
7. "Namaste, B*tches"
And fans will certainly never forget that time Dina Manzo returned to Real Housewives of New Jersey in Season 6 with one of the most epic taglines ever.
8. "Gone With The Wind Fabulous"
In Season 5 of RHOA, Kenya Moore decided to let all of her cast members, and haters, know just how fab she actually is. The best part, though, was when she literally "twirled" her way out of the conversation and on to her bedroom. It was certainly one of the most epic moments in RH history.
9. "If Everyone Says You're Dead, It's Time To Lie Down"
Then just a newbie on the show, Heather Dubrow gave Alexis Bellino some pretty shady advice after learning that she had been treating the production crew poorly. During RHOC's Season 7 reunion show, the ladies went head-to-head over their differences, as Heather scathingly chided, "take this as a moment to look inside yourself and see that, if everyone says your dead, it's time to lie down."
Yikes. You definitely don't want to get on Heather's bad side.
10. "Fix It, Jesus"
During the Season 6 reunion of RHOA, Phaedra Parks begged a favor from the man upstairs under her breath. From that moment on, the mother of two has often called on the Lord to rescue her from the melodramatic surroundings sometimes brought on by her fellow cast members.
11. "So Nasty And So Rude"
I mean, seriously guys, Nene never seems to disappoint, right? During the Season 6 RHOA reunion, she made it her business to not give Kenya the time of day. The actress used the phrase "so nasty and so rude" repeatedly in an attempt to mock and talk over her former castmate's every word.
With one-liners like these, it's really hard to believe that the show isn't somewhat scripted. But if all that we see is, in fact, actual reality, it's really tough to question the comedic talent that comes along with that kind of improvisational timing. And you can certainly bet that the ladies of Real Housewives will be giving us many more laughs in seasons to come.