11 Moving Quotes From 'Wonder' To Get You Excited For The New Movie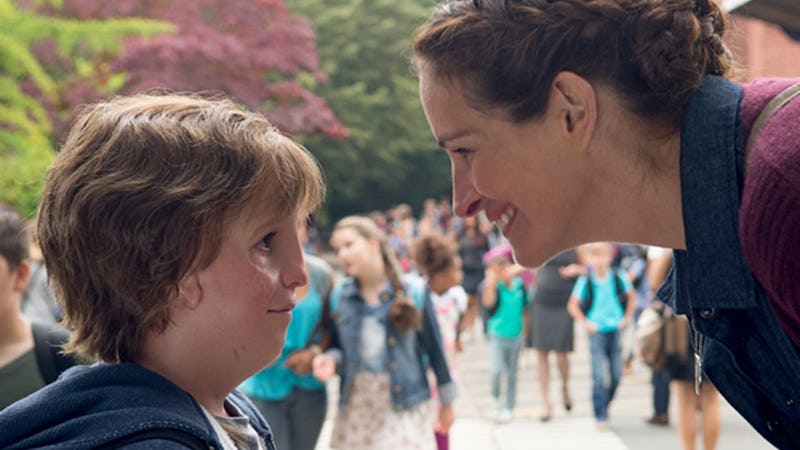 Lionsgate
When I first read R.J. Palacio's Wonder back in 2013, I hadn't read a new middle grade book since, well, I was actually in middle school. So I was pretty surprised when it ended up being one of the most moving reading experiences I'd had in a long time...and perhaps will ever have. It made me laugh and cry and it broke my heart then put it back together again. And I'm not alone. Not only has Wonder been endlessly popular with readers since it was published (it was one of my biggest handsells as a children's bookseller in 2015 and 2016), it is now set to hit movie screens on November 17 with Jacob Tremblay, Julia Roberts, Owen Wilson and Daveed Diggs, just to name a few, all with starring roles.
For those who don't know, Wonder follows Auggie Pullman, who was born with a facial deformity that prevented him from going to a mainstream school—until now. He's about to start 5th grade at Beecher Prep, and if you've ever been the new kid then you know how hard that can be. The thing is Auggie's just an ordinary kid, with an extraordinary face. But can he convince his new classmates that he's just like them, despite appearances?
And though we all must acknowledge the fact that neither Palacio nor Tremblay have any personal experience with craniofacial conditions — and that it is beyond important for us to listen, read, and champion the stories of people who are living with disfigurement — that doesn't mean that a story like Wonder can't be a beautiful starting point for children to acknowledge the many ways we're all different, and that those differences should never stop us from treating others the way we want to be treated. It's a simple moral, but one we need now more than ever.
If you haven't yet read Wonder (and seriously, what have you been doing?!) check out the 11 beautiful quotes from the book below. You'll definitely want to pick it up, and check out the film, when you're done.
Wonder by R.J. Palacio, $10.65, Amazon