Part One Of Katie & Schwartz's 'Pump Rules' Wedding Was Ridiculous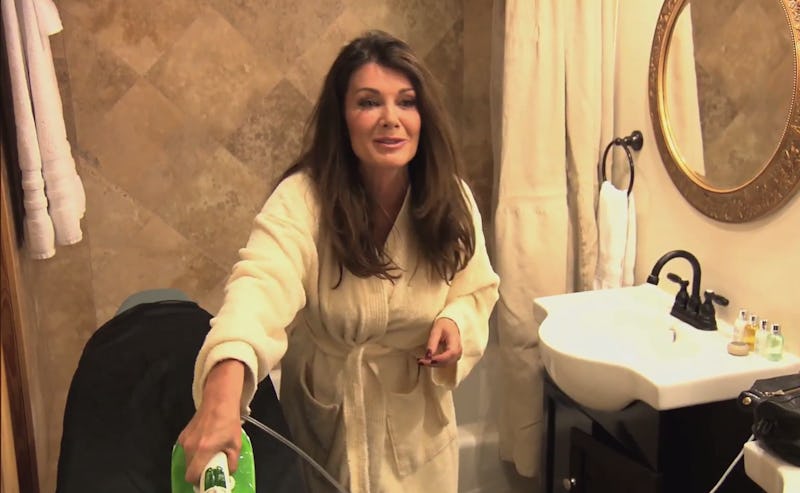 Bravo
It happened, it happened. On Monday, the big Katie Maloney and Tom Schwartz Vanderpump Rules wedding that I can't believe still occurred was finally shown. OK, well, only a portion of it was, including the rehearsal dinner and the getting ready before walking down the aisle. Leave it to this Bravo cast to turn such a special occasion into something laughable. Overall, part one of Katie and Schwartz's wedding was ridiculous. I can only imagine what part two, aka the Season 5 finale, will bring.
Don't get me wrong. There were sweet moments. Like when Schwartz's triplet brothers, Bert, Billy, and Brandon flew in as a surprise courtesy of Jax Taylor and Tom Sandoval. It truly was such a nice gesture from these two and to see Schwartz's emotional reaction? It definitely made for one of the more beautiful Pump Rules moments.
On the other hand, the first part of the wedding episode wasn't without some moments where I couldn't help but put on my Shannon Beador "Judgy Eyes" and judge the crap out of what I was watching on my television. Yes, it's one of the many reasons why I continue to tune in, but really? These people never cease to surprise me.
1. It Was On A Wednesday
Who the heck has a wedding in the middle of the week? Friday and Sunday weddings are bad enough, but one on a Wednesday? Stupid.
2. Jax & Tom's Good Deed
Jax and Sandoval flying in the Schwartz triplets was super kind. However, the fact that Schwartz and Katie couldn't do it themselves irks me. You're telling me they could spend $51,058 on their wedding (way over their initial budget, by the way), but couldn't put aside or save money to fly in Schwartz's family? Talk about misguided priorities.
3. Stassi & Kristen's Reactions
I get that Stassi Schroeder and Kristen Doute were excited to see two of their nearest and dearest friends finally say "I do" after so many years together. But they sometimes acted like it was a day all about them. I mean, in typical Stassi fashion, she wondered if she'd be part of Schwartz and Katie's vows.
4. Dad Jax
First of all, do the triplets not know how to dress themselves? It was a little awkward watching Jax act like their father, trying to dress them for the wedding and making sure they had clean socks.
5. Sandoval's Closet
Why did Sandoval bring his entire closet? They were there for how long? Then again, there is a positive side to this. None of the other guys were even wardrobe prepared, including Schwartz, so thank goodness he did.
6. Lisa Ironing
Did anyone else get nervous watching Lisa Vanderpump ironing her dress? It was very sheer, and I really thought she was going to burn a hole in it. Also, LVP ironing? Never did I think I'd see the day.
7. Schwartz's Hygiene
Schwartz did not take a shower before his wedding. I repeat: Schwartz did not take a shower before his wedding. What makes it even worse is that he swam in that nasty river beforehand. GROSS.
8. The Vows
Who waits until the very last minute to write their wedding vows? I can't believe they both didn't have their vows finished until they were actually getting dressed for the ceremony.
9. Katie's Dress
I get that wedding dresses are long and some even have trains — but I would not want my expensive dress dragging through the woods. Can you imagine how dirty her dress probably got?
10. Tom's Attire — Or Lack Thereof
Schwartz was not prepared at all for his wedding. He had no idea what to wear and didn't even have new socks to put on. He really should count his lucky stars that Sandoval is his BFF and was there to dress him.
11. LVP & The Piñata
During the "Taco Tuesday" rehearsal dinner, LVP didn't want to hit the piñata because it was almost like animal abuse. As an animal lover and someone who doesn't eat meat or seafood, that is bologna. It's a papier mâché craft, not an actual animal.
Stay tuned, because you bet I will be making another list of ridiculous moments from part two of Schwartz and Katie's wedding.