11 Strapless Bras For Big Boobs That Need Support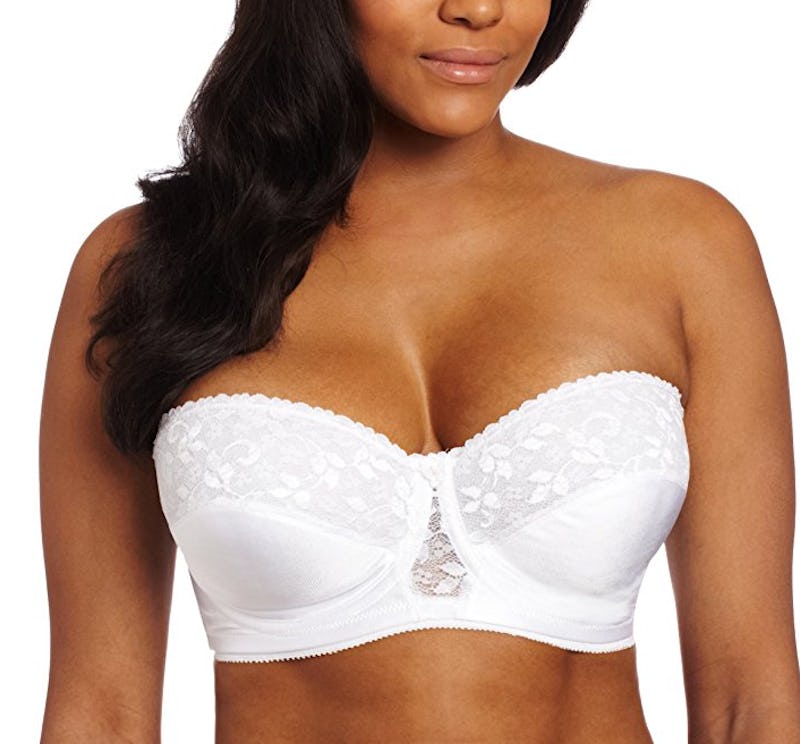 Sometimes, despite your usual carefree attitude, a girl simply doesn't want her straps to show. Unfortunately, that doesn't always come easy for large-chested ladies. Women with big boobs need comfort and cuteness when it comes to their bras — luckily, these strapless bras for large chested ladies have got both.
While contrasting colorful bra straps with your outfit can sometimes make a quirky fashion statement, there will likely be an occasion when you'll need a strapless bra. However, finding a strapless bra to hold up your beautiful, big bosom is much harder than it sounds. Comfort levels always seem to vary, and it's also tough to find one in a reasonable price range.
The struggle is almost enough to make you want to go braless — which is totally fine, and encouraged if you're really feeling yourself and don't mind a big of motion. However, there may come a time when you want them to stay put — in say, an elegant, strapless evening gown — so you'll need a good quality strapless bra to help your breasts stay where you want them. If you find yourself in this kind of quandary, here are some super strapless bras for large busts. They've got all the support you need.
1. The T-Shirt Bra
Wacoal Women's Red Carpet Strapless Bra, $36 — $127, Amazon
A strapless T-shirt bra will come in handy during the summer months when lace and polyester simply don't feel as good.
2. The Lacy Number
Carnival Women's Full Figure Strapless Lace Bra, $10 — $44, Amazon
This white, lacy strapless bra will have you feeling like a modern day Daisy Buchanan.
3. The No Padding Style
Delimira Women's Underwire No Padding Strapless Bra, $17, Amazon
Folks who dislike bra padding should add this strapless gem to their underwear drawer.
4. The Underwire Bandeau
Women's Angel Seamless Underwire Bandeau Bra, $26, Amazon
This bra is the perfect match for ladies looking for the comfort of a bandeau bra, with the support of an underwire bra. Better still, it's available in a range of colors and sizes!
5. The Spanx Strapless Bra
Spanx Women's Bra-Cha-Cha? Strapless Bra 217, $20, Amazon
When it comes to support, Spanx sure know their stuff — this molded cup and underwire bra prove it.
6. The Beige Bustier
Le Mystere Women's Soire Convertible Bustier Bra, $35, Amazon
This beige bustier is a great way to add some extra support into your everyday wardrobe.
7. The Pretty Pink Bra
Push-Up Strapless Microfiber & Lace Bra, $41, Amazon
Plus size babes searching for a strapless bra that will look and feel like a push-up (minus the straps) will likely love this feminine style.
8. The Elegant Black Bra
Elomi: Maria Strapless Bra, $76, Amazon
This sophisticated style will look divine peaking out from under a strapless ensemble, or even a crisp white shirt.
9. The Pinup Bra
Curvy Kate Women's Luxe Strapless Bra, $30, Amazon
This retro bra, featuring a subtle pinstripe band and buttons, is cute and functional as it comes with removable straps.
10. The Decadent Bustier
Goddess Women's Lace Bustier Bra #GD0689, $53, Amazon
If you get invited to a lavish affair, this is the bra to wear with an opulent, strapless gown. You could also flaunt it underneath a strapless top on a Saturday night and feel like a million dollars.
11. The Bridal Bustier
Va Bien: Lacey Strapless Bustier, $64, barenecessities
Wedding belles with strapless gowns and a large cleavage can cross "bridal lingerie" off their list with this darling yet functional bustier.
Strapless bras for large bosomed ladies are not a myth — these rad styles prove it. You'll have a whole new world of wardrobe choices to explore now that you no longer need to worry about supporting your voluptuous cleavage.
Images: Courtesy Brands