11 Things Real Housewives Own That You'll Want To Add To Your Holiday Wish List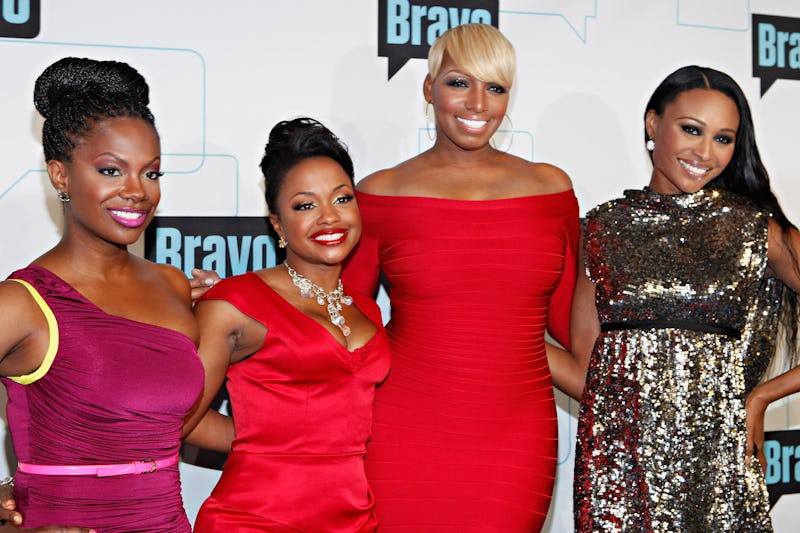 Cindy Ord/Getty Images Entertainment/Getty Images
It can often feel quite difficult to find the perfect Christmas gift for a person who literally has it all — yourself included. That said, it may be helpful to draw inspiration from some things Real Housewives own to add your holiday list this year. Now that it's officially the season to start figuring out exactly what to give and receive for the holidays, it obviously can't hurt to get an idea or two from the women who appear to practically have everything under the sun. From their expansive wardrobes to impressive homes and car collections, it's safe to say the Real Housewives of every city seem to have just about anything and everything that money can buy.
As the very worldly women that they appear to be on-screen, their penchant for the finer things in life has no doubt caused fans to marvel at the possessions that they've managed to amass throughout their lifetimes. So if you've found yourself making a list and checking it twice for a little taste of the Real Housewives lifestyle, consider this your guide on how to make those dreams a serious reality this holiday season.
1. Harvest Your Own Lemons Like Yolanda Hadid
Remember humming along to "partridge in a pear tree" in your childhood? Well, it's time to ditch that notion, because former Real Housewives of Beverly Hills star Yolanda Hadid's lemon tree is where it's at for the 2017 holiday season. Come on, you've got to admit that Yolanda's backyard lemon oasis was something you needed the moment you saw it. Yolanda singlehandedly made going out to her yard and picking lemons seem so fabulous... and farfetched, particularly if you don't quite have the backyard space to harvest a lemon farm. After doing a little research, it turns out that growing a lemon tree of your own is very attainable — right in your own house.
Indoor/Outdoor Meyer Lemon Tree $24.99 at Amazon.com
2. Make Your Own Wine Like Bethenny Frankel
Real Housewives of New York star Bethenny Frankel has long been noted for her creation of the the Skinnygirl empire, which houses its own brand of alcoholic beverages. You can step right into Bethenny's shoes by creating your very own wine right in the comforts of your own home.
At-Home Wine Distillery Kit, $249.99 at Amazon.com; Wine Guide, $9.61 at Amazon.com
3. "Twirl" On Your Haters In A Dress Like Kenya Moore
If you're feeling "gone with the wind fabulous" like Real Housewives of Atlanta star Kenya Moore, a free-flowing sundress dress should definitely be at the top of your wish list.
Boho Maxi Dress, $19.99 at Amazon.com
4. Make Your Own Hexagonal Ice Like Heather Dubrow
Perhaps not as "fancy pants" as former Real Housewives of Beverly Hills star Heather Dubrow's hexagonal ice machine, but you can get the same result by freezing your own cubes in a nifty hexagonal shaped tray.
Silicone Hexagon Ice Cube Tray, $8.46 at Amazon.com
5. Build Strong Muscles Like Tamra Judge
Transform your body into a muscle machine like Real Housewives of Orange County star Tamra Judge if a new physique is what you're after. Tamra made extra bank by competing in bodybuilding contests and opening up her own gym, so it seems that the fitness business is her official thing these days.
Dumbell Weight Set, $47.19 at Amazon.com
6. Decorate Your Home With Colorful Furniture Like Kandi Burruss
Recreate Real Housewives of Atlanta star Kandi Burruss' cheerful-glam decor with a smaller scale pink dining set.
Bistro Set, $231.27 at Amazon.com
7. Learn To Rap Like Monique Samuels
Mimic Real Housewives of Potomac star Monique Samuels' rhyming prowess by brushing up on your rap skills with this book of advice from iconic hip-hop stars.
How To Rap Book, $9.13 at Amazon.com
8. Get Your Puppy Love On Like Lisa Vanderpump
Channel your inner Lisa Vanderpump by adopting a pet that could use a safe and loving home.
Average Adoption Range between $25-$125 at Adopt A Pet.com
9. Get Blinged Out In Chandelier Earrings Like Kelly Dodd & Luann de Lesseps
Top your holiday outfit with these Swarovski crystal encrusted chandelier earrings. This particular style was reportedly worn by both RHOC 's Kelly Dodd and RHONY's LuAnn de Lesseps, according to The Housewives Jewelry website.
$68 at Housewivesjewelry.com
10. Enjoy Pinot Grigio Like Ramona Singer
If wine is more your thing, RHONY star Ramona Singer's Pinot Grigio may be worth a try.
$14.99 at Wine.com
11. Turn Up The Heat In A Red Dress Like Nene Leakes
Make jaws drop at your next holiday event in a red dress from Nene Leakes' Atlanta based boutique.
High-Lo Mermaid Gown $174 at Swaggboutiqueonline.com
With just a few shopping days left until the holiday, these items will certainly help you to deck the halls (and your closets too) with lots of great items to take into the new year.