11 Things Truly Happy Couples Have In Common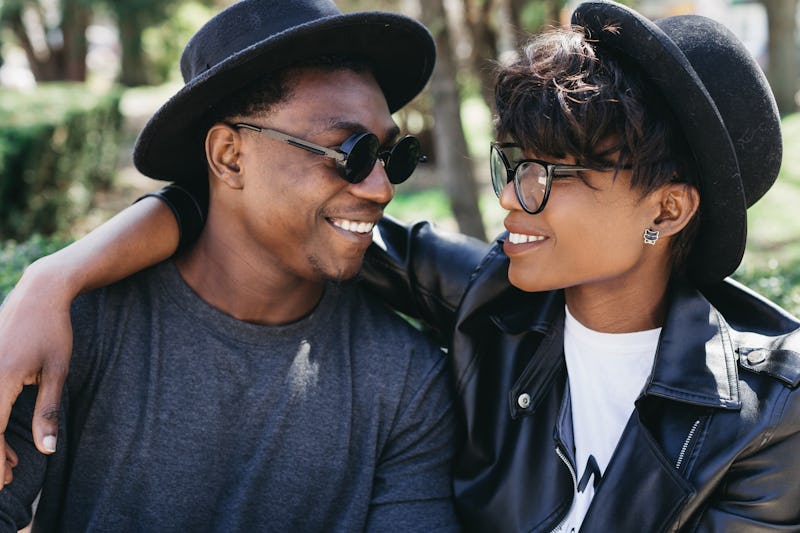 Fotolia
Chances are, you know couples who seem very happy together — no matter what curve balls life may throw at them, at the end of the day, their happiness together shows. Maybe you're in a relationship like that, too, have been in the past, or desire one. If you wonder what happy couple looks like, from how much sex they have to where they live, you're in luck.
eHarmony just found out what self-described "perfectly happy" couples have in common through their inaugural "The Happiness Index: Love and Relationships in America" report. The online survey took place from November 27-December 3, 2017, and 2,084 online interviews were conducted among people aged 18+ who were married or in a long-term relationship. So, suffice it to say, the participants had experience to draw from when it comes to revealing what happiness looks like in a romantic relationship.
As eHarmony CEO Grant Langston tells Bustle, they found that the happiest couples shared important similarities with each other — they were ambitious, optimistic, and confident. As for couples who weren't happy, they were especially likely to say that they got together because "it was just time", aka they felt societal or parental pressure to get into a relationship. But luckily, the majority of couples in the survey did report happiness.
According to the survey, 64 percent of Americans say they're "very happy" in their romantic relationships, and 26 percent of say they're "perfectly happy." As for which age group reported having the happiest relationships of all, it's Millennials aged 25-to-34. I know — what exactly does "happy" mean? Below, you'll find a breakdown of what happiness looks like for couples.