11 Things You Should Never Say To A Guy When He's Upset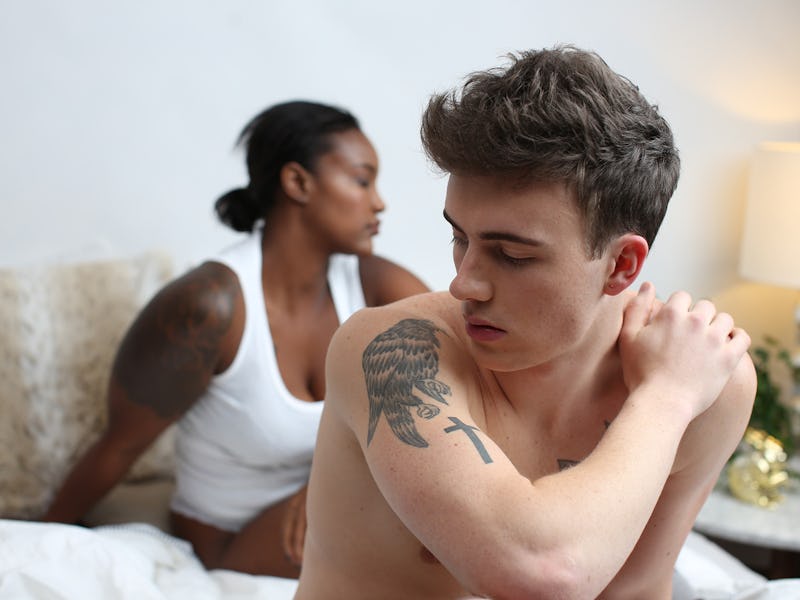 Ashley Batz/Bustle
It can often seem that men express their feelings differently than women. And since this occasionally extends to how men handle conflict, there are some things you should never say to a guy when he's upset, if you want to have a healthy, constructive convo. That's not to say that men can't be reasonable, or that they shouldn't be held accountable for their actions when they're mad/sad/embarrassed, or even that all those who identify as male act the same way. But at the end of the day, there are just some phrases you should really steer clear of when dealing with anyone who is upset, because who actually wants to hear "calm down" when they're upset?
For one, thanks to outdated, but ever-so-persistent gender stereotypes of masculinity, men don't always feel comfortable sharing their emotions, so if you call them out on that, they may easily feel more upset. "A lot of this occurs because traditional definitions of masculinity discourage men from 'showing weakness' by expressing their feelings," relationship expert Jonathan Bennett tells Bustle. Keeping this in mind when offering your support could make communicating easier.
These social constructs occasionally creep up on what men might want during conflict. "One of the biggest differences is that ... women tend to want to get to the root of the problem immediately, [while] men often want some time to cool off before actually working through the conflict," relationship expert Alexis Germany tells Bustle. This explains why men might shut down, or stalk off, when emotions run high.
While we shouldn't walk on eggshells around each other, there are ways to keep situations like these from getting worse — while still offering your support. Below, a few things that are better left unsaid the next someone you love is upset.