11 WOC-Friendly Brands With Big Shade Ranges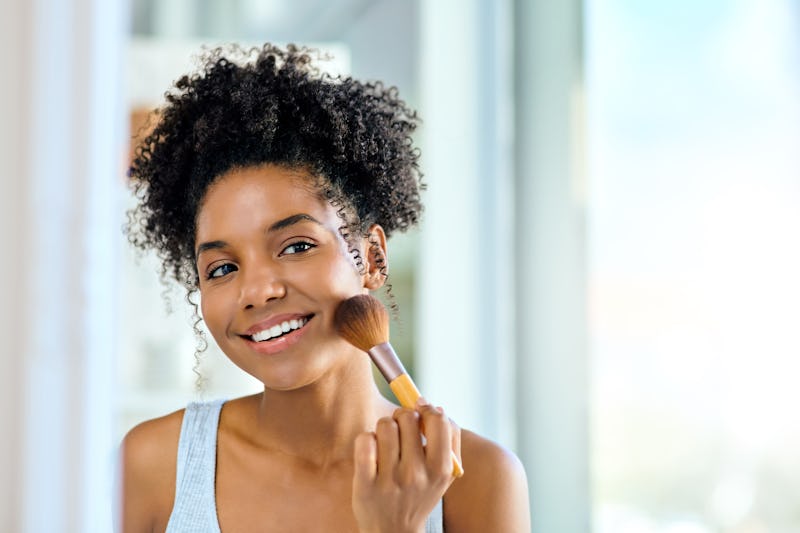 katleho Seisa/E+/Getty Images
There's nothing more frustrating for a woman of color than wandering beauty aisles in search of shades that work for brown skin. Luckily, WOC-friendly beauty brands make it possible for brown beauties to get their hands dirty with the best products.
Swatching a dreamy highlighter just to have it ash out your skin or trying on dozens of foundations with no luck can be the ultimate disappointment. Thanks to black-owned makeup brands and other cosmetic companies looking out for WOC, we have better choices than ever when hunting down products that'll blend seamlessly into brown skin. Even more promising is the lot of drugstore brands expanding their shade ranges, so slaying on a budget is possible, too.
There's still a ways to go before the beauty industry is completely diverse in every aspect, but having makeup options for women with dark skin is a good start. Your next beauty buy will likely be a keeper if you browse the endless selections from any of these 11 cosmetic companies that cater to makeup lovers of every shade.
1. Anastasia Beverly Hills
Anastasia Foundation Sticks, $25, Anastasia Beverly Hills
Anastasia Beverly Hills had women of color in mind when they introduced varying shades of foundation sticks. Whether you opt to use them all over your facade or for highlighting and contouring specific areas, there's surely a shade for your skin tone.
2. L.A. Girl Cosmetics
HD Pro Consealers, $5, L.A Girl
Popular for their HD Pro Concealers, L.A. Girl Cosmetics makes hiding puffy, dark circle ridden under eyes a breeze. Shades like "Almond", Chestnut", and "Mahogany," can erase even the darkest imperfections.
3. NYX
Lip Lingerie, $5, NYX
Making affordable holy grail products, NYX's extensive collection includes neutral liquid lipsticks that look flawless against varying complexions. Available in 24 nude and earth toned shades, NYX Lip Lingeries accent any pout perfectly.
4. KoyVoca Cosmetics
Classic Cream to Powder Foundation, $14, KoyVoca Cosmetis
The KoyVoca Classic Cream to Powder Foundation shade range is beyond unreal. If there's any brand that understands that makeup lovers come in every tone imaginable, it's KoyVoca, whose 21 shades are catered specifically to women of color
5. Ben Nye
Ben Nye "Dark Cocoa" Mojave Luxury Powder, $22, Cameraready cosmetics
Setting powders that work for women with deeper complexions without leaving a white cast are few and far between. WOC just have to thank their lucky stars for the Ben Nye Mojave Luxury Powders, available in several medium, dark, and deep hues.
6. Zoya
Zoya Neutral Collection, $10, Zoya
It's going to take more than a pinky nude to fair well against brown skin. Leave it to the Zoya neutral collection to include a jaw dropping range of nail polishes that WOC can actually consider to be "nude."
7. Lancome
Tient Idole Ultra 24H Long Wear Foundation, $47, Lancôme
Extending their Teint Idole Ultra 24H Long Wear Foundation range to include 40 shades makes Lancome an all-inclusive winner. Velvety in texture and natural in its finish, this liquid foundation deserves a spot in a WOC's makeup bag.
8. Black Up
Black Up's Blush, $26, Sephora
When it comes to blush, deeper skin tones can handle rich brick reds, vivid oranges, and bright magentas. Black Up's blush is pigmented enough that it gives brown skin a gorgeous flush with the proper complimenting hues.
9. AJ Crimson
Dual Skin Creme Foundation Duos, $35, AJ Crimson
There's nothing like being able to highlight and contour with just one product. WOC friendly brand AJ Crimson has a line of Dual Skin Creme Foundation Duos that brown beauties can put to good use for quick and easy sculpting and highlighting.
10. Juvia's Place
Juvias Place Eyeshadow, $75, Juvias Place
Make Juvia's Place eyeshadow your go-to for intensely pigmented shades that show up on dark skin in just one swipe. Whether golden neutrals are your happy place or you're dying to play with vibrant colors, this black-owned brand has a palette waiting to make its way into your beauty stash.
11. Artist Couture
Diamond Glow Powder, $27, Artist Couture
Illuminating brown skin with the richest golden shimmer is pure magic when you invest in Artist Couture. The brand's Diamond Glow Powders are available in the most luxurious rose gold, champagne, and chrome shades that will light up a woman of color's skin like no other.
Though it might feel frustrating at times, there are makeup brands that offer options for WOC. Go forth and grab them off the shelves as soon as you can.
Images: katleho Seisa/E+/Getty Images; Courtesy of Brand