12 Desserts From Trader Joe's You Need To Stock Up On For Valentine's Day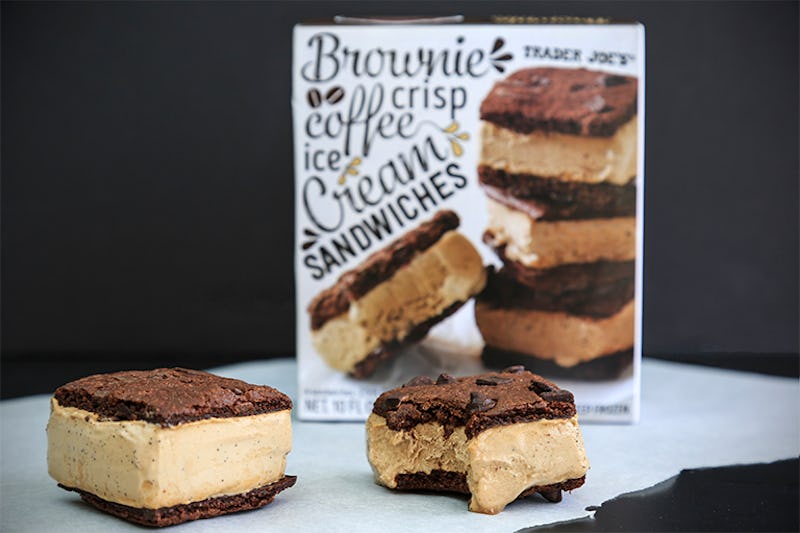 Trader Joe's
With Valentine's Day a mere ONE WEEK away, now is the time to figure out how you will be celebrating the day devoted to love. Whether you are spending it with your boo, with your friends, with your family, or with yourself, chances are food is (or should be) somehow involved in your plans. As a self-proclaimed expert in all things dessert, I have scoured the globe (er, internet) and discovered the 12 Trader Joe's desserts you need to buy for Valentine's Day.
Trader Joe's is the ultimate destination for Valentine's Day desserts. While the retailer is primarily known for its array of unique and inventive products (and pumpkin-flavored EVERYTHING in the fall) the specialty grocer also offers delicious takes on old classics (see number eight on this list, for example). Above all, what truly sets the store apart from its contemporaries is its understanding of, and appreciation for diverse diets, offering many vegan and gluten-free products. It also does an excellent job labeling common allergens on its packages. Plus, compared to other specialty food stores, the products at Trader joe's won't break your bank.
Here are some Trader Joe's items that are sure to make your Valentine's Day festivities a lot sweeter:
1. X and O Gummies
These Valentine's Day-themed treats are a seasonal take on the popular Scandinavian Swimmers gummies. Each bag holds an array of soft berry and grapefruit sweets perfect for snacking or, like pictured above, a game of tic tac toe. Plus, they're vegan!
2. Chocolate Brooklyn Babka
Trader Joe's Chocolate Brooklyn Babka tastes like it came straight from the oven of a small family bakery in NYC. The sweet, dense dough balances the rich, slightly bitter chocolate woven throughout the loaf's layers. Warm up a slice in the microwave and you'll have a dessert Cupid wouldn't be able to resist.
3. Dark Chocolate Orange Sticks
If your valentine isn't charmed by overly-sweet pink and red desserts all too common this holiday, gift them some of these. These orange-filled chocolates are a bright, summery take on the chocolate strawberries typically associated with the holiday. Plus they're a lot easier to eat than an actual chocolate covered orange.
4. Raspberry Hearts
It doesn't get much simpler than shortbread, but who says simple is boring? Indulge in the classic that is this tender shortbread snack with a dollop of tart raspberry preserves sandwiched in the middle.
5. Brownie Crisp Coffee Ice Cream Sandwiches
If fancy coffee drinks are your valentine's favorite, look no further than this treat, which is basically an extra delectable iced mocha but in sandwich form.
6. Churro Bites
One of the newer Trader Joe's products on the list, these churro bites will have you thinking of summertime county fairs and the allure of the southwest. Plus, they're perfect for stowing in your purse for future treat emergencies.
7. Frosted Sugar Cookies
They're soft. They're sweet. They have rainbow sprinkles. What more could you possibly want from a dessert?
8. Cinnamon Streusel Coffee Cake
Planning on making (of eating) breakfast in bed next Wednesday? Put away the waffle maker and grab one of these babies instead. Streusel > syrup always.
9. Premium Peanut Butter Roundels
Is there any flavor combination better than chocolate and peanut butter? Hard to imagine. These cookies marry the classic combination, and add an extra layer of decadence with milk AND dark chocolate coatings.
10. Mango and Sticky Rice Spring Rolls
When Trader Joe's released these early last year, they immediately flew off the shelves and into people's hearts, becoming one of those hard-to-find products (trust me, I know). Though somewhat atypical, these bright, complex treats are some of the best desserts the store has ever put out.
11. Chocolate Filled Crêpes
Paris is the city of romance, no? If you're not going to make it to Europe mid-week, these classic crêpes will help you make believe your living room is The Louvre.
12. Deep Dish Chocolate Chip Cookie
This skillet cookie is a brand new addition to the Trader Joe's repertoire, and I would bet it will quickly become a fan favorite. Even the coldest hearts can be warmed by warm, half-baked cookie dough.
Ah, isn't love sweet?