'12 Monkeys' Cast & Crew Reflect On The Series' Epic Finale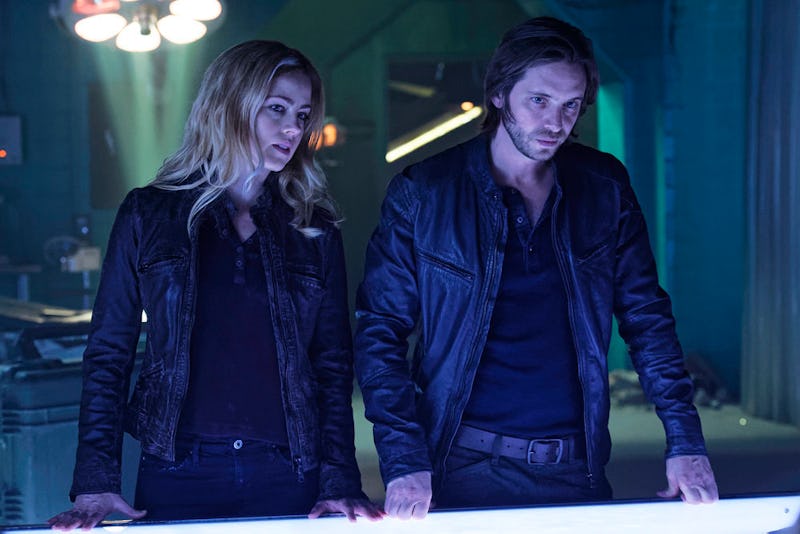 Ben Mark Holzbert / Syfy
Syfy's 12 Monkeys is about to come to an end. The series finale will air on July 6, in a two-part special starting at 9 p.m. ET. Unfortunately for fans, the fourth season of 12 Monkeys will be the last, but luckily the cast, crew, and select critics who have already seen the finale were quick to express their satisfaction with the ending to the series. It sounds like it's going to be one the fans will be proud of.
The show, which stars Aaron Stanford as James Cole and Amanda Schull as Dr. Cassandra Railly, follows this pair of world-rescuing time travelers as they hop through decades trying to save the universe from the Army of the 12 Monkeys. It's based on the 1995 movie by Terry Gilliam, which is in turn based on the 1962 French short film La Jetée. After four seasons, the show has far surpassed the original source material in terms of scope, and so it was only fitting that it was able to come back for an 11-episode final season and a big, 2-hour finale.
In a statement to Variety, Chris McCumber, the president of NBCUniversal Cable Networks explained that bringing back the series for this last season was a no-brainer for the network. "It's grown into a world well beyond the original film, and after seeing the creative strength of Season 3, we couldn't wait to pick it up for a fourth season."
As for that finale itself, it sounds like the creators really did the story justice, if Twitter is to be believed. Geek Girl Diva, a freelance writer at Syfy Wire and Hypable, took to Twitter to praise the episodes for being absolutely "perfect."
"In other news, I've just finished the screener for the 12 Monkeys series finale," she tweeted, "and I don't know how it could have been more perfect. I saw none of it coming. It answered everything. And it's perfect."
The 12 Monkeys composer, Stephen Barton, also gushed about the epicness of the finale on Twitter, with a simple teaser after the penultimate chunk of episodes last week. "If you thought tonight was epic, I suggest seriously bracing yourself for next week."
For his part, star Aaron Stanford explains that their was an air of finality throughout filming the entire last season that he thinks will come across through the characters on screen, especially while watching the final episodes. "It's bittersweet," he said in an interview with Screenrant. He went on,
"Obviously you're always happy when you can tell a story completely from beginning to end, and tell it in a satisfying way where you're able to make yourself happy and make the audience happy. It's gratifying to be able to do something like that and see something through from beginning to end. On the bitter side, you're saying goodbye to your family.
Emily Hampshire, who plays Jennifer Goines, explained in an interview with Uproxx that there's something pivotal audiences can look forward to at the very end as part of Jennifer's story. Without giving too much away, she hinted that the ending will be extremely gratifying to fans. "There's something like [an end credits scene] with Jennifer that you see at the end," she revealed. "[I]t goes all the way back to Season 1 and you're like, 'Oh my God.' It's the most satisfying thing, and it's been very hard for me not to say something about it."
When it comes to tying up the loose ends in a world of time traveling, however, you have to have someone with a pretty clear vision to keep everything on track. Luckily, 12 Monkeys has always been in the hands of showrunner Terry Matalas, whose vision for the show's ending has been clear from the start. In an interview with Syfy Wire, he said,
"I always knew what I wanted the last scene to be, in the series. So [we were] just kind of leading up to there. After Season 2, I came in with a plan for Seasons 3 and 4. I said, 'Here's where we're going.' We had a room that was wall-to-wall giant white erase boards. We know we've gotta get here, we know we want to do this, that, and the other thing, so let's plan for this. Let's do this right."
Matalas and Syfy have come up with an unconventional send-off format for their unconventional series. All 11 episodes of the season will air between June 15 and July 6, showing three episodes each Friday for three weeks until the series finale, according to the schedule Terry Matalas tweeted on May 8.
After that, though, the whole series will be available on Hulu some time after the final season finishes (Seasons 1 through 3 are already there). Matalas told Decider that he thinks this is actually the top choice for fans to watch the show. "Its best format is on streaming on Hulu," the showrunner said. "Some people will go six hours, and some people will go one hour. Everybody decides on their own." This way, the series can hopefully live on and continue to reach a wider fanbase, even after the finale.