Just 12 Hilarious Videos Of Cats Knocking Stuff Over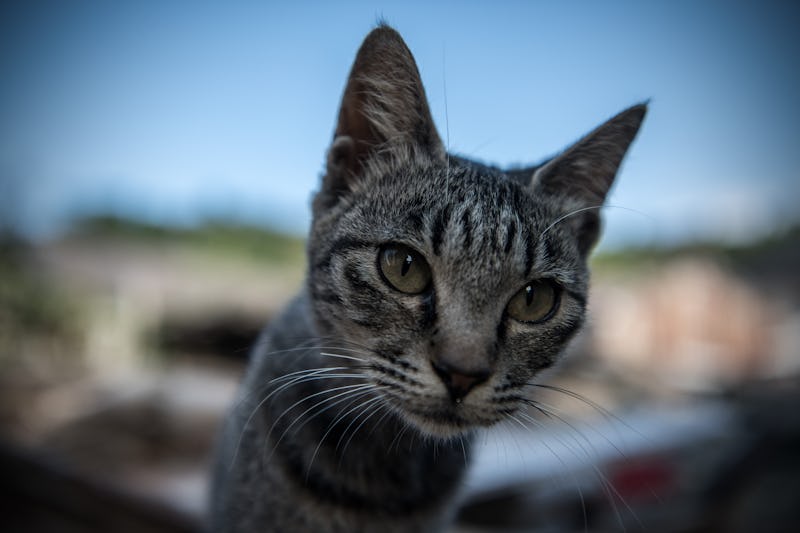 Carl Court/Getty Images News/Getty Images
If don't have a cat and don't already know all about a cat's contempt for things that haven't yet been knocked on the ground, you're going to be blown away by this revelation: Cats love knocking stuff over. To best explain this fact, I've rounded up a collection of videos of cats knocking things over, because yes, it's really a thing. Luckily, like with all cat-related content, the internet has an obsession with video compilations of cats knocking things over on camera, because cat comedy.
Cats — particularly cats on raised surfaces like counters, tables, and shelves — don't like to share the stage with anything. Or, at least, that's what it seems like. If there's a water bottle on a counter where a cat is sitting, it's going to get knocked to the floor. If you place a glass near a cat, it's going to get knocked to the floor. Though this might seem like a behavior that was made for the internet's entertainment, science explains that cat actually knock things over not to make a mess or disrespect your things, but to see what they are.
Aka, what looks like a water bottle might be a mouse, or might have a mouse under it, so to ensure they know what's up and what's around them, they knock things over to see what the deal is. Cats can never be too cautious or too curious, and though this habit can get them into some hot water with their owners, the internet has seriously embraced it. Here are some of the best videos of cats knocking things over.