13 Reasons Alexis Is The Star Of 'The Bachelor'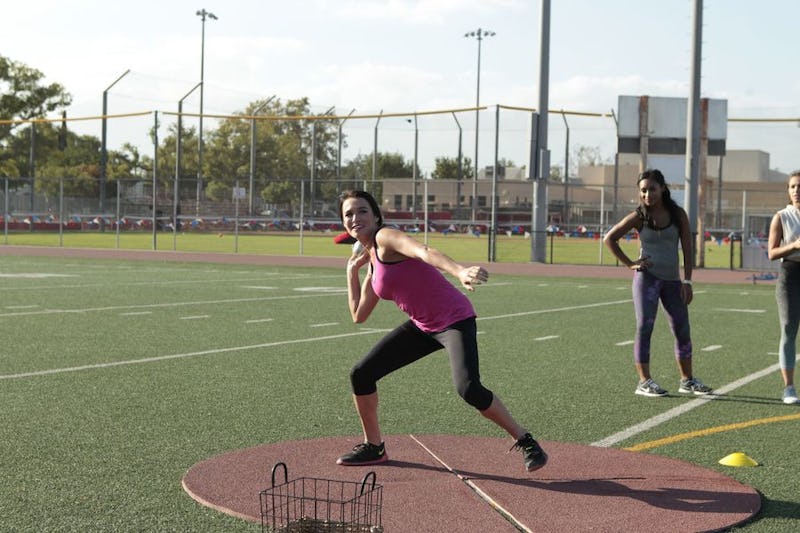 ABC/Rick Rowell
I know that the premise of The Bachelor is to watch a love story (or multiple love stories) play out. And I know that everyone on the show (and on social media) is constantly talking about and quoting Corinne Olympios, but the real standout contestant is my girl Alexis Waters. There have been so many moments from our dolphin loving friend that prove Alexis is the best thing about Nick Viall's season of The Bachelor.
Unfortunately, I don't see a ton of chemistry between Nick and Alexis, so we have to enjoy her presence while it lasts. It breaks my heart, though. She would definitely be the most-loved winner if she went the distance.
Alexis knows how to provide constant entertainment without being mean or condescending to the other contestants. She is always having the most fun wherever the group goes and at this point she is the reason viewers stick around until the episode's ending credits, because her quirky moments are always featured at the very end.
Alexis is truly the gift that keeps on giving and I feel like she will definitely be on Bachelor in Paradise this summer. I mean, it makes sense for a dolphin enthusiast to spend the summer in a tropical location.
Until then, we have these amazing Bachelor moments that show us all why Alexis is the gem of the season.
1. She Dressed Up As A Shark (Dolphin)
Not only did Alexis kill it in her shark/dolphin getup, but she also wore heels with it the whole night and entertained the entire cast and every viewer. She even talked to Nick while she swam around in the pool.
2. She Reintroduced Herself To Nick The First Time He Saw Her Not In Her Shark/Dolphin Costume
I laughed out loud when Alexis said "Hi, I'm Alexis" to Nick on their first group date just in case he might not have recognized her outside of her costume. She broke the ice for everyone on that date.
3. She & Nick Sang "Happy Boob Day" To Her Implants
I will never get over Alexis and Nick singing "Happy Boob Day" to celebrate the anniversary of her breast implants. It was both adorable and an instance Bachelor classic.
4. She Didn't Know What A "Shotgun Wedding" Was & Rocked The Look Anyway
Posing for wedding photos is awkward as it is, but doing it on a first date is extremely strange. Leave it to Alexis to have no idea what the theme of her photo shoot was only to end up slaying it and making everyone laugh in the process.
5. She Made Out With Nick While On Top Of A Giant Poster Of Nick
I have to assume that Alexis found that giant Nick poster during the track and field date, but I have no idea how she was able to bring it to the night portion of the date. And I would love to see the lead-up to Alexis and Nick kissing on top of the poster. It was a super strange moment that would only work for Alexis.
6. She Said This:
It really was a bad party since it just turned into a Corinne-bashing sesh after she made out with (and straddled) Nick in a bounce house.
7. She Said "Move, Bitches" When She Got A Rose
Not only was Alexis the first contestant in Bachelor history to say this, but apparently no one was even offended by it since they all gladly stepped out of her way and looked like they thought it was funny. Bow down to the queen.
8. She Won Our Hearts (And Almost Won The Competition) On The Track & Field Date
I am still so made that Alexis was this close to winning that track and field date. She did not win the hot tub time with Nick, but she won our hearts.
9. She's Always Sitting Next To Raven
Everyone is so caught up trying to see who has the most chemistry with Nick, but another strong relationship that's forming is the friendship between Alexis and Raven. They are always sitting together and laughing up a storm. They could be the next JoJo Fletcher and Becca Tilley when it comes to Bachelor BFF's.
10. She Admitted That Her Biggest Fears Are Nicolas Cage & Aliens
This was so random, but I have to agree with her. Nicolas Cage and aliens both seem like they would be pretty scary if you had to encounter them up close. And I love how she called out her girl Raven for being the one contestant who is most likely to be an alien. Too funny.
11. She Explained New Orleans Like This:
I have no idea if Alexis had ever been to New Orleans before that episode, but her words that she used to sum it up definitely sold me on making a trip down there.
12. She Channeled Game Of Thrones
Alexis built up some crossover love when she recited a famous Game of Thrones line. How could you not adore this woman? She is the cutest.
13. She Made Out With Nick While He Work A Nicolas Cage Mask
I will never get over Nick whipping out a Nicolas Cage mask to scare Alexis. Things got even weirder when they actually made out while he was wearing it. Only Alexis can make that seem endearing instead of questionable.
I know that Nick is billed as the star of this season and Corinne is a highly talked about contestant, but I find myself watching every episode waiting for Alexis to come on screen. She is the most lovable, hilarious, and entertaining cast member this season.