Alexis Is The Best Part Of This 'Bachelor' Season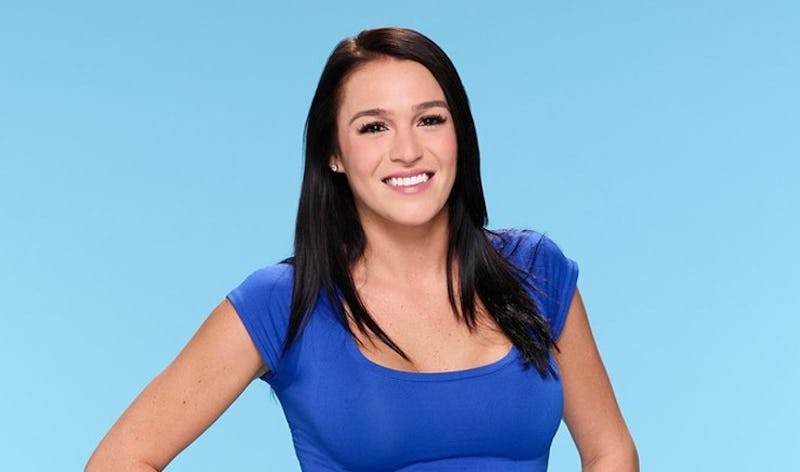 Rick Rowell/ABC
I never know what to make of the people who pop out of the limo wearing crazy costumes during night one of The Bachelor. It can be hard to take them seriously when the stunt is not executed properly. However, it worked out really well for JoJo Fletcher when she stepped out wearing a unicorn head, made it to the final two, and became the Bachelorette. With that said, I'm really living for the woman who was dressed as a shark/dolphin this year. In fact, I think that Alexis Waters is the best part about this Bachelor season so far. Not only did she start off strong, but she has really been giving the audience what we need to get through the awkwardness of the early episodes.
In the very beginning of every Bachelor season, there are a lot of women. There are the ladies who are way too aggressively trying to pursue the Bachelor, the ladies who are just there to do ridiculous things for the reality TV exposure, and the few who are actually starting to build a genuine bond with the Bachelor. But sometimes, there's a gem who doesn't totally fit any category and this season that person is dolphin enthusiast and all around good time Alexis.
When it comes down to it, I really do watch The Bachelor to watch a love story unfold. But we're not at that more serious point in the season yet, so I am beyond thankful that Alexis is on the show and I have plenty of reasons why.
1. She Dressed Up As A Dolphin/Shark.... In Heels
I love how committed Alexis was to her look on night one. Not only did she insist that she was dressed as a dolphin even though she was in a shark costume, but she stepped it up for the big night by wearing high heels the entire time. She even swam in the pool. During a night when most of the other women were way too ahead of themselves in regard to their connection with Nick, this girl provided the fun time that viewers needed.
2. She Is In On The Joke
Alexis is not one of those "crazy" people who dressed up and has some confused idea about how she comes off or what this show is about. She proved that she was very much in on the joke when she went up to Nick at the start of the group date and introduced herself... in case he didn't recognize her without the shark outfit. Sure, Nick (probably) knew who she was already, but it was a cute way to break the ice and start the date.
3. She Goes All Out
Even though Alexis had no idea what a "shotgun wedding" actually was, she embraced the theme as soon as she was informed and adopted a southern twang to rival Raven's Arkansas accent. She really got into the photo shoot with Nick and it really seemed like they had the best time instead of some awkward first date in front of a camera crew.
4. She Always Has A Good Time
Alexis always has fun. Whether she's getting interrupted by Corinne, watching other girls at their photo shoot, or hanging with Nick, she just goes with the flow and enjoys herself. When Alexis has fun, the viewers have fun.
5. She Provides Comic Relief
These first few episodes had a heavy emphasis on the drama. From the constant mention of Nick's heartache as a two-time runner up on The Bachelorette to every girl hating on Corinne's aggressive seduction strategies to Liz spilling the news that she slept with Nick at Jade and Tanner's wedding, there was just way too much controversy. Thankfully, we have Alexis to provide the comic relief.
6. She Is Genuine
Yes, Alexis is the most hilarious person in the cast and she steals every scene she's in, but she's not just on the show for stunt casting. Alexis has a sincerity that is refreshing and she even had some solid conversations with Nick. Plus, it seems like everyone in the house gets along with Alexis and appreciates her presence. Props to her.
7. She Could Be Related To Jade
No, I don't actually have more Jade and Tanner tidbits that somehow relate to this season of The Bachelor, but Jade put up their photos side by side and I do see a resemblance, which I absolutely love.
8. She Celebrated A Boob Birthday
Even though this was just an outtake that aired at the end of an episode, Alexis and Nick blowing out birthday candles in honor of her boobs' birthday was absolutely hilarious, and I wish it was a bigger thing.
9. She Stole Everyone's Shine At The Rose Ceremony
Alexis jokingly saying "Move bitches" when her name was called at the rose ceremony was instantly iconic.
10. She Gives It Her All During Group Dates
On top of all of her other amazing qualities, Alexis really killed it during that track and field date. I just wish she won the hot tub time with Nick.
11. She Made Out With Nick On Top Of A Giant Nick Poster
How was this never addressed? I'll never get over Nick and Alexis making out while they were sitting on a larger than life poster of Nick.
12. She Dissed The Pool Party
Alexis said what we were all thinking when that pool party went horribly wrong thanks to Corinne's bouncy house. If Alexis doesn't win the show, she should be Chris Harrison's co-host next season and narrate all of the action. She always has the best perspective on every single thing that happens.
To be honest, I'm not feeling an immediate spark between Nick and Alexis, but she really is the star of the season so far. I am really hoping that she appears on Bachelor in Paradise this summer, and I'm crossing my fingers that she has enough staying power this season to be a contender to star on The Bachelorette. Could you imagine a whole season centered around Alexis? It would be the best time.