13 Peel-Off Nose Packs To Get Your Pores Clean AF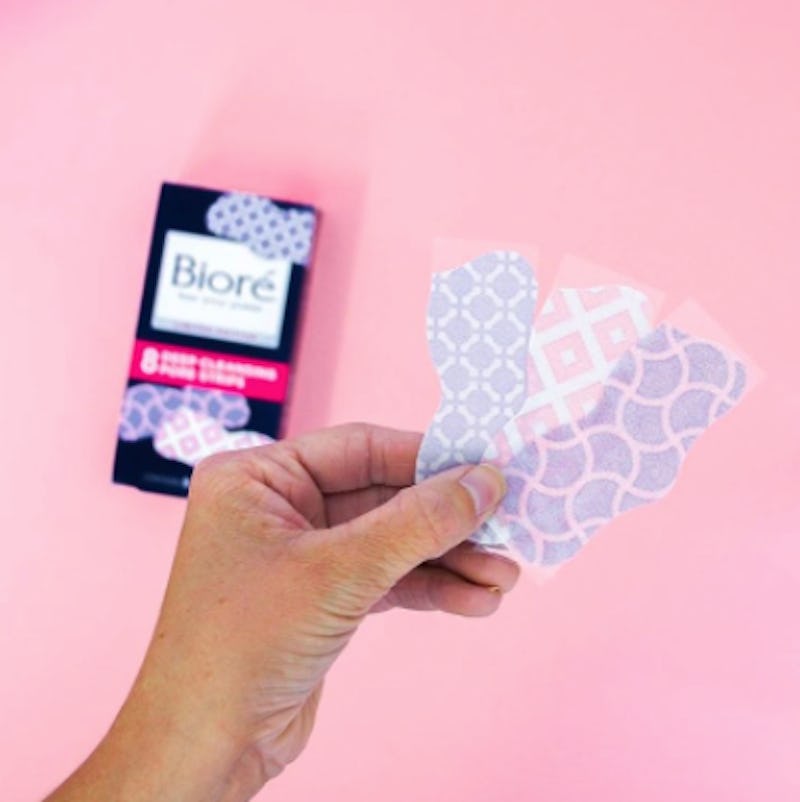 The obsession with peeling masks and facial strips is beyond real these days. Clogged pores can truly be a thing of the past because there are so many amazing peel-off nose packs on the market, just waiting to be ripped off.
If your pain tolerance is low, peeling off a nose strip can sting like hell, but the results will instantly make you forget you basically tore papier-mâché from your face. There's just something disturbingly satisfying about examining a strip after it's done sucking out all of the blackheads and built up dirt that was trapped deep inside of your pores.
Seeing incredible results may entice you to use them daily, but overusing pore strips is a definite no no. Even homemade peeling strips can wreak havoc on your skin, though they may have their appeal to DIYers. As effective as they are, tugging at your skin may cause irritation and removing too much of the oils your skin needs can have disastrous consequences. Going too far shouldn't be an issue, however, considering great pore strip alternatives make it possible to give them a break every now a then.
When your face could use a good de-clogging, make any of these 13 peeling nose strips a part of your beauty routine.
Egg White Peel-Off Pack, $7, Amazon
Skin Food's Egg White Peel-Offs are not your typical pore strips. They effectively tighten and minimize pores, while also moisturizing with their added protein source. The egg white also helps reduce inflammation, which is bound to happen when it comes to peeling a strip from your face.
Pore Master Patch, $8, Sephora
Complete with a wet and dry patch, this two-step blackhead treatment purifies pores for healthier-looking skin. Formulated with coral powder, sage, and tea tree extract, it cleanses while also firming the skin.
Strawberry Nose Pack, $9, Amazon
You may only get one use out of the Tony Moly Strawberry Pack, but you won't be let down. Using a three strip, three-step system, this nose pack works like a charm to treat blackheads and other pesky impurities.
Blackhead Out Aloe Nose Strips, $10, Amazon
Get rid of cruddy pores and soothe the pain of a peel-off by trying The Face Shop's Blackhead Out Aloe Nose Strips. Derived from New Zealand Rotorua mud, it draws out grime while aloe calms irritation.
Deep Cleansing Charcoal Pore Strips, $6, Amazon
As the tried and true brand for unclogging pores, you can expect Biore nose strips to impress you. Infused charcoal works like a magnet to draw out excess oils and impurities from deeply clogged pores. In just 10-minutes you'll see the most satisfying, cringe-worthy results.
Pore Purifying Black Pore Strips, $28, Sephora
Boscia nose strips are just as amazing as their peel-off charcoal masks. They're loaded with ingredients like witch hazel extract and charcoal powder to detoxify the skin and tighten pores. Plus, added botanicals help calm inflamed skin after you peel this baby off.
Tea Tree & Witch Hazel Nose Pore Strips, $4, Walgreens
You're well on your way to refreshed and healthy skin with the Boots Tea Tree & Witch Hazel nose strips in your arsenal. As a natural antiseptic, tea tree helps sterilize skin while witch hazel adds a soothing effect.
Down to the Pore Strips, $6, Ulta
Give way to silky smooth skin by letting the Formula 10.0.6 peeling strips remove blackheads and absorb oil. A blend of tea tree and kaolin rids the face of grime and detoxifies the skin for beautiful results.
Charcoal Pore Strips Blackhead Remover, $8, Amazon
A Korean beauty must-have, Nesura Charcoal Blackhead Removers are loaded with charcoal powder to strip your face of dead skin, excess oil, and sebum.
Blackhead Remover Pore Strips, $9, Amazon
Packed with 15 pore strips for removing blackheads around the nose and T-zone, Pilaten's deep cleansers will rip your impurities from their horrific roots.
The POREfessional: Instant Wipeout Pore Cleansing Masks, $32, Sephora
The makers of the POREfessional makeup primer definitely know a thing or two about minimizing the appearance of pores. Benefit Cosmetics' pore strips are miracle workers too, exfoliating skin and eliminating shine while deeply cleansing pores.
Sephora Collection Nose Strip, $3, Sephora
Sephora Collection's nose strips can compete with the best. A single pack will absorb all of the pollutants plaguing your pores in 15 minutes tops!
Clarifying Tea Tree Pore Cleansing Strips, $8, Amazon
Clarify your T-zone like never before with the Earth Therapeutics' cleansing strips. A mixture of tea tree, menthol, and witch hazel extracts combine to make them a life saver for dirt ridden pores.
Never live another day with unsightly nostrils with these ultra cleansing facial strips available for your peeling pleasure. Removing them isn't exactly pain-free, but you can't complain when clear, blackhead free skin is the glorious end result.
Images: bioreus/Instagram; Courtesy Brands