These Are The Places From 'Crazy Rich Asians' You Can Actually Visit In Real Life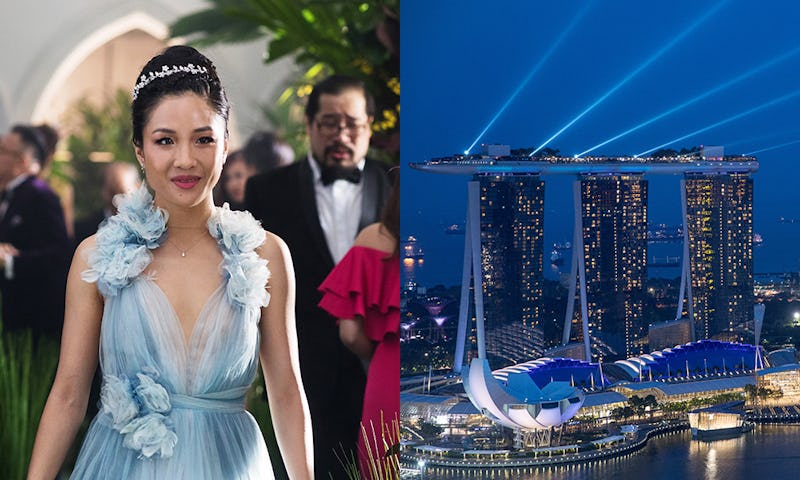 Warner Bros. Pictures; Chris McGrath/Getty Images News/Getty Images
At this point, it's safe to say that if you haven't already seen Crazy Rich Asians, you're hearing major buzz about it. The film, which came out on Aug. 15, is based on a best-selling book of the same name by Kevin Kwan. The buzz surrounding it is well-deserved: Not only is the movie the first American film in two decades to star an all-Asian cast, but it's also one of the most well-written, well-produced, fun romantic comedies ever released. The story, for those who aren't familiar, follows a Chinese-American woman from New York, Rachel Chu, who discovers that the man she's been dating for about a year, Nick Young, is actually part of the wealthiest family in Singapore. During a vacation from her role as an Economics professor at NYU, she travels with him to Singapore to attend his best friend's wedding — only to encounter his, well, "crazy rich" family, including Nick's mother Eleanor, who does not approve of Rachel dating Nick. As you can imagine, the film showcases some pretty amazing spots in Singapore, and there are even some Crazy Rich Asians Singapore filming locations that you can visit in real life.
While the cast and the story are basically perfection, one of the best things about the movie is the opportunity to learn more about Singapore. The country is a gorgeous destination, like a glamorous dream world full of bucket list-worthy sights to see.
Watching the movie or reading the book will definitely make you want to plan a trip to Singapore ASAP — and if you do that, you need to visit the below destinations to pay homage to what is undoubtedly one of the best films of 2018.