This Is What Dessert Looks Like At Burger Kings Around The World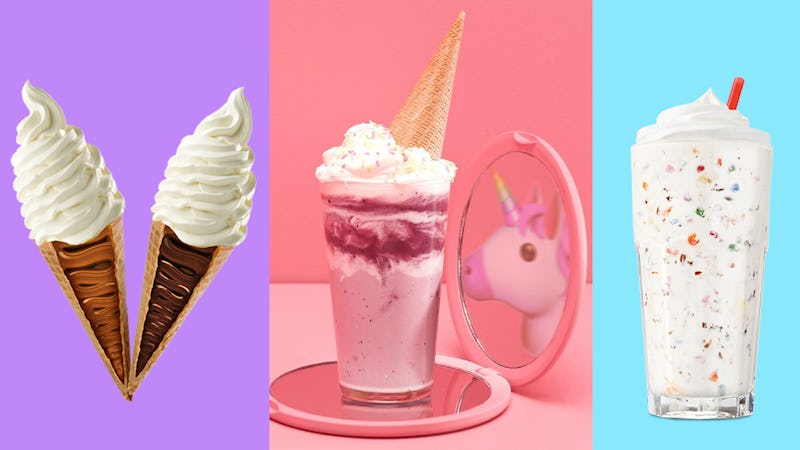 Burger King/Bustle
Fasten your virtual seat belts and tuck an imaginary napkin into your shirts because we're about to take a tour of Burger King desserts from around the world. It'll be like a culinary staycation, a digital dine in. If there isn't drool on your keyboard by the end of this list, you need to get your sweet tooth checked.
Speaking of international fast food, at the beginning of June this year, McDonald's introduced its International Menu to select locations across the U.S. In addition to Cheesy Bacon Fries (thanks, Australia) and a Tomato Mozzarella Chicken Sandwich (our regards, Canada), McDonald's limited-edition menu includes a dessert from around the world. Americans will get to try a treat from the Netherlands: The Stroopwafel McFlurry. This Dutch dessert is a mix of vanilla soft serve, a rich caramel swirl, and authentic chopped Dutch Daelmans Stroopwafel caramel waffle cookie pieces. It's like eating a waffle cone mixed in with your sundae. Some may say that defeats the purpose of a waffle cone. To which I say, "Yeah, kinda. But if you're not gonna finish yours, I'll take it."
As of 2016, Burger King had nearly 17,000 locations in 100 different countries. Every day, Burger King serves a whopping (Whopper-ing?) 11 million people globally. While there are some standard food options, like the aforementioned Whopper, not everyone around the world is picking and choosing from the exact same menu. Here are 13 desserts from Burger King menus around the globe.