We Asked Fitness Pros For Their Favorite Workouts You Can Do Sitting Down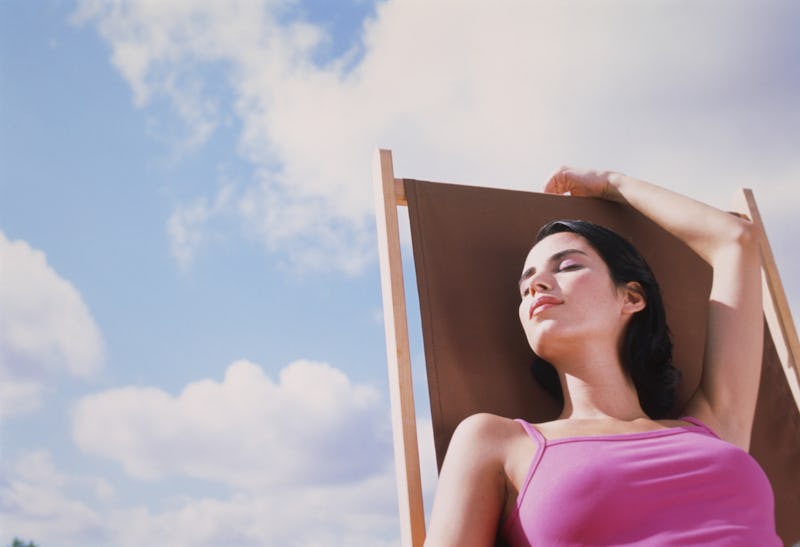 Heide Benser/The Image Bank Unreleased/Getty Images
Some workouts, you'd really rather be sitting down. Sometimes it's because you tweaked your knee during that last 5k you ran. Other times, it's because you're having a depression flare-up and can't imagine standing up today. Still other days, you just don't want to. Whatever is keeping you sitting down, if you're finding yourself restless and wanting to exercise somehow, you can still get an effective workout while seated.
"A common misconception about workouts is that they need to happen on your feet or on your palms in a plank-type position," says Bethany Stillwaggon, a certified personal trainer and master coach for boutique fitness concept Row House. "Seated exercises can be great for a quick, at-your-desk workout, or if you find balance to be a big issue when working out, or if standing hurts more than helps your body."
Even though sitting for prolonged periods of time gets a bad rap, sometimes staying in a chair or on the couch is the most accessible thing for your body, and that's OK. You can still get creative with your exercises. "Try to find ways to move when you can," says Nate Helming, the co-founder of the training community The Run Experience and strength coach for the running app Strava. Helming suggests taking phone calls while walking around, but if a stroll isn't an option, try some seated exercises at least every 30 minutes or so.
"Exercise can be a useful tool for managing stress and helping to improve sleep," says Dr. Alexis Colvin, M.D., an orthopedist at Mount Sinai and the chief medical officer of the U.S. Open. "The hardest part is always trying to establish a routine and make the exercise a habit!" To get started, Dr. Colvin tells Bustle it's best to set small, realistic goals for yourself. Trying out some of these 13 exercises you can do while sitting might be a helpful place to start.