13 Eyeshadow Palettes Perfect For Creating A Sunset Look On Your Lids
Urban Decay/Instagram
As temperatures continue heating up, so are the beauty looks trending as of late. Burnt oranges, bronzes, and sultry reds are still having their moment, leading to so many sunset themed beauty buys taking over the market.
Although there's truly no wrong or right way to wear makeup, the time of year weighs heavily on which shades get their moment in the spotlight. Vampy hues are super popular come winter, bright pastels always consume the spring, and burnt tones are the all-stars of fall beauty looks. When it comes to vacay season, bright corals, playful pinks, and aqua hues usually get their time to shine. But some of the highly coveted palettes currently trending indicate red-orange hues are the way to go this summer. The latest July 2017 beauty launches alone are enough to prove that eyeshadow palettes with fire tones are in high demand these days.
From the subtly peachy to the smolderingly bold, sunset tones can create the most mesmerizing eye looks, complimenting any complexion and never loosing their allure. For your best, smoking hot looks yet, make any of these 13 summer-friendly eyeshadow palettes staples in your beauty regimen.
1

ColourPop Yes, Please! Palette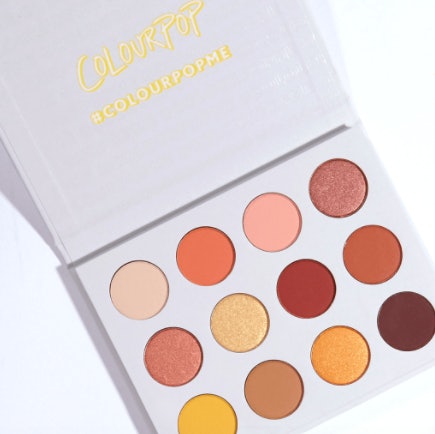 Yes, Please! Palette, $16, Colourpop
Whether it's the sunny yellow, shimmering gold, or duochrome orange, this beauty features some of the most captivating shades. It's no wonder it sold out in no time upon its initial release, leaving fans on edge until the next ColourPop Yes Please palette restock.
2

Violet Voss Ride Or Die Eye Shadow Palette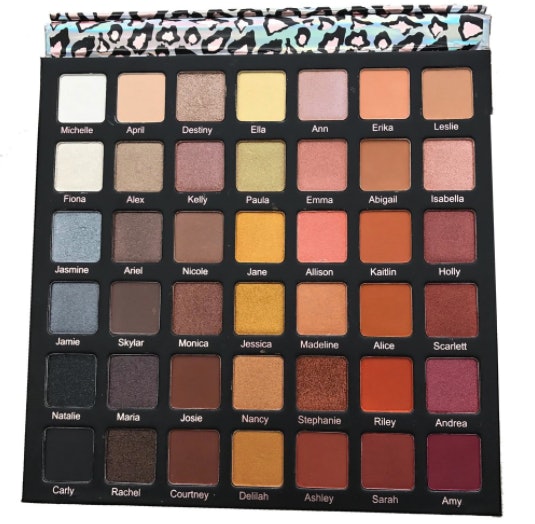 Ride or Die Eye Shadow Palette, $75, Violet Voss
There are more fire tones than a beauty lover can handle with Violet Voss' Ride or Die palette. It will truly live up to its name, making for some of the most stunning eye looks no matter the time of year.
3

Urban Decay Naked Heat Palette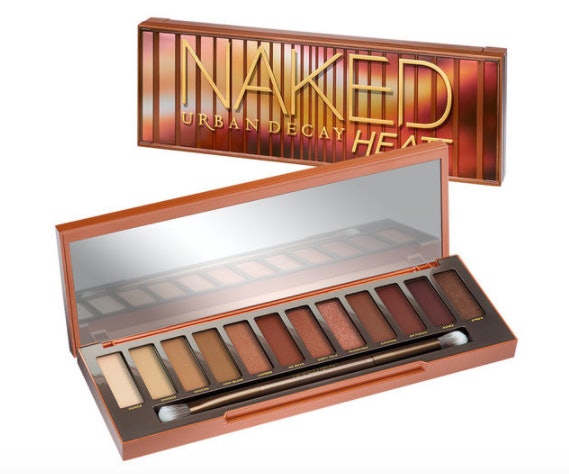 Naked Heat Palette, $54, Sephora
It may be the latest member to join the UD Naked family, but this new release is easily becoming a bestseller for the brand. Beauty gurus have spoken and there's no questioning whether the Naked Heat palette is worth it. This collection of scorched hues will give you chills.
4

Anastasia Beverly Hills Modern Renaissance Eye Shadow Palette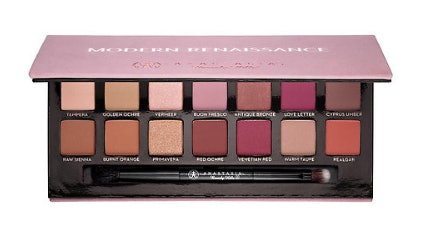 Anastasia Beverly Hills Modern Renaissance Eye Shadow Palette, $42, Sephora
There's so much to love about the Modern Renaissance palette. Burnt oranges, bold magentas, sultry bronzes— it seriously has it all!
5

Huda Beauty Eyeshadow Palette - Rose Gold Edition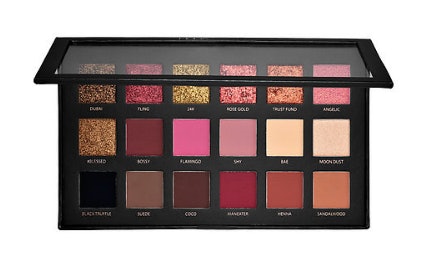 Rose Gold Edition Eyeshadow Palette, $65, Sephora
One sweep across the lid of the ultra-glitzy hues within the Huda Beauty rose gold eyeshadow palette and you'll fall in love. There's no ignoring those super pigmented mattes, either.
6

Maybelline The City Mini Palette Downtown Sunrise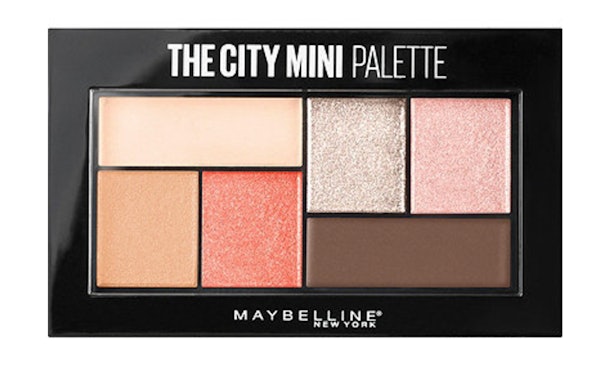 The City Mini Palette Downtown Sunrise, $8, Amazon
With the perfect combination of bright pinks, corals, and neutrals, this mini palette is ideal for creating sunrise inspired beauty looks on the go.
7

Natasha Denona Sunset Eyeshadow Palette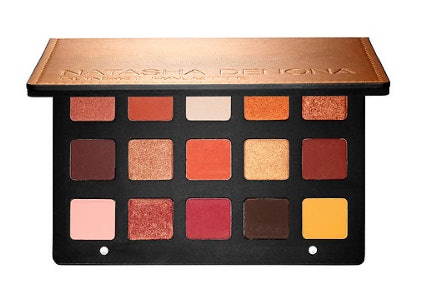 Sunset Eyeshadow Palette, $129, Sephora
There's no denying that the Natasha Denona Sunset eyeshadow palette is ah-freaking-mazing! Complete with matte, duochrome, metallic, and chroma crystal finishes, it's a glimmering masterpiece.
8

Morphe 25A Copper Spice Eyeshadow Palette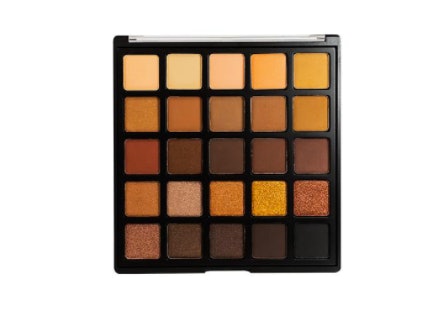 Copper Spice Eyeshadow Palette, $18, Morphe Brushes
The Copper Spice palette keeps things neutral, but with flair. Shimmering taupes, fiery metallics, and glowing coppers turn up the heat against standard neutral shades.
9

Makeup Revolution #Slay Slogan Palette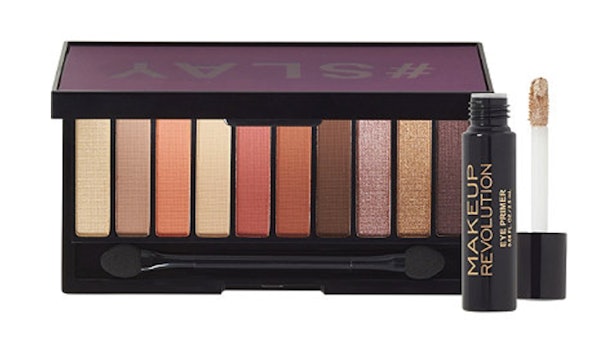 #Slay Slogan Palette, $8, Ulta
A mix of neutral, reddened, and deep hues, the #Slay Slogan Palette is a budget-friendly roundup of fire tones. It even includes an eyeshadow primer, the epitome of more bang for your buck.
10

Sephora Collection PRO Warm Eyeshadow Palette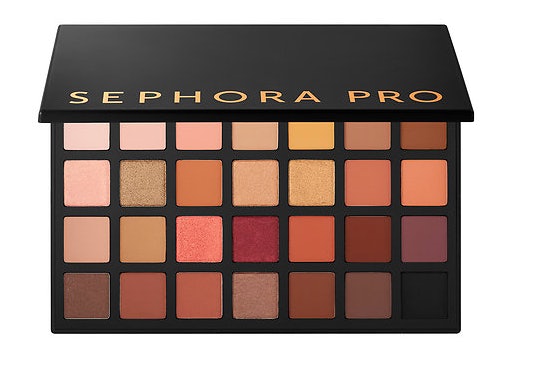 Sephora PRO Warm Eyeshadow Palette, $68, Sephora
Chrome, matte, satin, and shimmer shades come packed within this 28-pan Sephora gem. Light up your eyes with the golden hues or get sultry with the deep peach and earth tones.
11

NYX Rustic Antique Perfect Filter Shadow Palette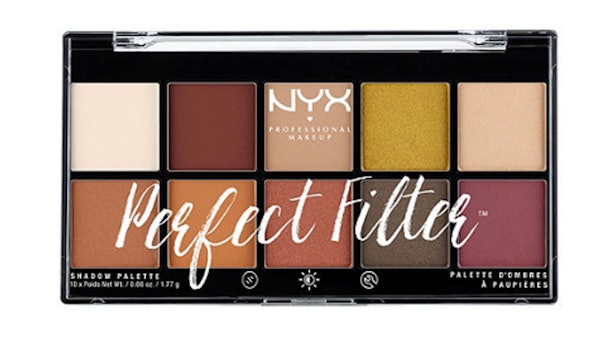 Rustic Antique Perfect Filter Shadow Palette, $20, NYX
The color combination within this NYX beauty is beyond striking. From the rich gold to the deep red, every shade is pure perfection.
12

Juvia's Place The Magic Palette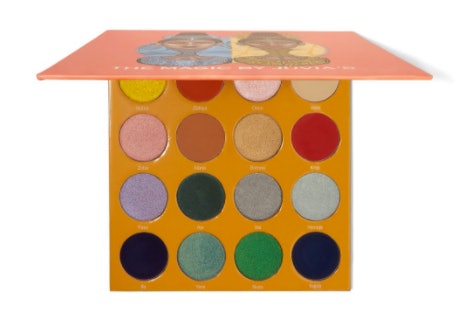 The Magic Palette, $35, Juvia's Place
Inspired by moon and sun goddesses, the Juvia's Place Magic palette is ideal for day and night time looks. Those sun-kissed tones are enough to leave any makeup maven awestruck.
13

Smashbox Cover Shot: "Ablaze" Eyeshadow Palette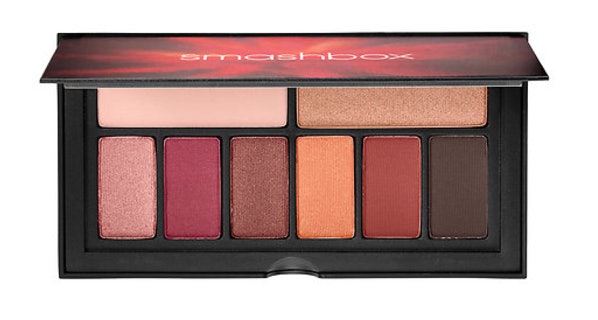 Smashbox Cover Shot: "Ablaze" Eyeshadow Palette, $29, Sephora
Though it is compact, this Smashbox Cover Shot palette packs a mean punch. Set any look on fire with its bold mix of bronzes and peaches.
It's getting hot in here, and from the looks of it, these smoldering eyeshadow palettes have a lot to do with it.