13 Genius Items At TJ's You Should Buy, Stat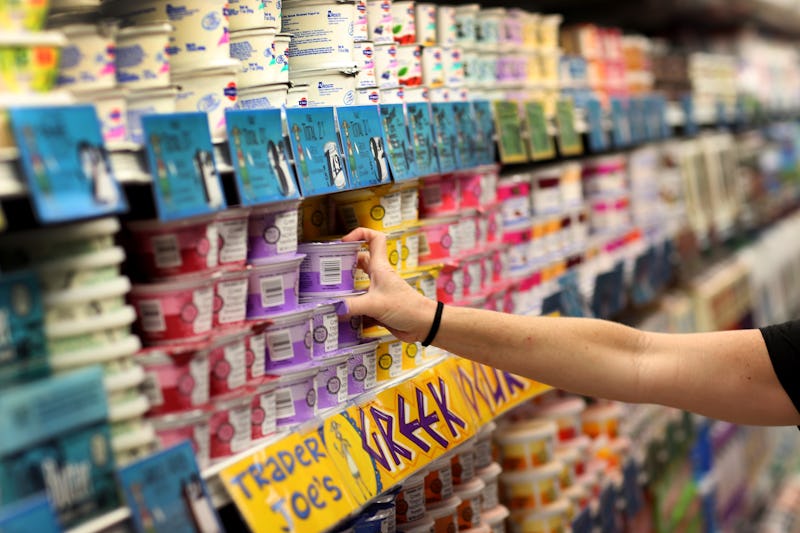 Joe Raedle/Getty Images News/Getty Images
I have a confession to make: shopping at Trader Joe's is more like a hobby than an annoying errand. If you feel the same way, you know walking into your favorite grocery chain feels like a world of possibilities with tasty vegan options. Just think about it! What would a shopping trip be without swiping yourself a free sample, and trying not to run anyone with your cart while you comb the aisles for all of your favorite snacks. It's true! If you love Trader Joe's, there isn't anything quite like it. Between Matcha cookies and meatless stir fry, Trader Joe's is the gift that keeps on giving for the adventurous and health conscious foodie.
But who knew that the same place you get your groceries can be a hub for all of your favorite foods and products? This is also a shopper's dream; not having to leave the store to buy food and the stuff you need as a human can mean multiple trips. To get it all in one place? Absolutely genius, and an efficiency maven's safe haven.
So a cheers to all of those that are team Trader Joe's and wouldn't mind meeting the love of your life, having your first date, or starting a new lifestyle change to your eating habits in the grocery store. These genius products are the quintessential items you never knew you needed.
1. Somewhat Spicy Dill Flavored Kettle Cooked Chips
It's all in the description. If you secretly adore pickle-flavored anything, this is a snack worth trying.
2. Broad Spectrum SPF 50 Mineral Sunscreen Stick
Putting on your sunscreen doesn't mean a full on pampering session when you can glide it on like deodorant. And TJ's apparently knows its sunscreens. Each stick has coconut oil, avocado oil, natural waxes, and zinc oxide or "nano oxides" that will create a barrier between your skin the sun's rays. Not only is it PABA-free, but SPF 50. Time for fun in the sun without that greasy feeling of sunscreen.
3. Blueberry Açaì Facial Scrub
Yes, you've heard it before, but antioxidants are good for you. To improve that summer glo'up and reduce signs of aging, this exfoliating facial scrub will do the trick!
4. Mashed Cauliflower
If you've decided to kick carbs, mashed cauliflower is an option in lieu of your favorite creamy mashed potatoes. An actually tasty way to eat a vegetable! Where can you go wrong here?
5. Everything But The Bagel Sesame Seasoning Blend
An everything bagel lover's dream made a reality. This tasty combination is great atop your popcorn, meats, in a dip or on a salad! This little bottle of goodness is genius because its a one-stop shop for adding a little more flavor to your favorite foods.
6. Campfire S'More Bars
You can skip the mess of trying to build the perfect s'more and pass these around at your next camping trip instead. Or if you just the graham cracker, marshmallow and chocolate combo, this is just a good decision all around.
7. Soyaki Sauce
Soy sauce and teriyaki sauce in the same bottle? Yes, a match made to bless your favorite entrée. You mix both of them anyway, so why not just cut to the chase? Another ingenious reason to recreate your favorite stir-fry at home.
8. Coffee Flour
Caffeine-infused flour sounds way more practical use wise than you think. For starters, coffee-infused flour doesn't really taste like coffee. What it will do is add a "fruity or lightly roasted flavor" to your favorite baked goods.
9. All-In-One Antioxidant Cleanser
If your beauty routine includes too many products, raise your hand! This is the perfect product because it includes your wash and exfoliant with a healthy dose of antioxidants. The gentle, sulfate-free soap can not only be used on your face, but also as a shaving gel!
10. Milk Chocolate Covered Potato Chips
If you're feeling a little fearless and into sweet n' salty, this could be the start to a wonderful connection. And why not? This combines two binge-worthy snacks that are equally addictive: potato chips and chocolate. These milk chocolate covered potato chips have topped lists as one of the greatest snacks of all time at TJ's.
11. Edamame Hummus
Hummus lovers, listen up! Packed with protein, this snack is a healthy alternative if you're trying to skip the milk chocolate covered potato chips. Get out your veggies of choice or chips for a healthy snack. And who doesn't love a snack that's guilt-free!
12. Molten Macarons
OK, now for the folks with a real sweet tooth! This frozen treat comes in salted butterscotch or chocolate and is here to answer all of your prayers. Sold in the frozen aisle, this will be hands down a winner for anyone looking for rich flavors and a nice twist on your favorite french cookie.
13. Honey Mango Shaving Cream
Gentle and non-irritating: two words you absolutely need to be sold on a waxing or shaving venture. If you're looking to add something to your routine, this shaving cream is gentle enough for a smooth shave and rich with aloe vera and vitamin E.
Now that you have a few more things on your list, head into your nearest Trader Joe's and have a blast. Chances are you'll spend way too much time inside deciding between what to try first. Happy shopping!