13 Iconic Rihanna Tweets That Will Make You Love Her Even More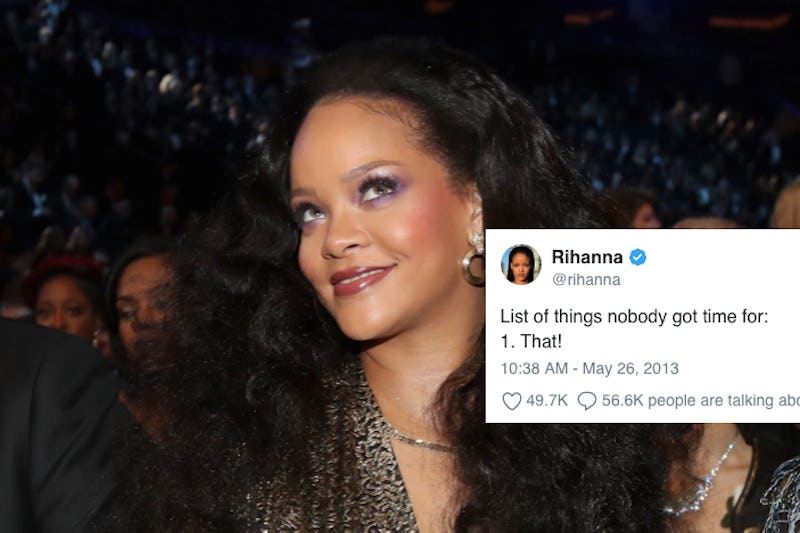 Christopher Polk/Getty Images Entertainment/Getty Images
She's had a ridiculously successful career in the recording industry, she's dabbled in acting, and recently launched her makeup empire, but Rihanna is also loved by fans for her bold and unapologetic approach to Twitter. Case in point: these iconic Rihanna tweets that will make you love her even more. If you already follow the singer, then you may already be familiar with some of her most epic tweets, but either way, Rihanna's Twitter activity is always worth celebrating.
Believe it or not, Rihanna, born Robyn Rihanna Fenty, actually released her debut album about a year before Twitter officially launched. Music of the Sun — Rihanna's first album that featured hit songs like "Pon de Replay" and "If It's Lovin' that You Want" — hit shelves in the U.S. in August 2015, whereas the social network wasn't created until March 2016, according to Mashable.
Over the past decade Rihanna has released a total of eight studio albums and she's had countless hit singles. In 2012 she was even named as one of the 100 most influential people by Time magazine, but she's also a master of Twitter, using her unapologetic voice to clap back at haters and to shine a light on injustices. Without further ado, I present you with a collection of Rihanna's most iconic tweets.
1. Speaking The Truth About Boys
Such a short but wise statement.
2. When She Shaded Ciara
Back in 2011 Rihanna and fellow singer Ciara got into a Twitter feud of sorts after Ciara said that Rihanna "wasn't the nicest," on an episode of Fashion Police. Rihanna replied with the tweet above.
3. And Clapped Right Back At Ciara's Response
Harsh, but iconic.
4. Calling Out CBS
Rihanna isn't afraid to call out anyone, including large television networks, like when she tweeted a message to CBS after they pulled her pre-taped performance amid the Ray Rice domestic abuse scandal. CBS insisted the decision wasn't related to Rihanna's history of being a domestic abuse victim, but that they didn't want a pop star performing in light of the controversy because it wasn't the right "tone". "Y'all are sad for penalizing me for this," she posted to Twitter. "The audacity..."
5. The Hilarious Memes She Retweets
Clearly RiRi has a great sense of humor.
6. Her Honest Advice
This much more serious tweet got one of Rihanna's biggest responses ever — 190K likes.
7. When You're All Out Of Time
A perfect response for when you just don't have time for that.
8. No Words Necessary
With a photo like the one above, captions aren't even necessary.
9. "Fishy Poom Poom"
If you're going to come for Rihanna on Twitter then be prepared for the fact that she might poke fun at your username.
10. When Someone Tries To Shade You, Don't Mention Their Name
In case you don't remember, RiRi posted the tweet above after TLC made headlines for "slamming" Rihanna about some of her clothing choices.
11. Using Her Platform To Bring Attention To Politics
Rihanna was quick to speak out when President Trump signed his travel ban executive order. "Disgusted! The news is devastating!" The singer tweeted. "What an immoral pig you have to be to implement such BS!"
12. Asking The President To Help Puerto Rico
Over the years Rihanna's Twitter activity has shifted from calling out fellow stars to calling out President Trump for his behavior. This includes her message making sure he'd seen a Daily News cover about the state of Puerto Rico after Hurricane Maria.
13. A Historic Response To Kendall Jenner
Technically this one isn't a tweet Rihanna posted herself, but the comment so iconic that I included it anyway. Back in 2013 Kendall Jenner posted a tweet saying that she hoped Rihanna would perform "Complicated." A fan posted a screen shot of the post to Instagram and Rihanna reportedly replied with an epic comment that read, "Well don't come".
As you can see, Rihanna is definitely a celebrity you need to be following on Twitter, she's pretty much the queen of the social network.
If you or someone you know is experiencing domestic abuse, call 911 or the National Domestic Violence Hotline at 1(800) 799-SAFE (7233) or visit thehotline.org.