These 'Gilmore Girls' Halloween Costume Ideas Pair Perfectly With Your Favorite Cup Of Coffee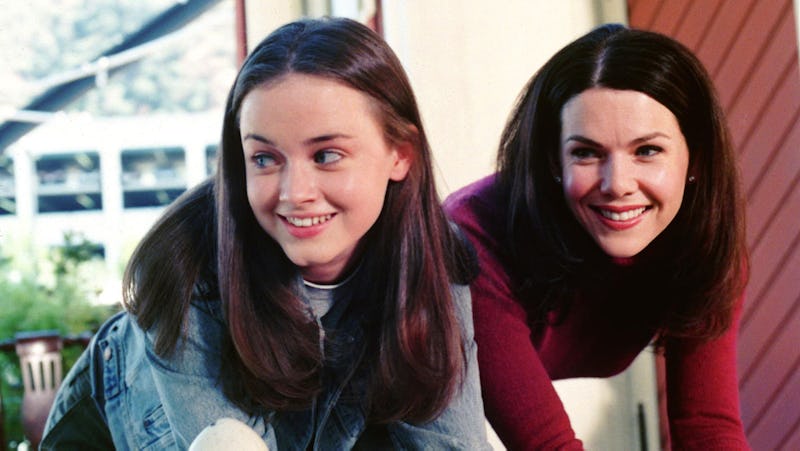 Warner Bros.
If you've always dreamed about living in Stars Hollow, there's a chance you'll be inspired to create a last-minute Gilmore Girls Halloween costume this year. The best part about this show is that you can make it a full group idea (since there's plenty of fun townies), a duo-costume with your bestie (as Rory and Lorelai), or even a single costume. After all, Lorelai had no problem flying solo for a few years.
Another great thing about Gilmore Girls Halloween costumes is the fact that you may be able to use a few items you already have. While they were born into an affluent family, the Rory and Lorelai way of living is a bit thriftier. So, unless you're pairing up as Emily and Richard and you're looking to duplicate the look exactly, cost shouldn't be a big roadblock you'll have to cross.
Since the girls themselves grew throughout seven seasons (and that's not even counting the relaunch on Netflix), you also have time on your side. For example, those with school uniforms still laying around could easily pull together a Chilton version of Rory.
Of course, if you didn't attend a private school and still want to avoid the "who are you dressed as?" conversation at your Halloween party, there are a few essentials you may want to grab to make your costume complete. Also, there's plenty of Gilmore Girls merchandise you can grab last minute to make your look even more special.
Check out the entire 'What's Up, Boo?' series and other videos on Facebook and the Bustle app across Apple TV, Roku, and Amazon Fire TV.