Here Are All The Easter Eggs In 'Thor: Ragnarok' You Might've Missed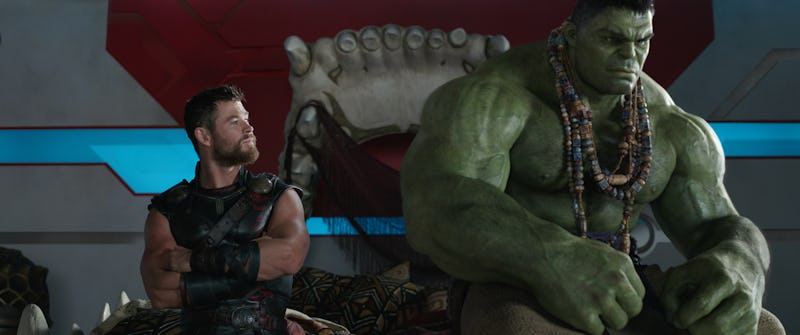 Marvel Studios
Thor: Ragnarok is the second-to-last Marvel Cinematic Universe entry until the long-awaited Avengers: Infinity War, and as such it has a lot to do to help move the larger MCU story forward. These 13 Marvel Easter Eggs in Thor: Ragnarok plant the seeds for the upcoming Avengers vs. Thor showdown, while also winking back to the past. In other words: it's just the right amount of Marvel nostalgia and MCU teasers.
Ragnarok is the third, and potentially final, Thor film, and the movie takes place entirely in another galaxy. In other words, it's far, far away from the rest of the MCU, not to mention the reach of the Sokovia Accords, S.H.I.E.L.D., or the Avengers initiative. Unlike Spider-Man in Spider-Man: Homecoming, Thor is pretty much doing his own thing this time around, which means Marvel Easter Eggs in Thor: Ragnarok are fewer and farther between. However, that doesn't mean they're not super important. With less than a year to go before Infinity War hits theaters, the MCU has a lot to set up before diving into the biggest battle the Avengers have ever seen. For the most part, that means setting up the quest for the Infinity Stones, teasing Infinity War villain Thanos (who wants the Infinity Stones), and establishing the relationships between the Avengers.
Warning: the Marvel Easter Eggs in Thor: Ragnarok contains spoilers. Do not read if you don't want to be spoiled.