13 Sign Ideas For The Women's March That Are Downright Fierce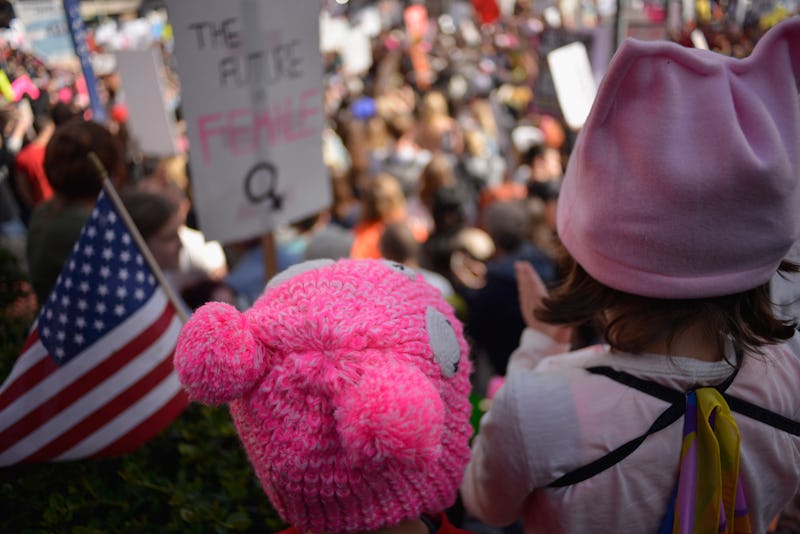 Chelsea Guglielmino/Getty Images Entertainment/Getty Images
The 2017 Women's March was the largest single-day protest in U.S. history, and its message echoed across the globe for many, many more days to come. And though the march has inspired lots of progress for women and made strides to fight back against workplace inequality and sexual harassment, there's still a lot of work to be done. Donald Trump is still president, and women still have the same obstacles working against our strides for equality and control over our rights. That's why the second Women's March happening on Jan. 20, 2018 is even more important than the last.
So on Jan. 20, get ready to join women across the globe in standing up for fundamental, equal rights. And have a powerful Women's March sign handy to show the world what you stand for and to stand up for those who are blocked from speaking up for themselves. If you need some inspiration, check out these sign ideas for the 2018 Women's March. You can copy them, personalize them, or let them inspire you to create your own slogan. Don't let the task of creating a sign become daunting, look at it as a great opportunity to inspire and evoke. All you need is some poster board, a marker, and a message.
Stop History From Repeating Itself
Violence against women taking control of their lives and living independently is a common theme throughout history, unfortunately. During the 1692 Salem Witch Trials, 200 women were accused of practicing witchcraft for ridiculous, unrealistic reasons, and many were sentenced to death for their "crimes." Eventually, the colony came to terms with the fact that the trials were unjust and unwarranted, but it was all too late. Now, years later, women are still fighting against unjust persecution, in a different way.
Look At The Statistics
If you can't think of anything specific to say, stick to the statistics. Show the facts, and hold a mirror up to the nation.
Pay It Forward
Instead of being discouraged about the nation's progress for our own lifetime, think about the generations to come. Think about younger siblings, future children, and the people that we are setting the stage for. If for nothing else, fight for their equality.
Progress
The fight for equal rights will not wane.
A Popular Quote
Originally coined by feminist extraordinaire Laurel Thatcher Ulrich, this quote is powerful, inspiring, and totally true.
Hear Us Roar
The slogan is a movement all in its own — a promise that women will prevail and will continue to speak out against injustices.
#Relatable
If you want to go for something a little bit #relatable, this sign will do the trick. Also, it me.
Keep The Volume Up
Perhaps some of the most moving signs are those held by children, who at a young age are fighting back against the inequalities in the world.
Share Your Story
If you're comfortable, share your personal story. Use your sign to tell your fellow protestors why you're marching, what you believe in, and how inequality has affected your life.
Still?
Remember that many of our parents and grandparents had to fight for the same rights in their youth, so use your sign to call attention to the fact that this fight has been going on for far too long. Progress is owed to us.
Catch Phrase
Make it catchy, make it zingy, make it basic: we just want what we deserve.
Here's To Strong Women
"May we know them, raise them, be them!" A moving message for women of all ages to share in this fight together.
Say Something
Use your sign to encourage people across the world to find their voice and fight against inequality.