13 St. Petersburg Tributes To Share On Social Media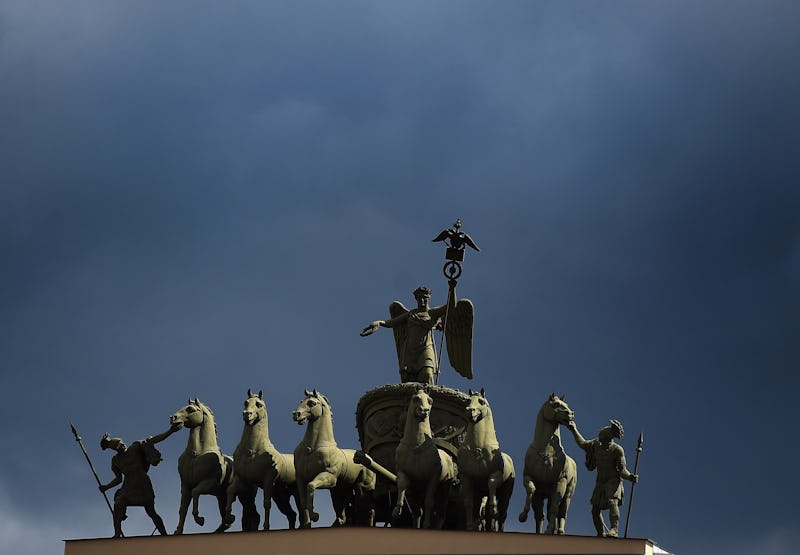 Laurence Griffiths/Getty Images Sport/Getty Images
A devastating explosion at a St. Petersburg Russia metro station on Monday has left the country reeling. At least 10 people have been reported killed and 50 more injured after after a blast on a train at Sennaya Ploshchad station occurred around 2:40 pm local time. There have been no immediate claims of responsibility and no word yet on exactly what caused the explosion. But, on social media, tributes to St. Petersburg and those affected by today's tragic events are already spreading.
Russian President Vladimir Putin has expressed his condolences to the victims and said that investigations into what happened will primarily consider it as a possible act of terrorism. At the time of the explosion, Putin was in St. Petersburg and scheduled to meet with Belarusian President Alexander Lukashenko — he has since left the city.
A full picture of what happened may emerge over the next few days. And though speculation is running rampant, as it always does after national tragedies, sympathy and consideration for the victims is being spread as well. People all over the world are taking to Twitter to express their varied feelings on the explosion in Russia. If you are looking for a post to share to express support, check out some of these below.
A Photo Of A St. Petersburg Sunset
Sun Shining On The Church Of The Savior On Blood
A Flame In Palace Square
Advice From The US Embassy In Russia
Advice From The US State Department
Pray For St. Petersburg
Simple Words
Solemn Words From An Icon
The City's Beauty
Solidarity From Berlin
Simple Tribute
The City At Night
Angel Looking Over St. Petersburg
The facts about what happened in St. Petersburg at Sennaya Ploshchad station will continue to trickle in over the following days. Until then, people traveling in St. Petersburg are advised to check in with their loved ones if possible.
The city's underground metro system is currently completely shut down, and there is as yet no word yet on when it may reopen. People are warned to avoid the area around where the attack occurred.
For folks overseas looking to help, opportunities may come up as the situation on the ground is further assessed. Until then, the best thing those concerned from afar can do is avoid spreading misinformation, check sources of information before you share them, and refrain from spreading photos of the injured and killed.
And as always, sharing hate is not a good option.